Bui Vien Street is also called the backpacker's street of Ho Chi Minh City. Here you will find many cheap restaurants, bars, souvenir shops, hotels and hostels. What Khao San Road is for Bangkok is Bui Vien for Ho Chi Minh City.
The total backpacker area of ​​Ho Chi Minh City consists of approximately four streets and a few small interconnected alleys. Because this is the heart of the city center (district 1), it is easy to reach on foot or by taxi and almost all residents in this area speak English. It gets busy early in the evening, around 6:00 PM, with the many bars and pubs that stay open until 2:00 AM or even later.
History of Bui Vien Street
Before the nineties there was nothing special about these streets, they were normal roads where people lived. Since the "Renovation" in 1986, when the government allowed international commercial trade, opening Vietnam more for foreign investment and tourism, this was the moment when the first tourists started to visit the street.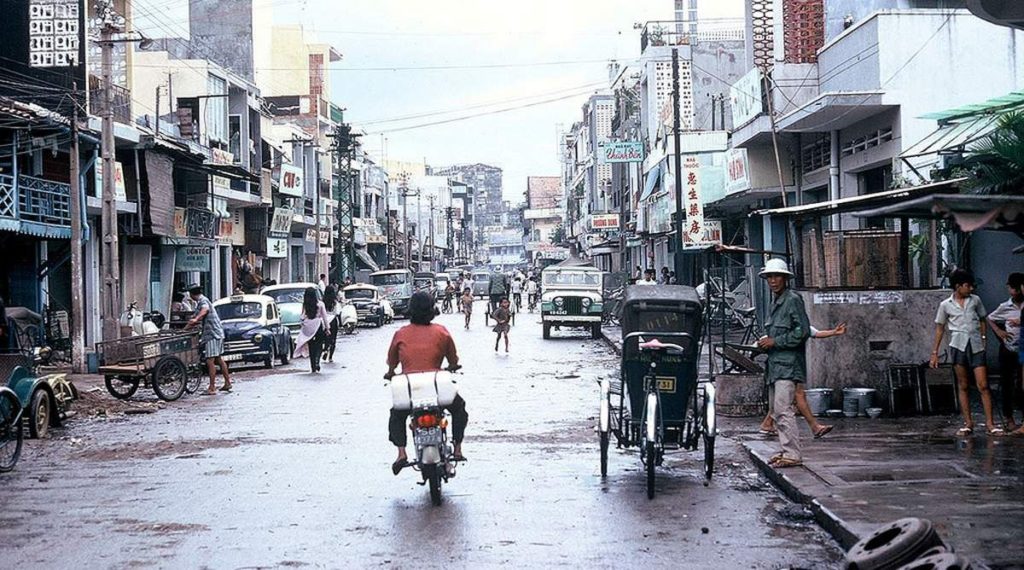 To meet their requirements, hotels and restaurants began to settle more and more. In 1993, the famous travel guide "Lonely Planet" introduced Bui Vien and brought it to world travelers, they came here as the first place of their journey through Vietnam before traveling to other places. It was a milestone that brought everything to a whole new level within 20 years and turned the street into a multicultural area full of noise and endless parties.
Bui Vien walking street
Today, the streets and alleys around Bui Vien have become a backpacker district, filled with restaurants, cafes, hotels, hostels, bars and pubs.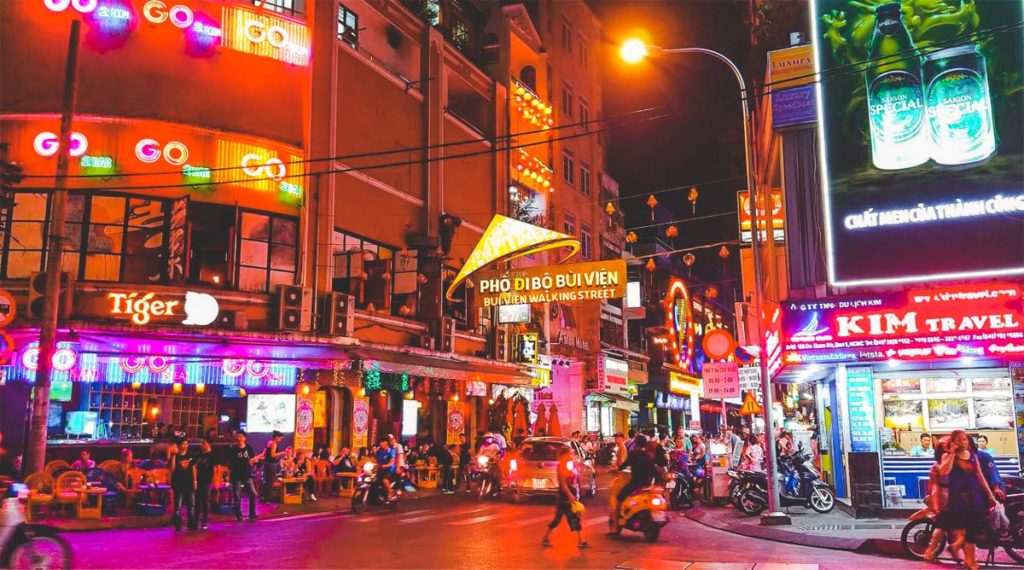 In the weekend, only in the evening, the streets ban all motorised traffic and it turns into Bui Vien walking street. And without the traffic, the atmosphere is at its best. But even during weekdays at night, the streets are so busy, that motorbikes and cars are always stuck in the crowd. The pavement is used to extent the restaurants and bars and people use the street to walk. Taxi's often refuse driving in the street at night to drop off quest.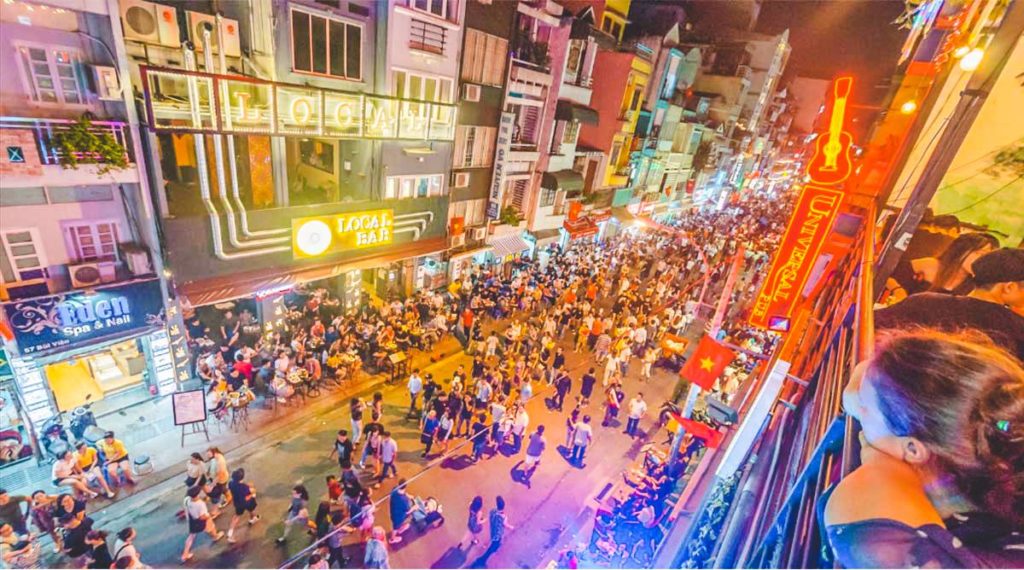 A visit to Bui Vien walking street is recommended, even if you don't like the craziness and parties.
Nightlife in Bui Vien street
On the street it is always busy in the evening with other travelers, locals and artists who perform with fire, dance and sing.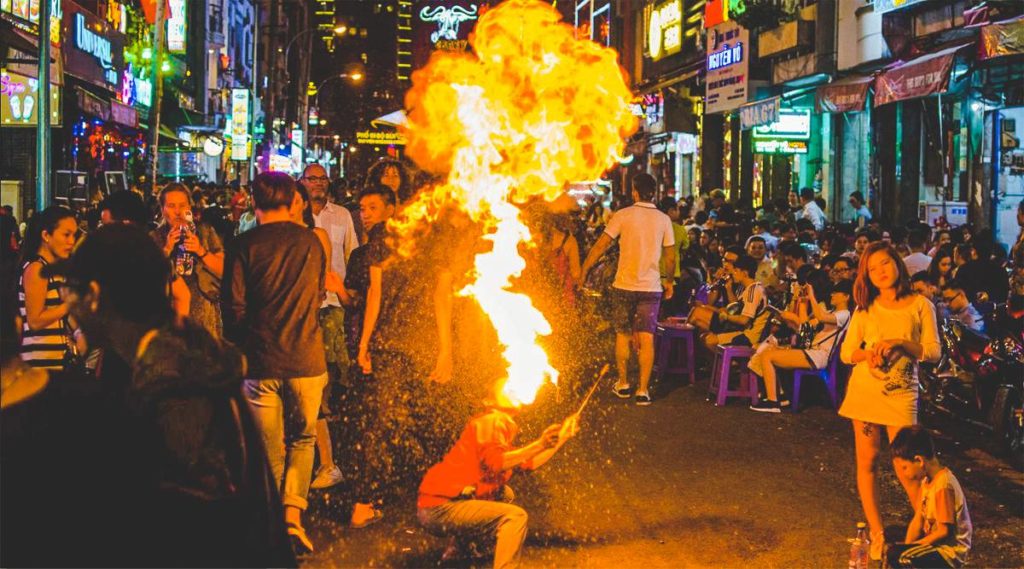 At the start of the evening you can choose to sit on the side of the road on a plastic chair with a beer in one hand and in the other hand eat food from a street food stall.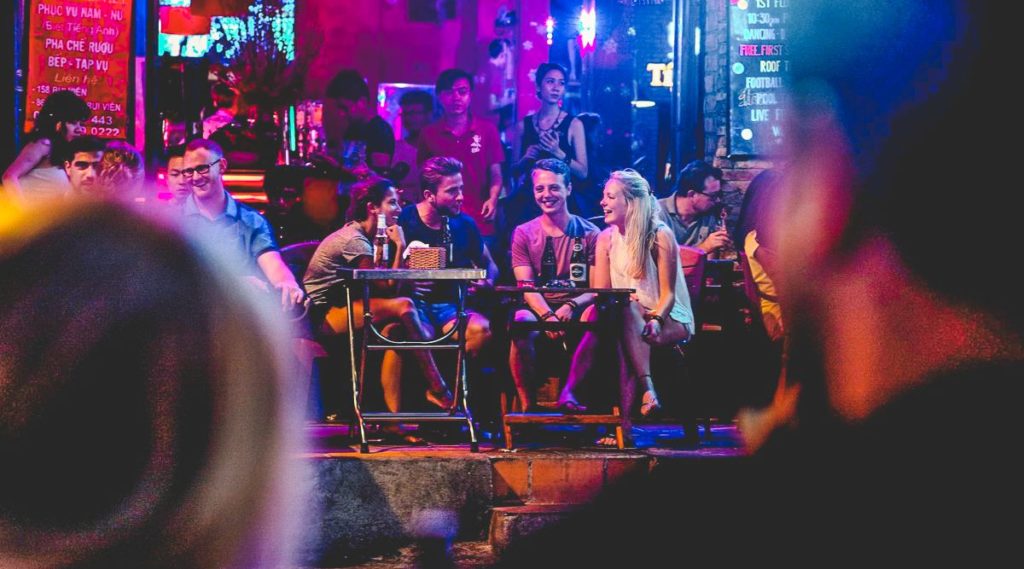 Later in the evening you can visit one of the bars. Bars and pubs are scattered throughout the backpacker districts yet those on Bui Vien are the most attractive for most.
Best bars and clubs
Whiskey & Wares: For backpackers with style to enjoy Saigon's lively artisan beer scene or some of the liqueurs.
Donkey Bar: A three-story bar with an Egyptian theme. There is a nice atmosphere with balconies overlooking Bui Vien Street.
Boheme Pub: In a small alley, but the pub always overcharges every night, and you have to reserve your seats on the weekend. Although the pub is not large, the music is excellent.
Sahara Beer Club: This beer club has a beer garden and a variety of drinks, with DJ performances every night.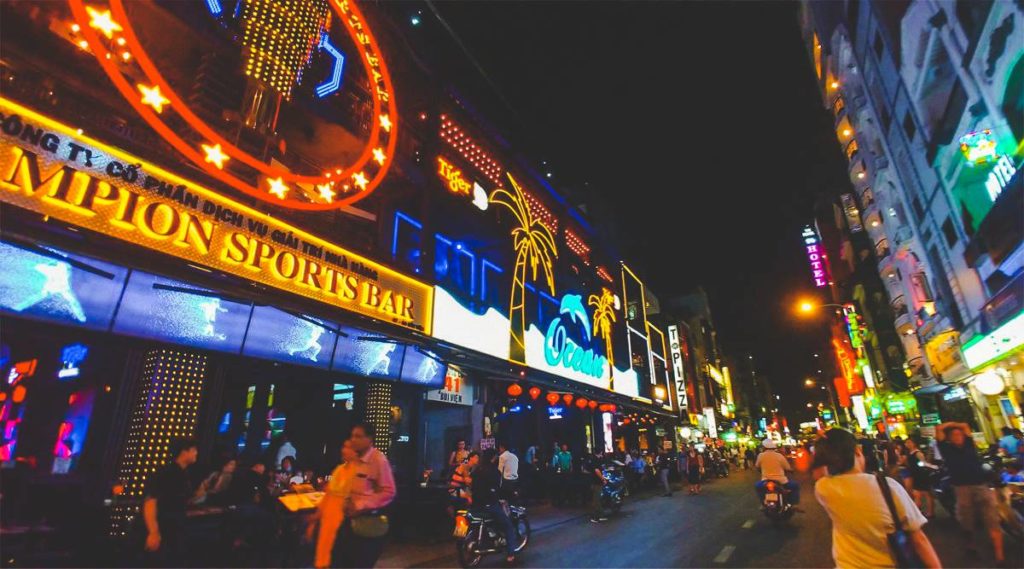 Rooftop bars
The View: A drink on the roof of Duc Vuong Hotel, known as the most affordable rooftop bar, is a must if you want to sit down a bit more quietly with a view of the skyline.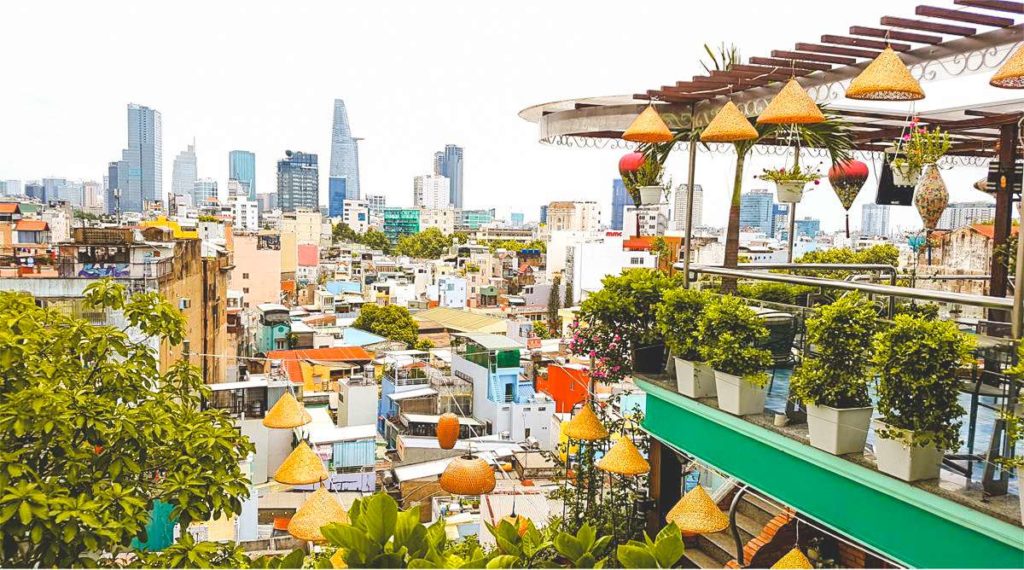 Tips
Hide your valuables. Everyday people lose cameras, telephones, etc.
The men who sell drugs on the corners are all notorious scammers.
There is undercover police, so be at least a bit discreet.
Discuss prices in advance.
Marijuana is illegal, but people smoke it openly.
The backpacker area also has a somewhat hidden red light district, with its numerous hostess bars and massage salons with "extra" services. Just take a walk down the street and if you see an increasing number of beautiful ladies smiling at you while you walk, chances are that you are in "that area".
Accommodation
There are many good hostels and guesthouses that are beautiful inside, friendly service and good for travelers on a small budget. You can find rooms or dorms here for less than $ 10 / night.
What is good
Lot of cheap accommodation
In the middle of the nightlife scene
Tours/activities always include pick up from this area
Close to the bus station
What is not so good
Very busy and noisy area, especially at night time.
No high quality accommodation
Hotels near Bui Vien street
Hong Kong Kaiteki hotel: A capsule hotel.
Tripwriter Hotel & Bistro: a small and cute hotel in the heart of the city with a concrete wall and a green wall that reflects the atmosphere of Saigon from the nineties.
Hostels near Bui Vien street
New Saigon Hostel

: Clean rooms and in addition to a number of excellent cafes and restaurants.

Lily's Hostel: In a quiet alley of Bui Vien, so you can escape the craziness without having to walk.
Bui Vien Hostel: Not directly on Bui Vien, but that's why you sleep away from the crowds.
Food
You can eat very affordable here, it will cost you around VND 100-200,000 (US $ 3-6), for this amount you will get a decent meal including a drink. The options range from Vietnamese, Indian, Italian to Chinese and Western.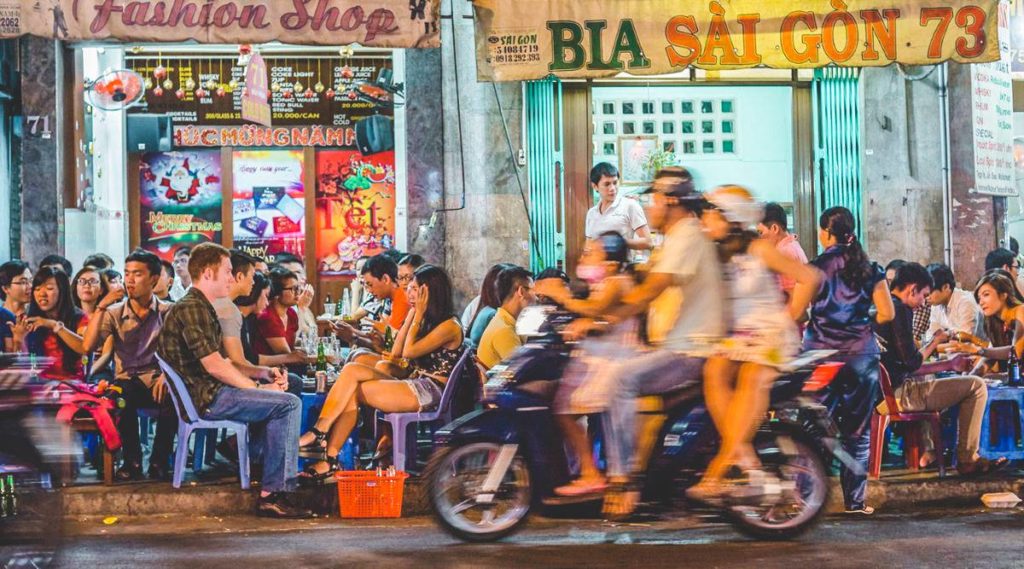 Street food: You will also find a lot of street food along Bui Vien Street. These are small street stalls with a few low tables and stools around where you can sometimes eat for less than 1 dollar. Especially popular are the BBQ and smoothie stalls.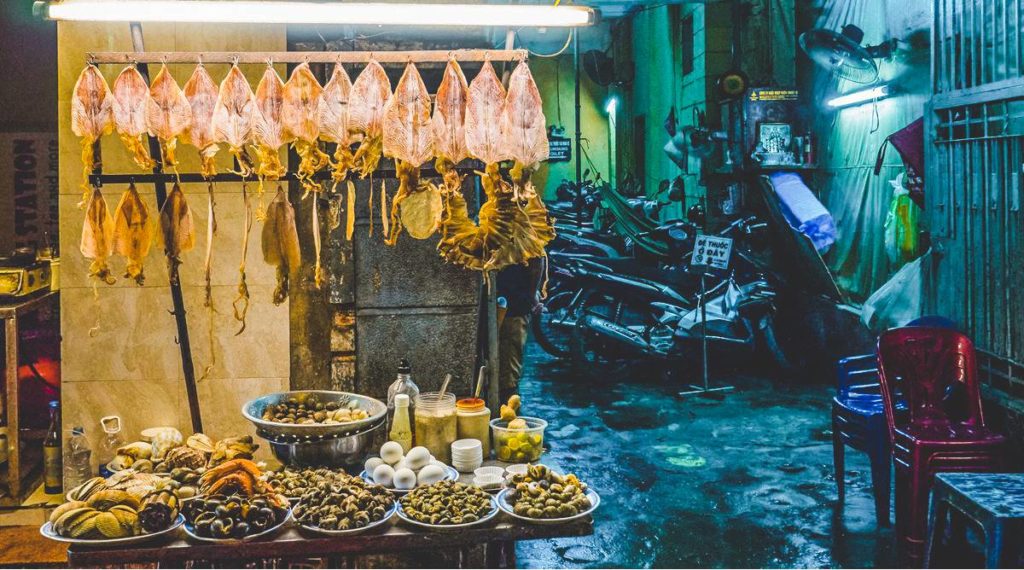 Recommended restaurants