Cham Island is a cluster of eight islands just off the coast of Hoi An. The main island is Hon Lao, also the largest and the only island that is inhabited. You can get here by a two hour ferry or a quick half hour speedboat trip. It features beaches, diving, snorkelling, fresh seafood restaurants and a very beautiful coastal road. If you like the beaches of Hoi An, then wait until you see the white sand, palm trees and clear water of Cham Island.
How to get there?
By tour
There are a few daily tours operated from Hoi An and some from Da Nang to Cham Island. Itineraries are often similar, with a visit to the main pier on Hon Lao, were you visit the ancient Cham Well, and the museum. You continue to do some snorkelling around the island and visit a stunning beach for lunch and to hangout before going back to the mainland. These tours include hotel pick up, speedboat transport, snorkelling equipment, lunch, and a guide.
By yourself
Local boat: There is local boat leaving from Cua Dai harbor every day at 8:30 AM. Tickets cost VND 100,000 for foreigners and you are required to enter your name and nationality on a form when boarding. It is advisable to be there at 7:00 AM, because the locals also depend on this boat to go to the island. It will take 1,5 to 2 hours to get to Hon Lao Island, arriving there between 10:00 AM and 10:30 AM. It is the only boat and it will turn back the same day to Hoi An, so that means you have to stay on the island for at least one day.
Private speedboat: You can also arrange your own private speedboat that brings you to Hon Lao Island. It will just take 30 minutes to get to the island. Though prices start from $300., depending on the size and quality of the boat.
Best time to visit Cham island
The best time to visit the Cham Islands is from March to September, due to the sunny weather and the great water conditions.
If you plan to dive or snorkel during your visit, it is advisable to go between June and August. There are numerous diving centers and tour operators that offer day trips to the Cu Lao Cham Marine Park.
The Cham Islands are inaccessible during the monsoon period, which takes place between October and February. The islands experience strong winds and waves that make travel dangerous, so there are no day trips available at this time of the year.
Getting around
If you plan to stay on Hon Lao, please note that tourists are not allowed to rent a scooter here. The reason given is that the roads are too dangerous, but more likely is because the island also has a military base. Some homestays have no problems with renting out a motorbike to you. The cost is around 200,000 VND a day.
Another way to to hire a motorbike driver for a day who will drive you around the island. There is only one road around Hon Lao island with stunning views of the ocean and the neighbouring islands.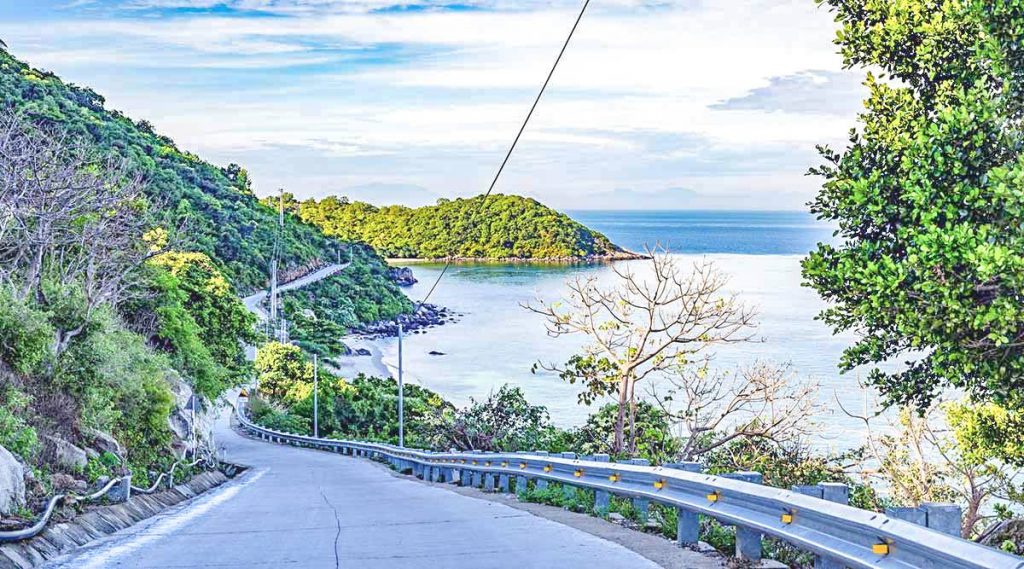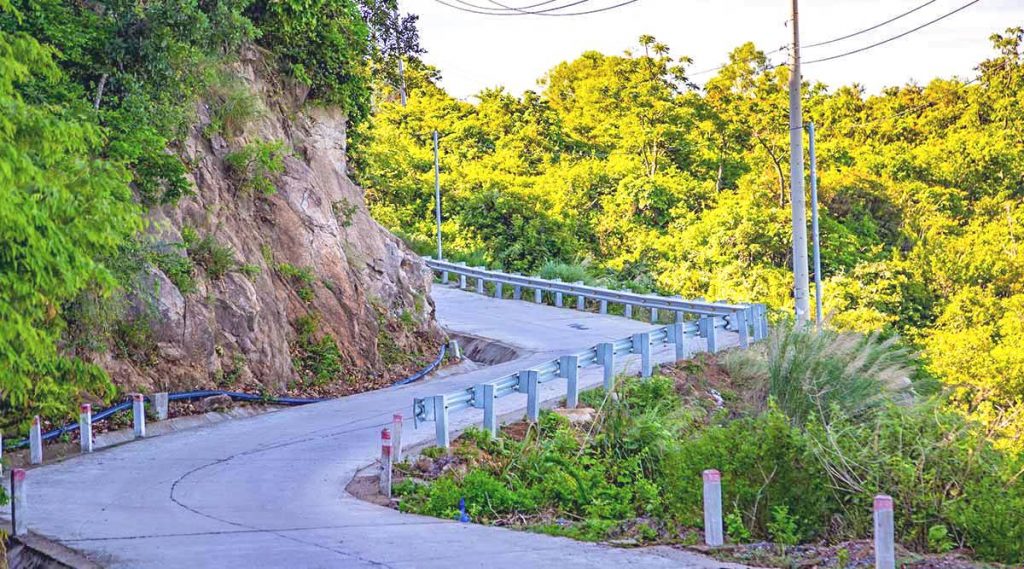 Beaches
The eight islands of the island of Cham are: Hon Lao, Hon Dai, Hon Mo, Hon Kho Me, Hon Kho Con, Hon La, Hon Tai and Hon Ong. Hon Lao is the largest island. There are seven beaches in Hon Lao:
Bai Bac: the northern beach, natural caves, few people
Bai Ong: next to the pier, many restaurants, very busy at lunch
Bai Lang: good for fishing , but not to swim
Bai Xep: deserted and calm
Bai Chong: a beautiful beach, costs 15,000 VND for swimming and there is drinking water and changing rooms that you can use.
Bai Bim: swimming, good place to take pictures
Bai Huong: many boats and ships moor, delicious fresh fish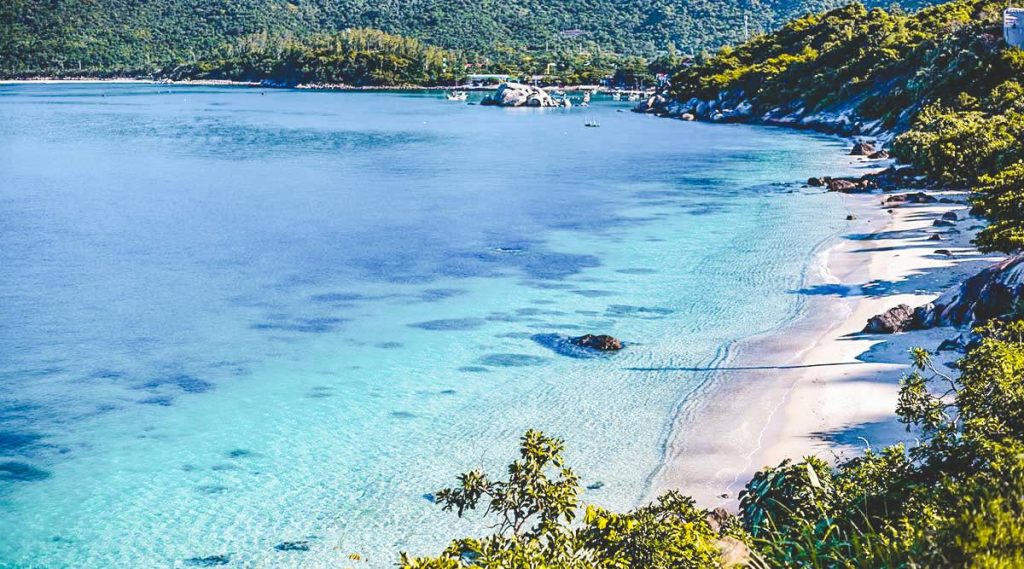 Things to do on Cham Island
Swimming
There are seven beaches on the main island of Hon Lao. The best beaches for swimming are Bai Chong, Bai Xep and Bai Bim. They are all around 20 meters wide and 100 to 300 meters long.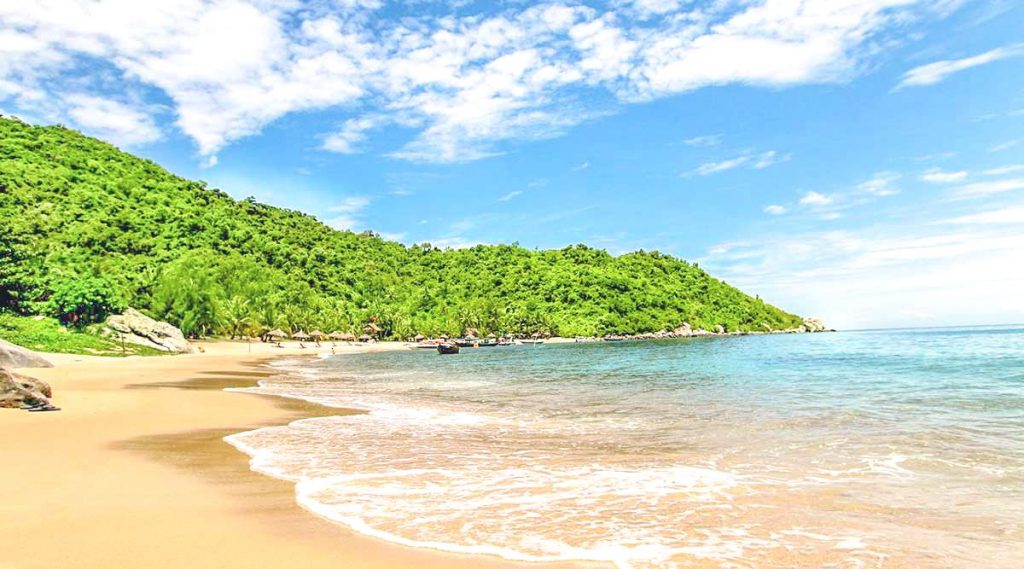 Island hopping
Hon Lao is the most main island of the Cham islands, in which almost all activities take place. But there are seven other islands around Hon Lao, that are just as beautiful. A great way to explore these is by boat. You can rent a private boat for $27 dollars that fits up to ten people. There are also island hopping tours starting at $5. During a tour you visit a few islands and you can snorkel, jump off the boat, swim or just relax and enjoy the view.
Go by motorbike around the island
Cu Lao Cham is endowed with a rich forest ecosystem, which will be very wasteful if you do not spend time driving over this beautiful island. The small road around the island can be dangerous, so if you are not a confident driver, then go on the back of a motorbike with a guide. The interesting thing about riding a motorbike is that you can stop on the road to enjoy deserted white beaches and view the island from above. In addition, you can go to Cu Lao Cham mountain to admire the whole island from above.
Snorkeling
Snorkelling gives you the chance to observe the colorful coral reefs of Cham Island Biosphere Reserve. Most of the Cham Island tours include snorkelling activities. There are a couple of day trips you can do from Hoi An, with full equipment, life jackets and a boat that takes you to the snorkelling area, with a guide to go along. However, recently with the increasing number of tourists to the island, the pressure of exploitation on the coral reefs is huge, causing serious impacts. So if you join a snorkelling tour to see the coral, be very careful and absolutely do not break the coral or bring it back to the mainland.
Camping
Besides the hostels and homestays you find on the island, there are also places to go camping. There are local facilities you can use on the beaches of Bai Ong and Bai Huong. Also Bai Xep and Bai Bim are good options if you like wild camping in the nature. Tents and equipment are not available on the island, so be sure to go prepared with all the equipment you need.
Look at the stars at night
Cham Island is very quiet at night. There is not so much electric light as in the city so there is nothing better than if you lie on the fine sand, listen to the waves and watch the sky full of stars.
What to see at Cham Island
Cham Island Marine Museum
The Cham Island Marine Museum is right at the main pier and the first building you see when you arrive on Cham Island. You learn about the history of the island, the traditions and customs of the local population, the festivals and special marine animals around the island.
Ancient Cham Well
This well is around 200 years old, dug by the Cham people. It is very similar to other Cham Wells you can find in central Vietnam. The well can be found in Xom Cam village and is still being used.
Cham Market
The Cham Market, or also called Tan Hiep market, is the main market of the island and can be found right next to the pier. They sell mainly fresh seafood and some souvenirs.
Temple of Bird's Nest
This temple was built in the early 19th century to worship the business of bird's nest and its protective gods. Every year on March 10, residents organize a great ceremony for the new harvest of bird's nest.
Hai Tang Pagoda
Hai Tang Pagoda is a religious place to worship Buddha. It was built in 1759 and later moves in 1848 after a storm, to meet the religious needs of the fishermen and merchants on Cu Lao Cham island.
Diving trips to Cu Lao Lam Marine Park
You can also go diving at Cham Island. It is part of Cu Lao Cham Marine Park, one of the only two marine parks in Vietnam. Diving is done at most of the island in the marina park, with 10 main dive sites in total. Most of the dive sites are quite shallow, starting from 6 to 30 meter, with an average of around 16 meter. You can find different fish and corals, including nudibranchs, clown fish, large soft coral, schooling fish, rock formations, lion fish, sea horses and pipe fish.
The two main dive operators are:
Diving prices start from $78 for beginners, $92 for certifies divers and $130 for overnight trips.
Accommodation on Cham Island
There are no resorts or five star hotels on Cham Island. The main accommodation options are hostels and homestays located primarily along Bai Chong Beach. This only shows that Cham Island has not been exploited for tourism, it still retains its unspoiled beauty. The price varies from around 50,000 to 100,000 VND per person, or 150,000 to 200,000 VND for a double room.
Recommended homestays
Trang Vu Homestay Cu Lao Cham
Tám Thọ homestay
Tuan Thanh Homestay
Hammock Homestay
Cham Island Homestay Lau Thu
Hiep Tung homestay