Phong Nha is one of the most impressive areas of Vietnam. The region is known for the many caves that you can find, including Hang Son Doong Cave, the largest cave in the world. But with so many caves that you can explore, you may wonder which one to visit. This of course depends on your travel time, budget and adventure level.
In the overview below you will find three different "adventure levels", to make it easier to determine whether visiting the cave is for you or not:
Low: You walk through an illuminated cave with made paths.
High: You will explore a cave with a helmet and flashlight, where you may have to swim and climb.
Very high: You stay away for several days. You travel through the jungle and stay just outside or even in the cave. In the cave you walk with a helmet and flashlight, where you have to climb and swim.
| | | |
| --- | --- | --- |
| Cave | Adventure level | What is special here |
| Hang Son Doong | Very high | The largest cave in the world, with a price tag of $ 3000 and up to 300 visitors a year. |
| Paradise Cave | Low | Impressive cave; very large, but quite touristy. |
| Phong Nha Cave | Low – High | A water cave that you visit by boat in a beautiful setting. There is also an adventurous option. |
| Dark Cave | High | Less impressive, but very cool with mud baths, ziplines and kayaking, among other things. |
| Hang En Cave | Very high | Most impressive cave, with a huge opening and even a lake with a beach. |
| Tu Lan Cave | Very high | Option from 1 to 4 days. Most popular cave for the most adventurous traveler. |
| Hang Va Cave | Very high | Cave for the most adventurous travelers, with climbing, swimming and jungle trek. |
| Tien Song Cave | Low | Can be visited in combination with the Phong Nha Cave, but is comparable. |
| Tra Ang Cave | High | Cave deep in the jungle, where you have to swim in the cave. |
| Tam Co cave | Low | Small cave with temple for people who died there during the war. |
| Pygmy Cave | Very high | Huge cave, impressive, but very unknown. |
There are several lists and calculations online with the largest caves in the world. In Phong Nha, they assume that Hang Son Doong is the largest cave in the world that has been discovered to date. The third largest cave in the world in Hang En and the fourth largest cave is Pygmy.
Hang is Vietnamese for cave. Place a hang for each name of the cave. Tourists often use the English name of the cave, such as Paradise Cave for Hang Thien Duong and Dark Cave for Hang Toi.
For a few caves, including the largest, Hang Son Doong, only Oxalis has a license to organize tours. For other caves you can go to various other companies and there are also local people who offer this. We recommend that you always go with an officially registered company and check the reviews online.
If you are less adventurous, there are also caves that you can visit with lighting and good trails. In addition, Phong Nha is not only impressive underground, but also above ground, this is a fantastic and beautiful national park. Read more about Phong Nha here.
Hang Son Doong Cave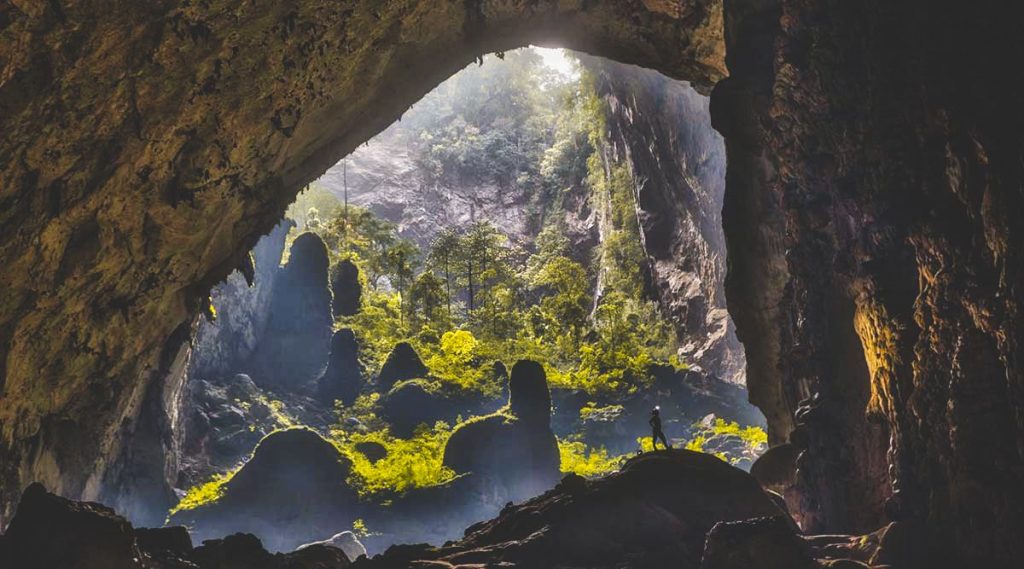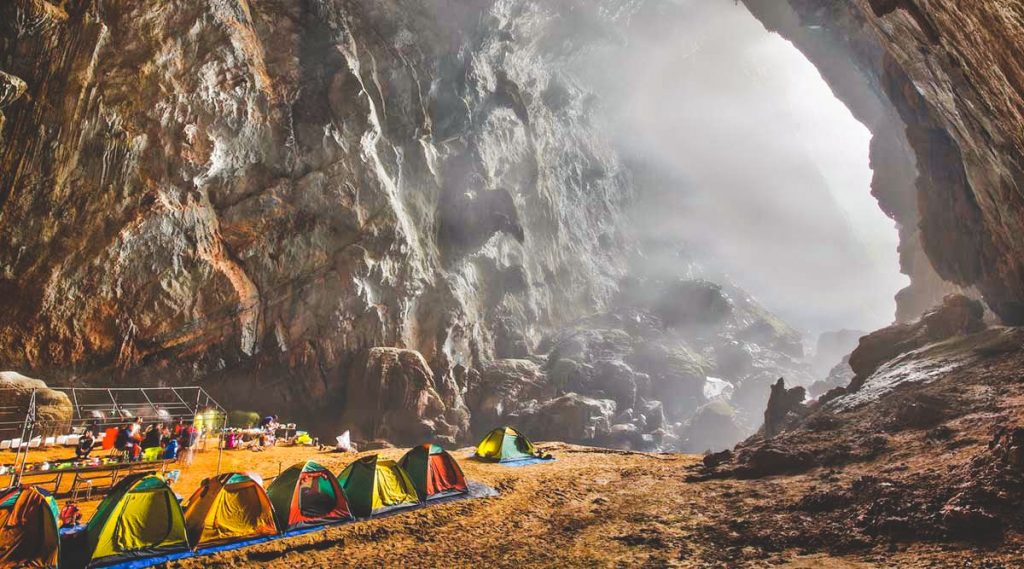 To begin with the cave of caves, Hang Son Doong. This cave was discovered in 2009 and is the largest cave in the world. Son Doong is huge: it has its own ecosystem with a rain forest of trees up to 30 meters high, with its own population of bats, birds and monkeys. If you want to visit Son Doong, you have to put down quite a bit of money. Maybe it will become more accessible in the future, with plans to build large cable cars here. You just have to ask yourself if it would be better if that wasn't the case.
Options
4 days: Jungle trekking, abseiling, climbing, swimming, camping in the cave. Cost: $ 3000.
Paradise cave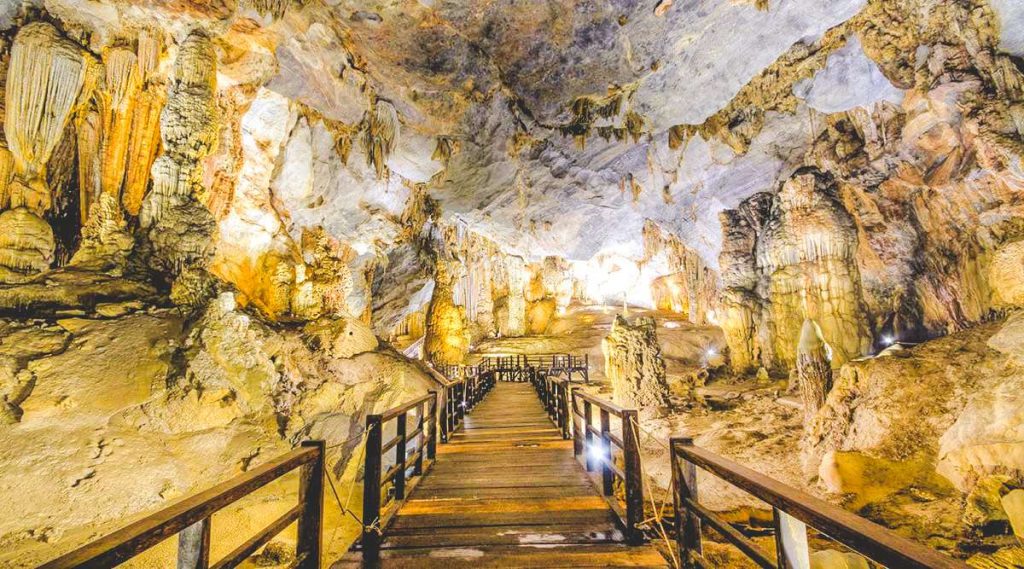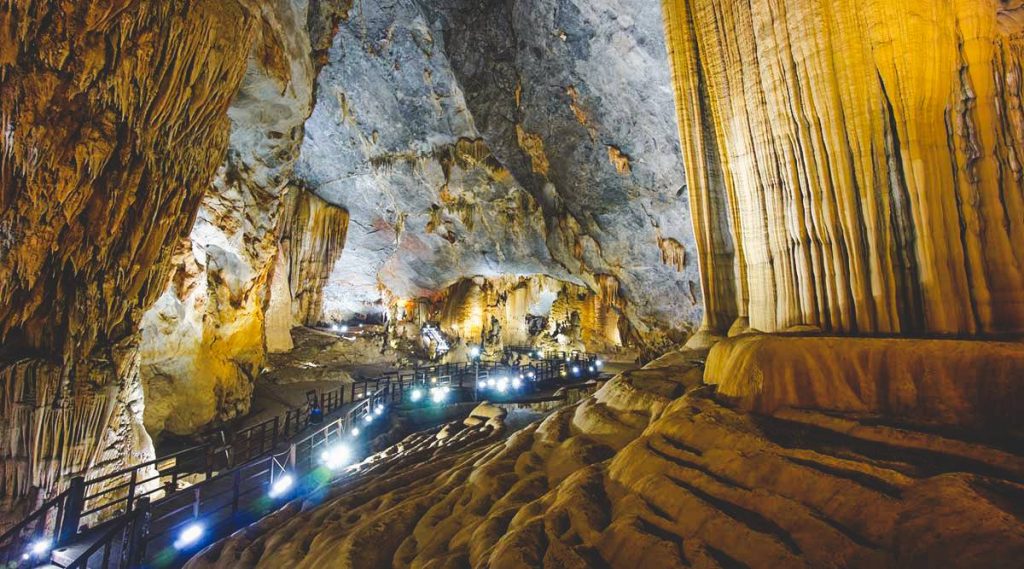 Paradise Cave was discovered in 2005 and is so named because of its incredible cathedral-like stalagmite and stalactite formations. The cave is 31 kilometers long with rooms up to 100 meters high and is three times larger than the Phong Nha cave. The limestone formations are also the most spectacular of any cave in the region. You can drive to the entrance. On the one hand it means that you can easily visit the cave as a day trip, but it also means that it is far from quiet.
Options
You can easily visit yourself or per tour. Admission: $ 12
Phong Nha Cave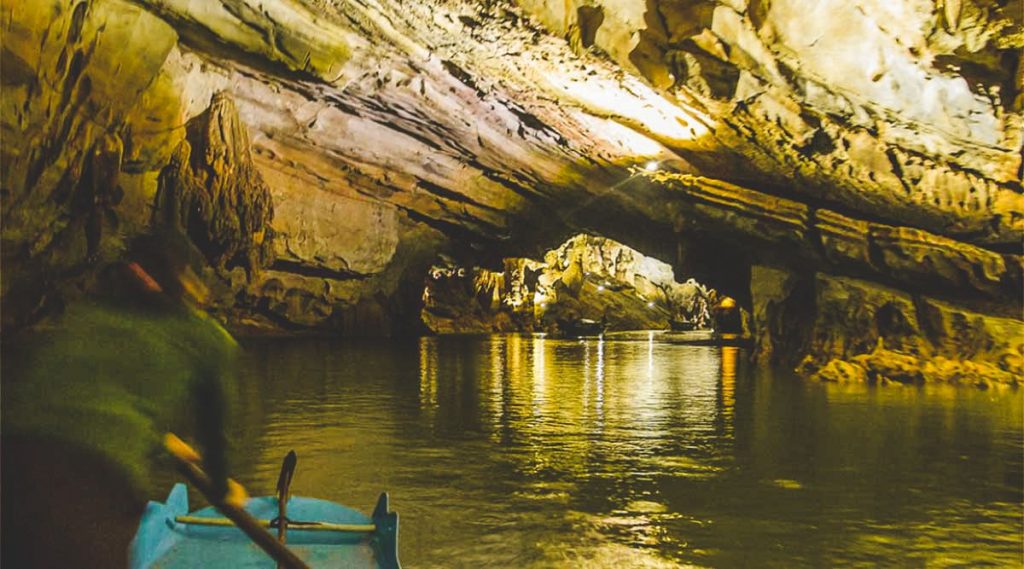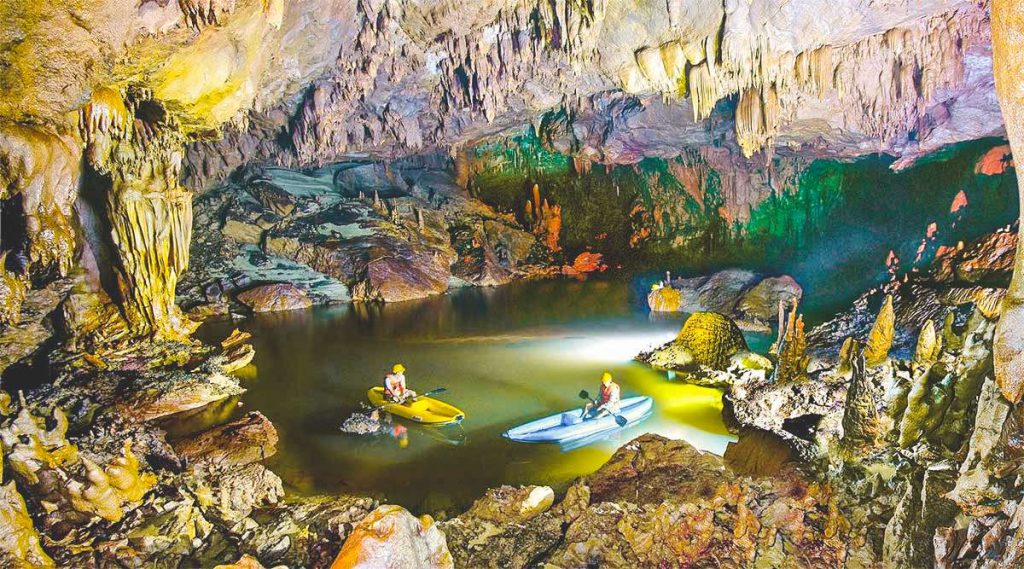 Phong Nha is the cave that gives its name to the national park, and is the most popular cave in the region. With a length of 7,729 meters, it is the longest underground river in the world. The Phong Nha cave is still pretty impressive, but after the newly discovered Paradise Cave and the largest cave in the world, Son Doong, the grandiose is a bit off.
Options
A nice boat trip from the tourist center is the way to visit the cave. During this you will see a glimpse of the local life and the countryside before you enter the cave. The drive to the cave takes about 25 minutes and when you reach the entrance, the engine is switched off and steered to prevent air and noise pollution.
Instead of a quiet boat trip, you can also kayak in the cave, in combination with swimming and walk through an unlit part of the cave with lamps.
Dark Cave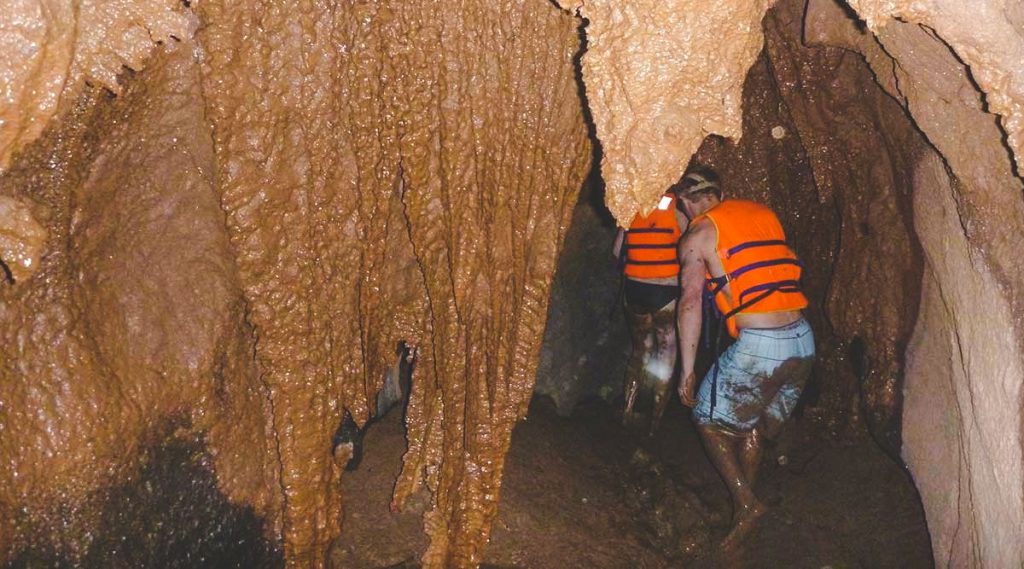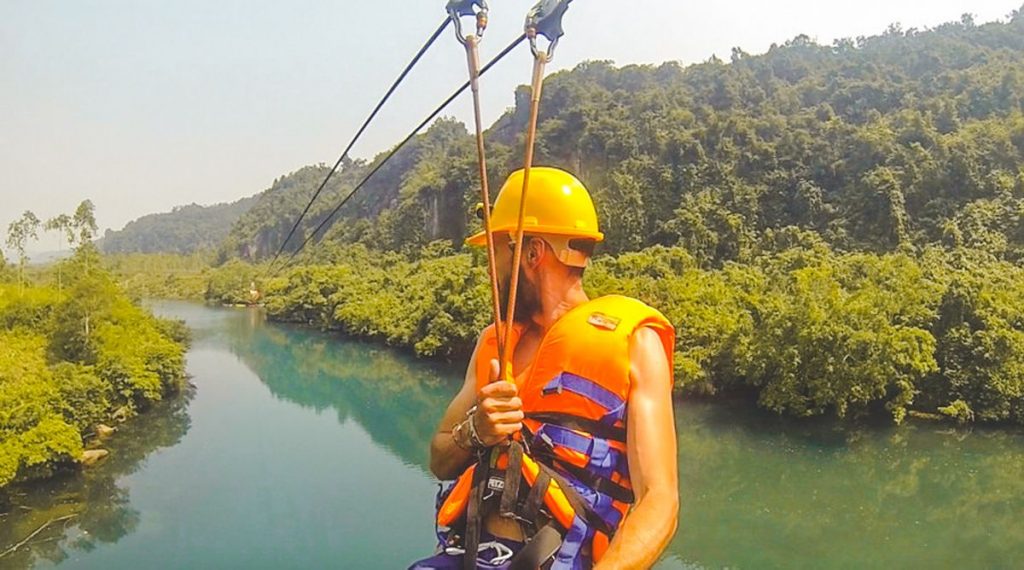 Of the three most popular caves, Dark Cave (Hang Toi) is the most adventurous (the other two are Phong Nha Cave and Paradise Cave). This cave is located 15 km from Phong Nha and is in reality more a fun adventurous half day than a good cave tour. You can expect this in Dark Cave:
Ziplining from a tower to the cave entrance
Swimming from the end of the zipline to the entrance to the cave, which is approximately 20 meters.
Walk barefoot with helmet and head lamp through the cave in the dark and experience a mud cave including a mud bath.
Kayak back from the entrance.
Enjoy the water activities with zipline facilities.
Options
You visit Dark Cave in a half-day tour, where you walk through a cave full of mud and with many other activities such as ziplining.
Hang En Cave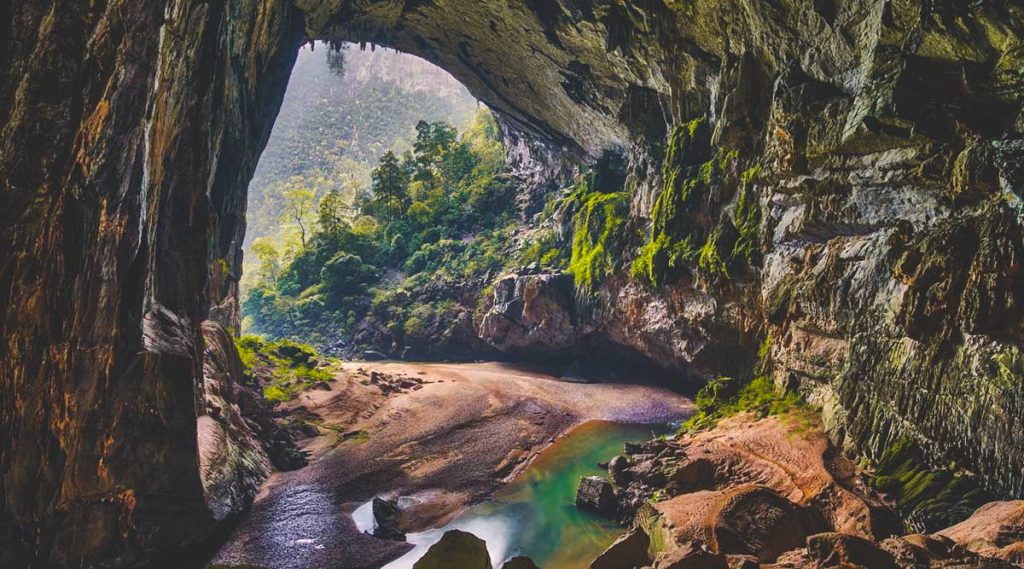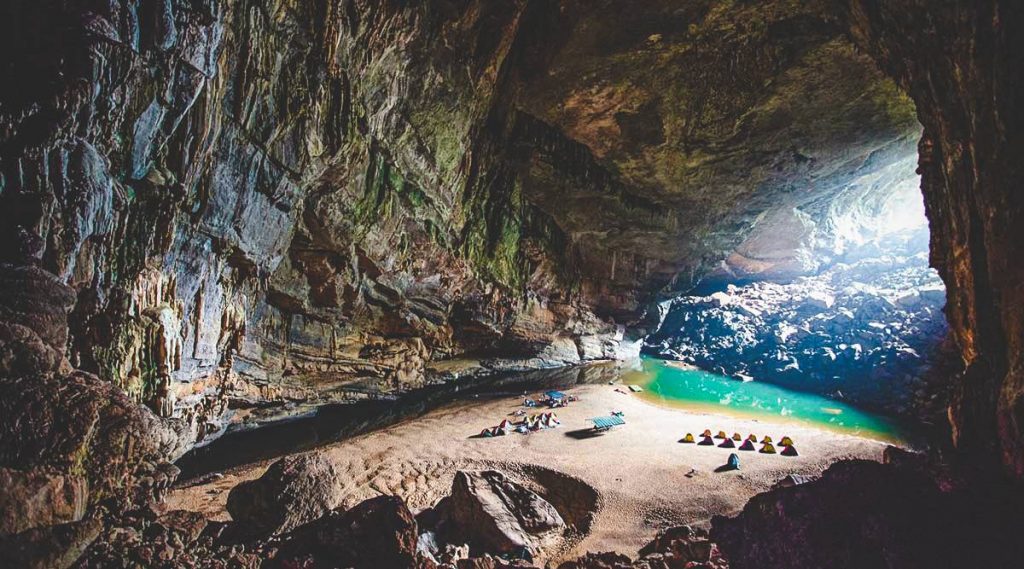 Hang En was considered the largest cave in Vietnam until the discovery of Son Doong, and despite having lost this tribute, it is still the third largest in the world. This cave is one of the most photogenic caves in the national park. The wide entrance opens directly into the lush jungle and light shafts illuminate a lake with a sandy beach. Unlike Paradise Cave or Phong Nha Cave, Hang En is only accessible after a trekking of approximately ten kilometers through the jungle, crossing rivers and climbing mountain slopes. It gives an excellent sense of adventure, but this also makes Hang And not a busy tourist cave compared to other caves in this National Park.
Options
2 days: One of the most breathtaking natural landscapes you will see in this life. You will spend the night camping in the cave on the sandy beach! You will also visit an ethnic village, Ban Doong, located in the jungle. From € 300.
Tu Lan Cave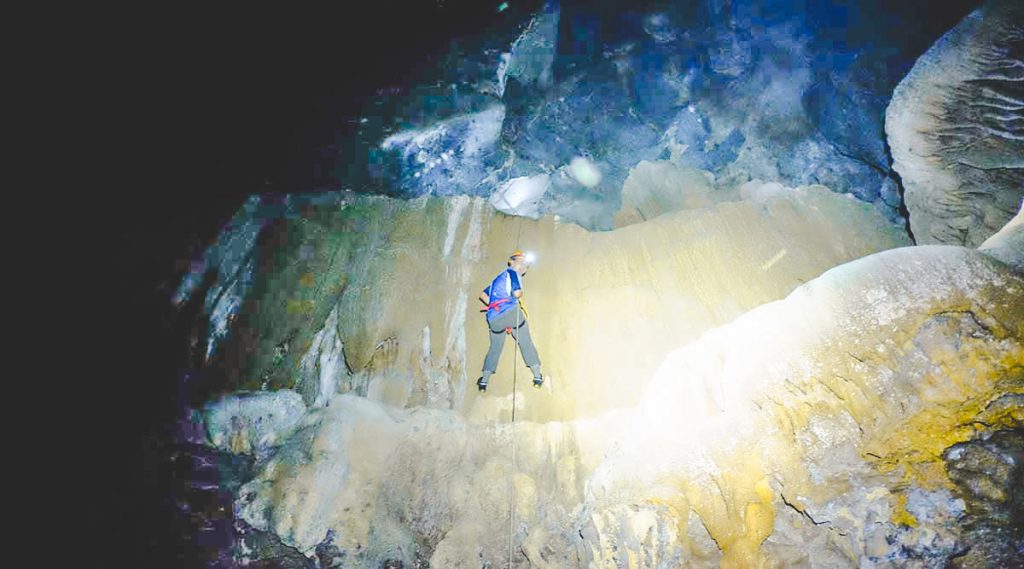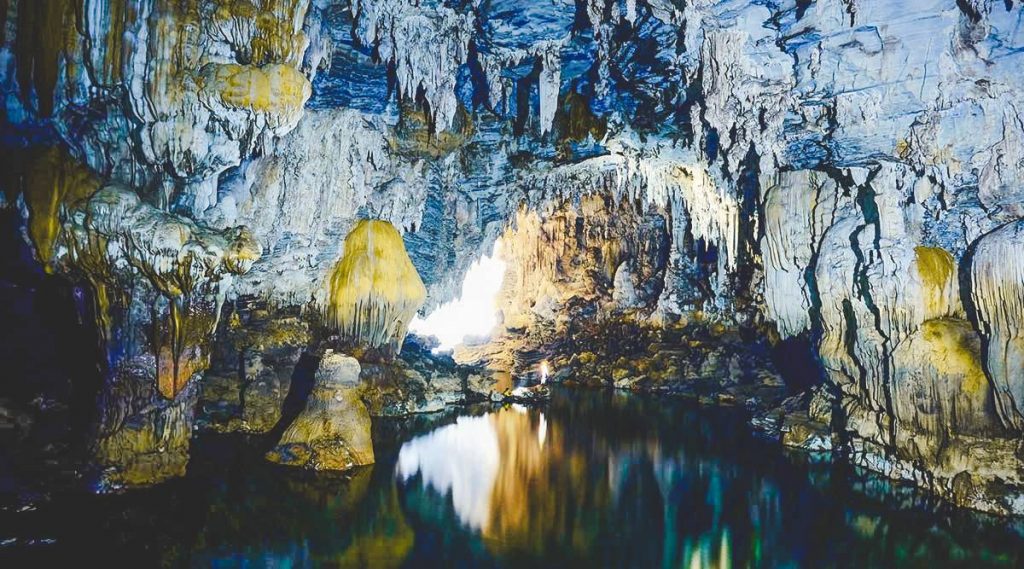 The Tu Lan cave system is another adventurous cave, with underground waterfalls, green lakes, beautiful stalagmites and stalactites. Just like Hang En, this cave is relative inaccessibility; you have to walk several kilometers and swim a little to get there. This already gives a huge sense of adventure that is missing from the impressive Paradise Cave.
Options
1 day: This is the best adventure tour that you can do in one in Phong Nha. Visiting the cave including climbing, swimming about 50 meters through a wild river cave and walking 9 km through the jungle.
2 days: The most popular two-day jungle and cave experience in Vietnam. Swim through river caves, river caves, underground waterfalls and spend the night in a jungle camp next to a spectacular waterfall.
3 days: During the three-day tour you will spend the night at two different jungle campsites next to beautiful waterfalls, explore a number of caves, and swim through caves.
4 days: In the four-day tour you also explore various other caves such as Hang Tien, Kim Cave and Secret Cave with phenomenal waterfalls and karst formations and overnight stays in the jungle.
Hang Va Cave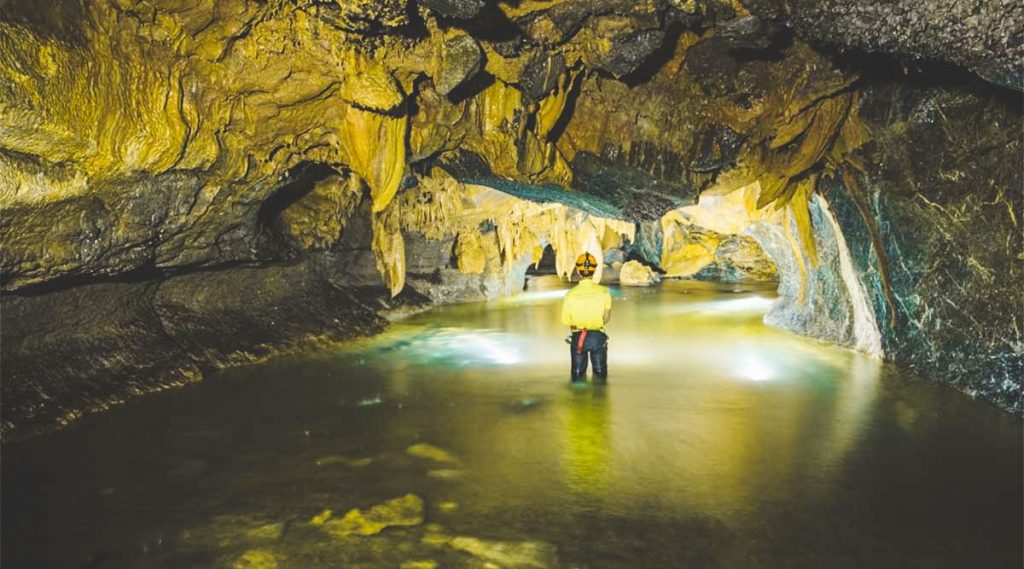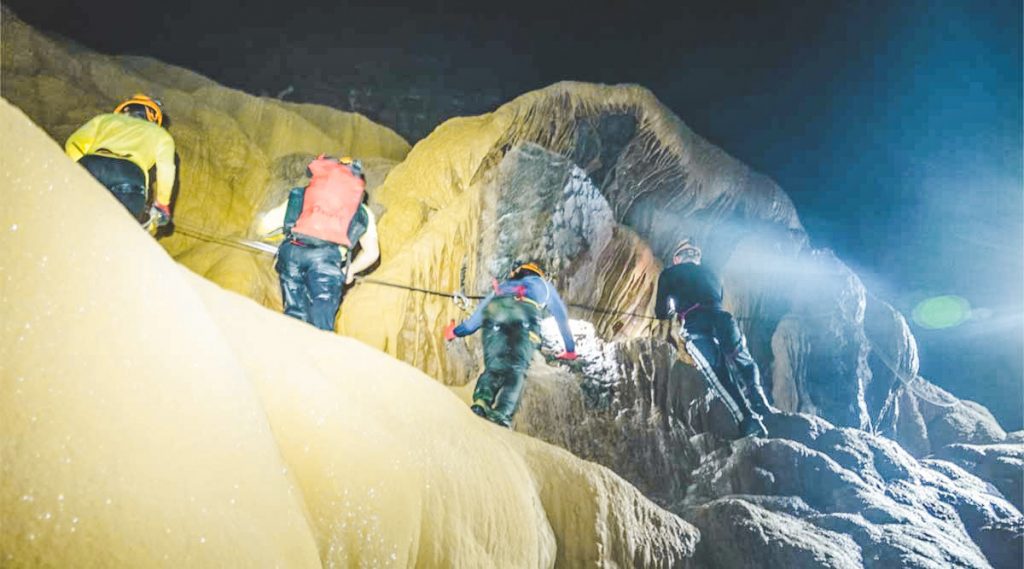 A small piece of Son Doong for those who cannot afford the Son Soong price tag themselves: Hang Va. Hang Va and the nearby Hang Nuoc Nut are technically part of the Son Doong cave system due to their shared water flow, and contain rock formations that are even more impressive. These caves were only discovered in 2012, which means that there have been few people. Just like the Tu Lan and Hang Ken caves, you have to be pretty fit to explore this cave, walking over rocks, swimming through underground rivers and climbing. This cave is for the more adventurous traveler.
Options
2 days: A two-day tour with a combination of two caves: Hang Va & Hang Nuoc Nut. Keep in mind that this is the most difficult 2-day cave tour. From € 300.
Tien Song Cave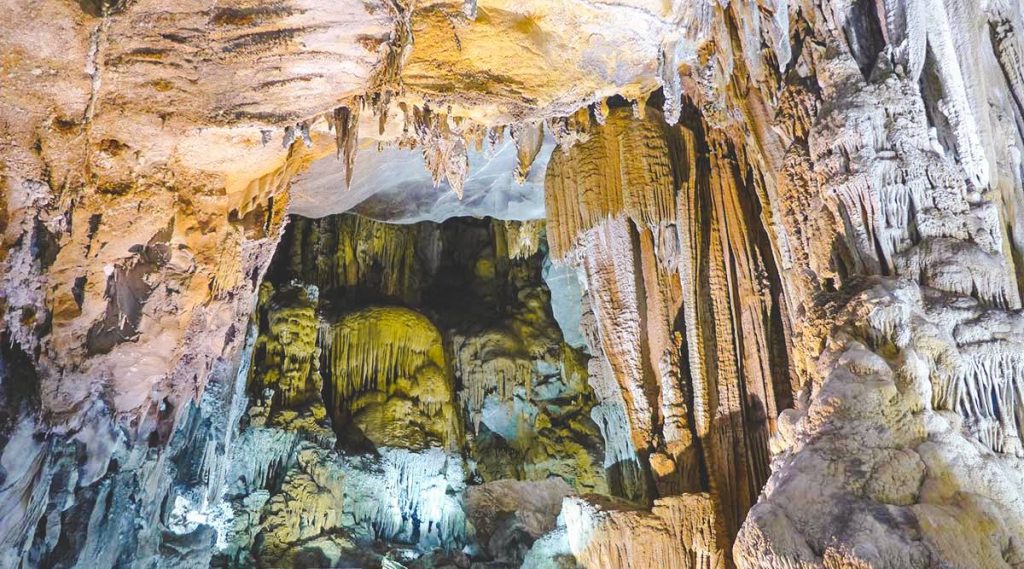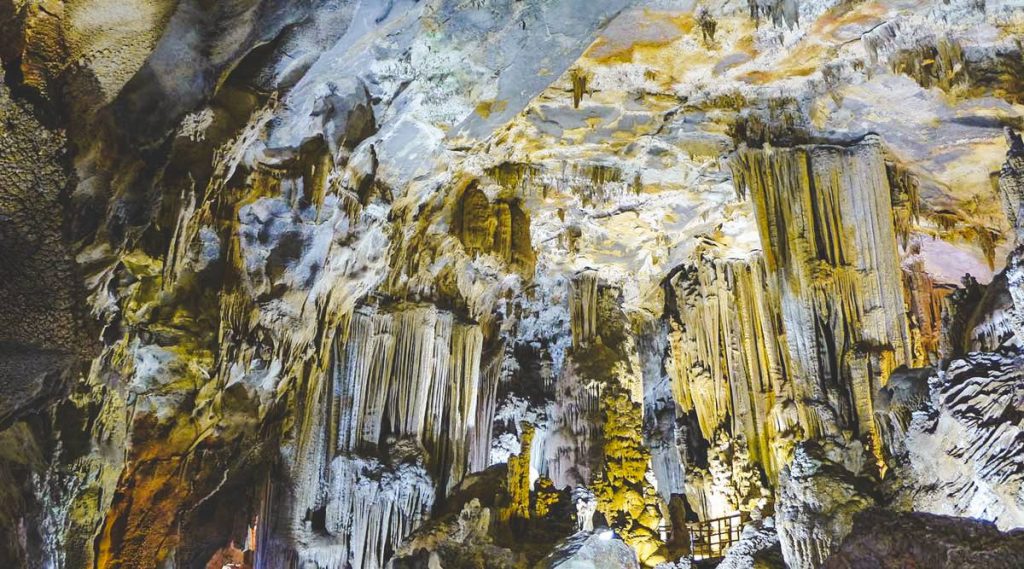 The oldest discovered cave in the region is often skipped because it is very similar to Phong Nha Cave. The Tien Son cave is also 100 meters above the Phong Nha cave and can only be reached via a long steep staircase. The cave is in some parts up to 25 meters high and 35 meters wide. A visit to Tien Son Cave is usually combined with a visit to the Phong Nha Cave.
Options
Admission price is: 80,000 vnd (excluding the boat trip to the entrance). The boat is the same as the one for the Phong Nha cave. Can also be combined with the Phong Nha Cave tour.
Tra Ang Cave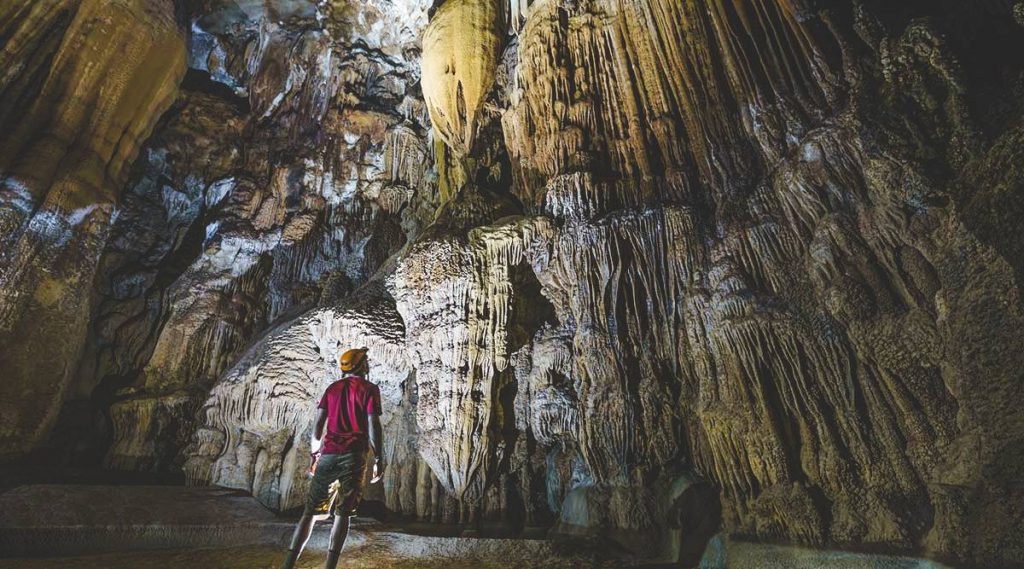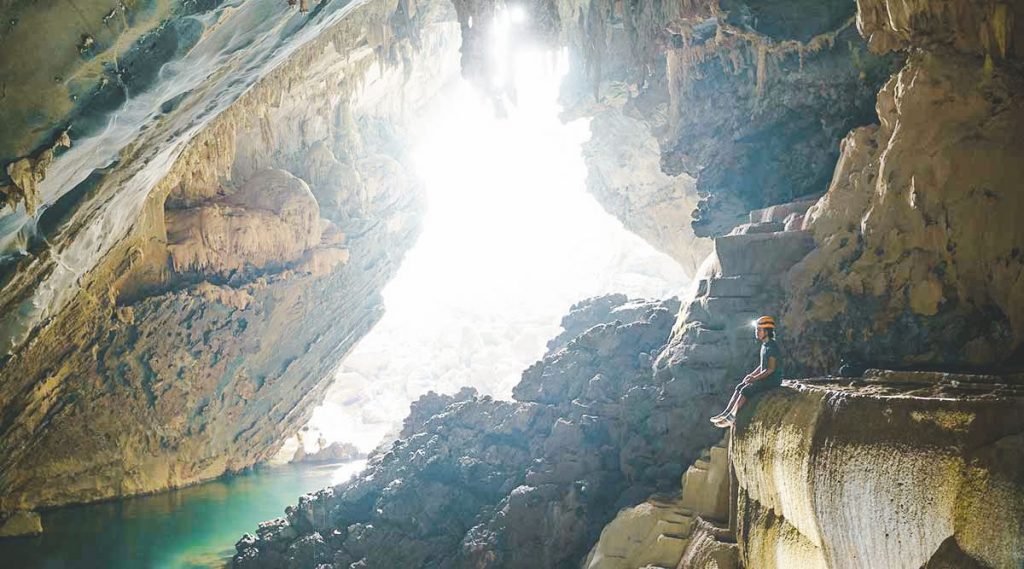 Tra Ang is one of Vietnam's most recently discovered caves and it was only opened to visitors in 2016. In that time it has received minimal visitor numbers. To reach it, you must trek through the dense jungle. The easiest option is to explore as part of a tour. Once inside, you can only explore the cave by swimming in the river that flows through it.
Options
1 day: Visiting Tra Ang quickly takes a whole day, because you can only reach the cave by pulling a few kilometers through the jungle. You go swimming inside the cave.
Tam Co cave (8 Ladies Cave)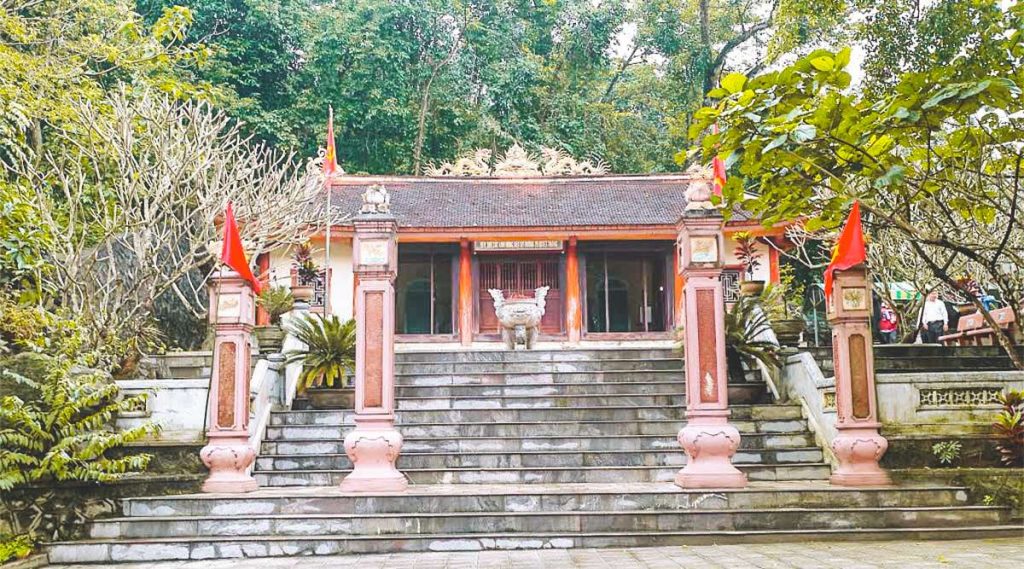 The Tam Co cave or the 8 Ladies Cave is easy to visit without a guide and is a 20-minute drive from Paradise Cave. The cruel history of Vietnam can be seen in the small cave. Here in 1972 a group of women died after being trapped by a bomb explosion during the Vietnam War. Today there is an altar and temple in their honor.
Options
You can easily visit this small cave yourself. Admission is free.
Pygmy Cave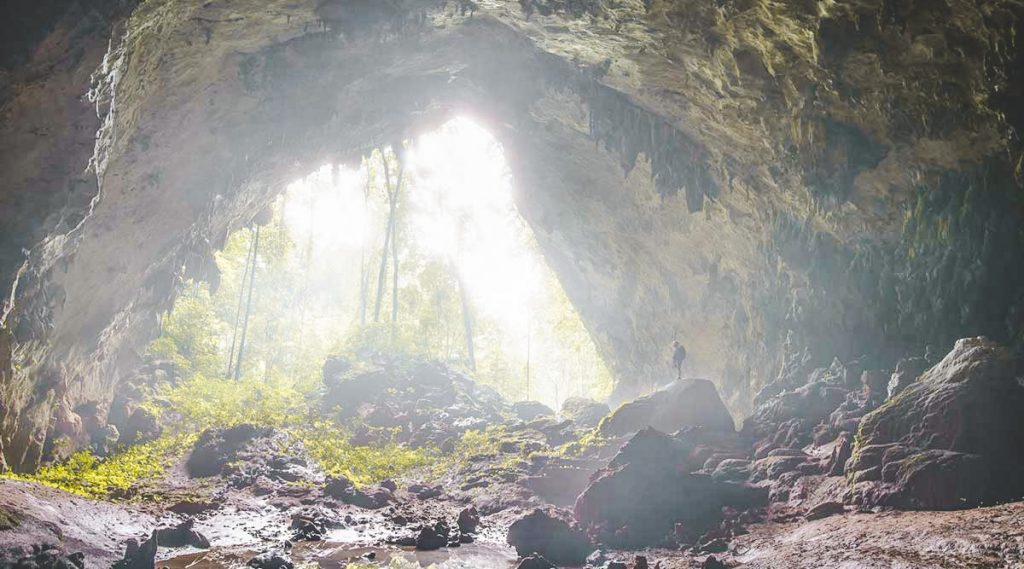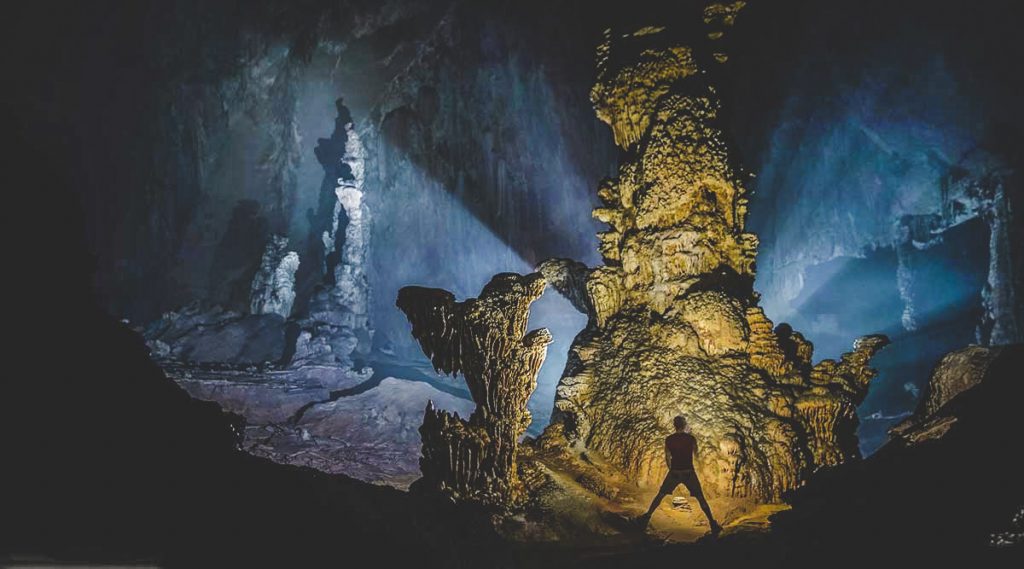 This cave has only just been opened to tourists and therefore there have really only been a few tourists. It is said that this is the fourth largest cave in the world. It is certainly very impressive, with a trek through the jungle, you can camp at the entrance to the cave and inside it is also beautiful.
Options
2 days: Camp in the cave, explore the cave, trek through the jungle and swim. The cave is often visited in combination with Hang Over Cave.