Mang Den is located in the unknown province of Kon Tum, part of the Central Highlands of Vietnam. Mang Den is also called small Dalat, because this region, like Dalat, is known for forests, mountains and waterfalls. However, it is completely unknown to foreign travelers and only recently on the rise among domestic tourists.
Things to do in Mang Den
Compared to Dalat, where you can go mountain biking, cable car, canyoning and much more, there isn't much to do in Mang Den yet, but it does have the same potential. A big advantage is that it is a lot quieter here, making it more suitable for relaxing in similar nature.
1. Pa Sy Waterfall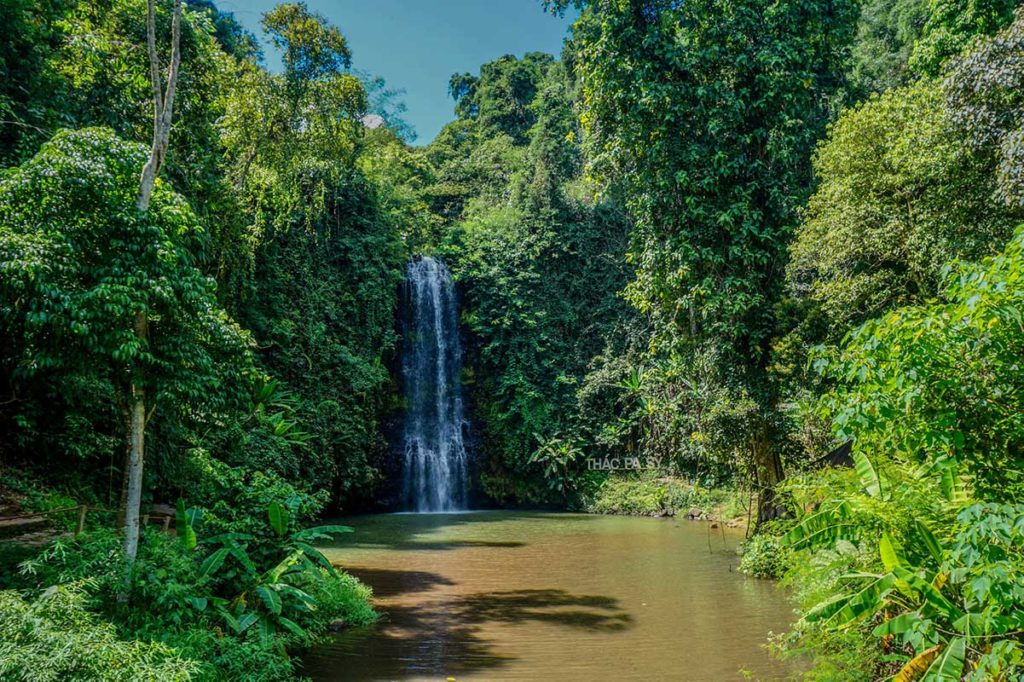 The Pa Sy Waterfall is one of the most beautiful natural highlights of the area and a visit is therefore one of the best things to do in Mang Den. It's not so much the size of the waterfall that makes it magical, but the location, hidden between the mountains and completely surrounded by greenery, feels like you're in the middle of the jungle.
2. Mang Den Pass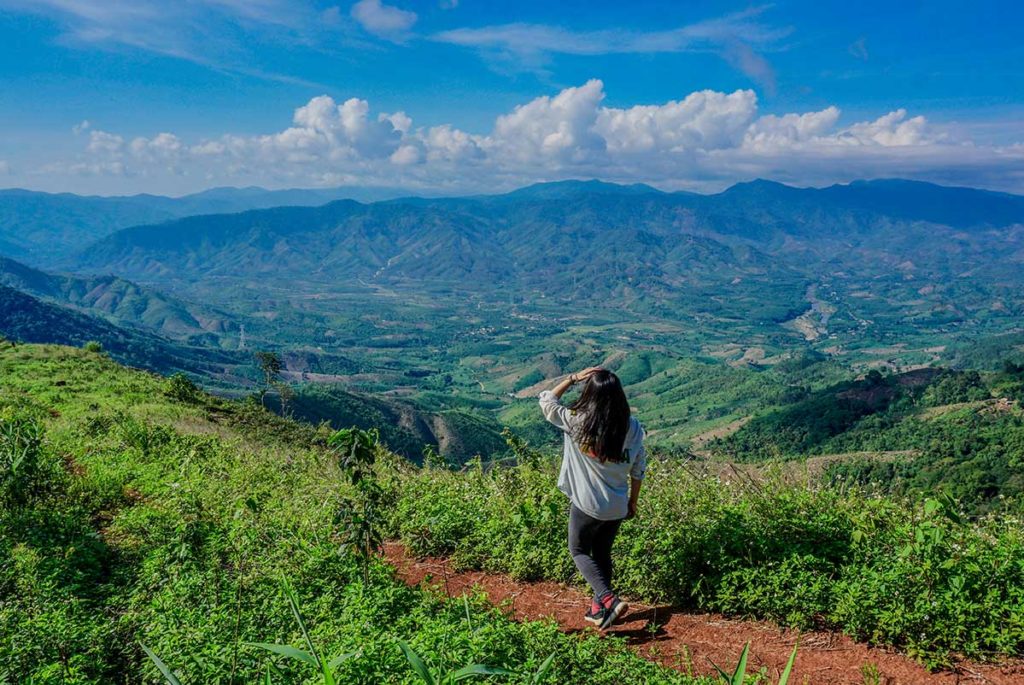 One of the other best things to do in Mang Den is the nearby mountain pass. You drive over this Mang Den mountain pass if you come from Kon Tum city. The views along the way are impressive over the mountains, plantations, villages and forests of the central highlands.
3. Ethnic villages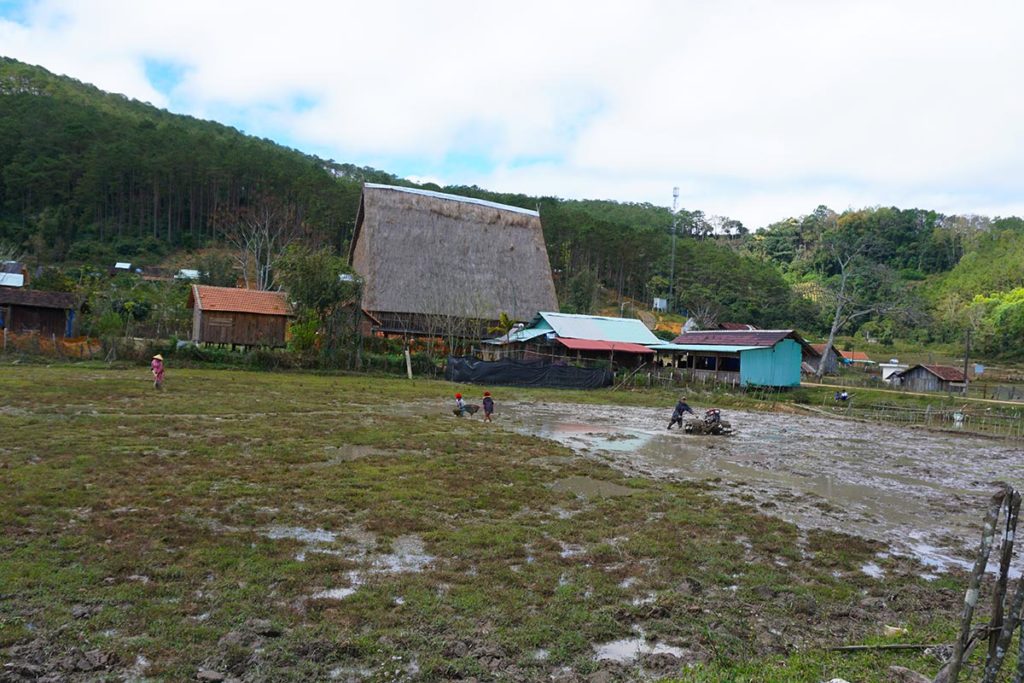 You will not only find ethnic minorities in the mountains of northern Vietnam, but also in the central highlands. Each ethnic group has its own unique culture. There are several ethnic minority villages around Mang Den and it is a great experience to visit at least one of them.
Most of the minorities living in this region are the Ba Na ethnic minority. Many of the houses in the village are built on stilts, with one central house called Rong and has a characteristic large roof. For a truly local experience, you can also stay in a home of the Ba Na minority where you learn a lot about their local culture.
Kon Bring village is a recommended village to visit, right in Mang Den and also suitable for an overnight in a homestay. It is located in valley surrounded with forest, rice fields and hills.
4. Driving motorbike
It will come as no surprise if you already know Vietnam a little that the best way to explore the area of Mang Den is by motorbike or scooter. Scooters are available for rent at each accommodation. It is recommended to drive at least a semi-automatic because automatic scooters are difficult to get up the hills and mountains. A car with a driver can also be arranged, but the experience will be a little less fun. In any case, you must have arranged transport to explore the area and thus easily drive to the forests, villages and waterfalls
On the back of the motorcycle with an experienced guide is possible, but difficult to arrange. The real Easy Riders here come from Dalat and only stop here with their guests for an overnight stay while exploring the highlands.
5. Dak Ke Waterfall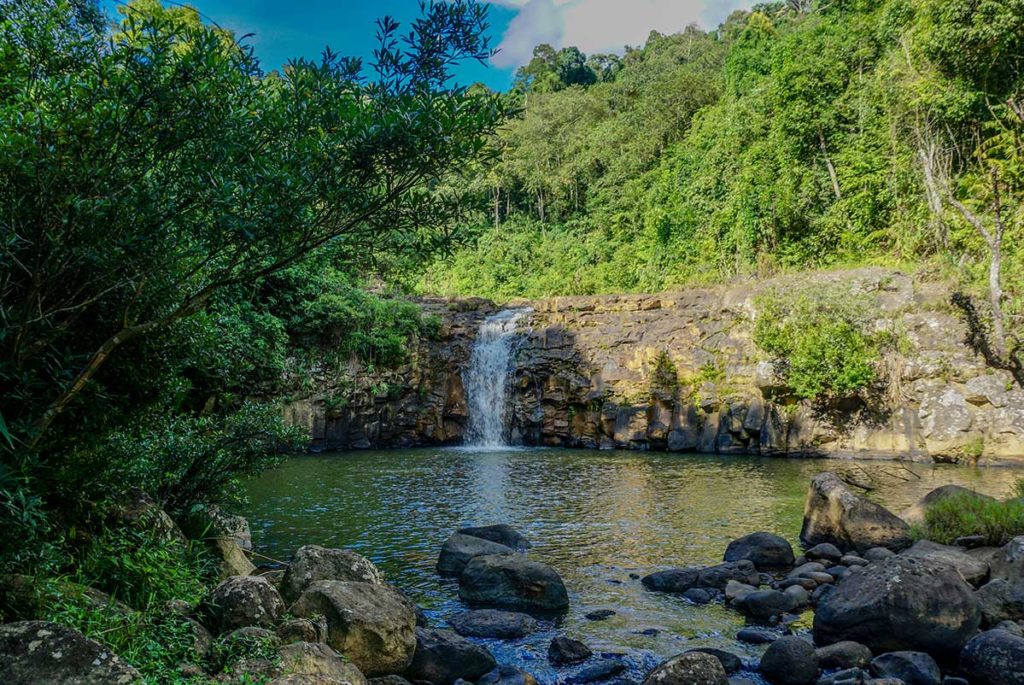 The Dak Ke Waterfall is, especially compared to the Pa Sy, very hidden and poorly signposted. Via Google Maps you will see that it is right next to a bridge. There is a small dirt side road at the end of the bridge that takes you down. The small waterfall at the bottom of the valley is formed by the same stream that the bridge crosses. There is a small natural pool where you could swim.
6. Forest walks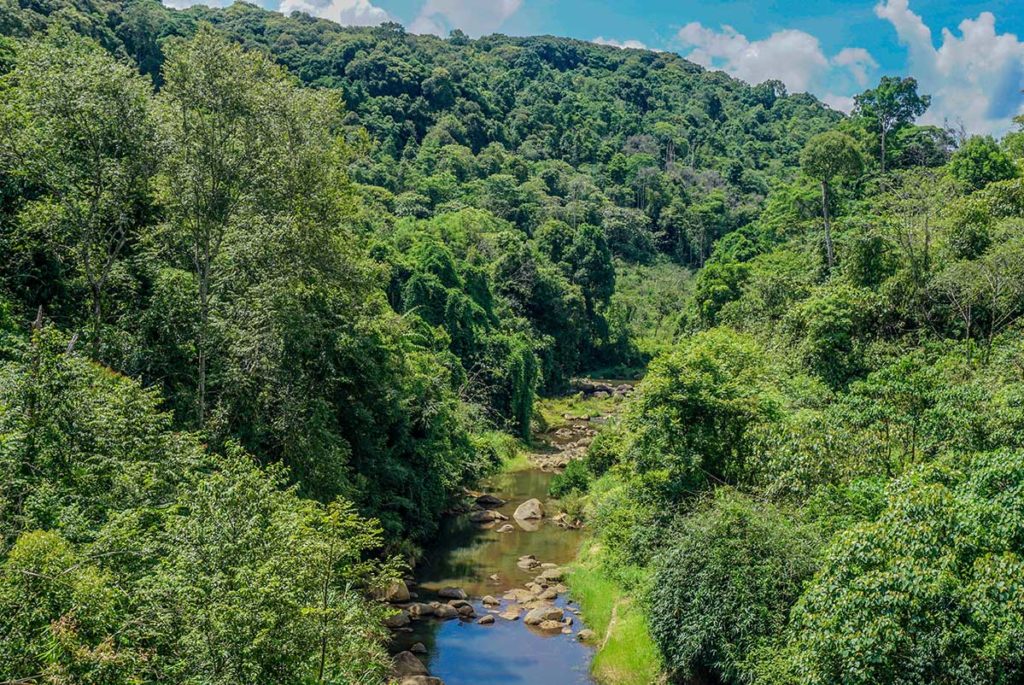 Despite the fact that nature with extensive forests lends itself perfectly to long forest walks, there are unfortunately few trails for hikers. Don't let this stop you from stopping somewhere along the way to take (small) off-road walks.
7. Coffeeshops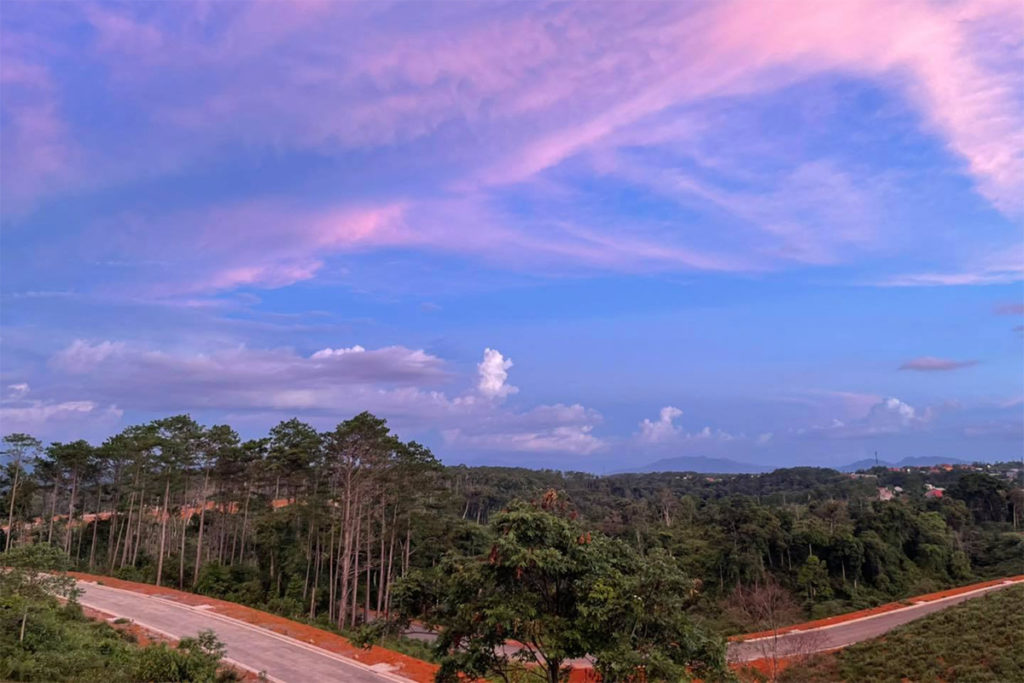 On the way if you are driving around on a scooter/motorcycle it is recommended to stop at one of the many coffee shops in Mang Den. Driving around and having a drink at coffee shops and taking pictures is something that young Vietnamese do during their short domestic vacation and therefore gives you a completely different and modern view of Vietnamese culture. Similar to Dalat, you will find coffee shops that often have beautiful views or are uniquely decorated inside. With a cup of tea, fresh coffee or bubble tea you can enjoy the view and relax.
8. Dak Ke Lake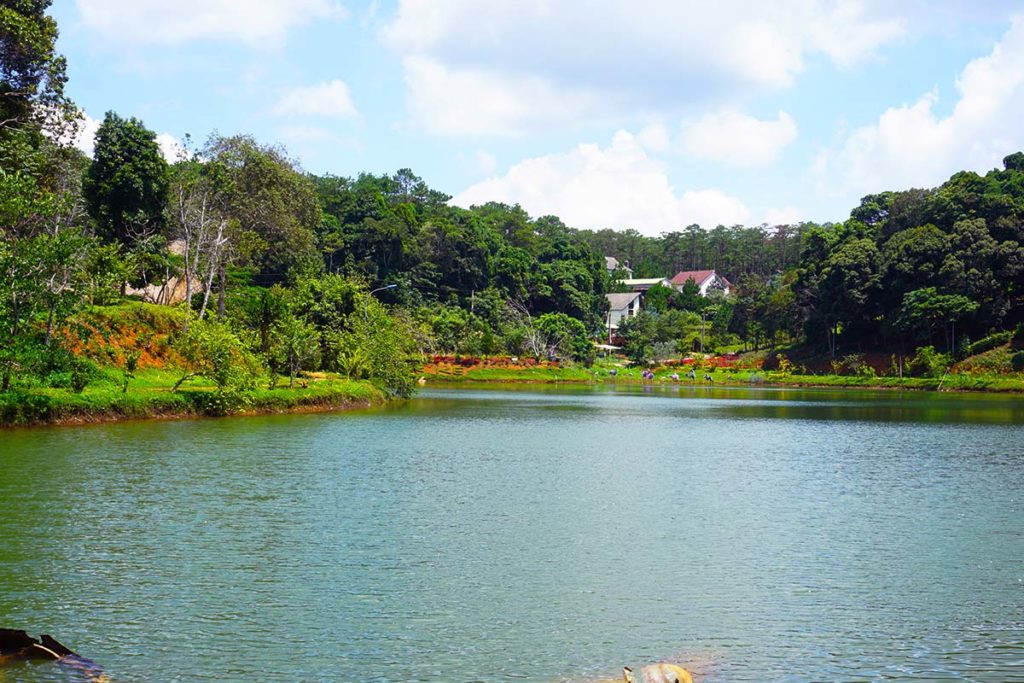 There are a few lakes in the area of Mang Den, but the most famous one is Dak Ke Lake. The lake is peaceful and surrounded with forest. A few paths here can be used for walking around the lake. There is also a traditional Rong house (minority house) right next to the lake that is used for education about the local minorities.
9. Plantations & farms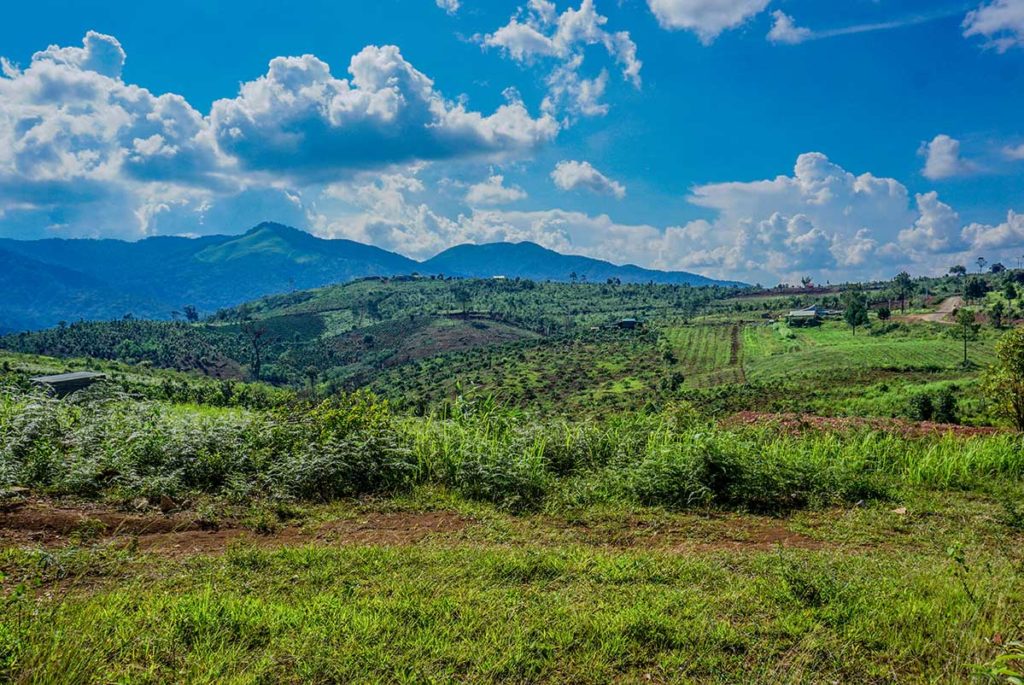 The Central Highlands are known for the many coffee and tea plantations and farms where fruit is grown. A nice thing to do in Mang Den is to visit such a place for that reason. Here you can see from start to finish how coffee, tea or any other regional product is made. Of course it is also a perfect place to score a Vietnam souvenir. The E Ban Farm is the best known where you can do this, but when you drive through the area you will see several places.
10. Khanh Lam Pagoda
Like many other tourist spots in Vietnam, a gigantic pagoda has been built here with the aim of attracting more tourist. It is a completely new pagoda that mainly attracts domestic travelers, but can be worth a visit if you are interested in religious architecture. The pagoda is located in an impressive place, on top of a mountain of 1200 meters high and surrounded by forests.
How to get there
Mang Den is very remote and this makes it hard to get to. The closest airport in in Pleiku, around 100 km. From here there are busses to Kon Tum and Mang Den. It is faster and more convenient however to take a private car with driver, prices start from 700,000 VND.
Most foreign travelers that reach Mang Den get here by Easy Rider. These are experience motorbike guides that take travelers on the back of their motorbike. Tours to Mang Den by Easy Rider often start from Dalat and end in Hoi An (or vice versa) and include stops in several places in the central highlands on the way. It is a very impressive tour, especially because most of the area are for off the beaten track for most tourist.
Optionally, you can also do similar routes by private car with driver.
Accommodations in Mang Den
Mang Den is very much on the rise among domestic tourists, so new accommodations appear almost every month. This means there is plenty of choice and when you visit this place during a week day, almost everything is available. Most accommodations are homestays or small scale hotels. The extensive forests are also suitable for wild camping.
For a real local experience it is recommended to stay in a homestay of the local Ba Na ethnic group. There are even options for long-term stays, where you can also learn their language and much more about their culture. But even if you stay there for a short time, it will certainly be a unique experience.
Best time to visit Mang Den
Mang Den can be visited all year round and has a similar climate to Dalat. This means that because of the mountains it never gets very hot in the summer months. In late December, when the weather is warm, cherry apricots bloom all over Mang Den.
Continue your trip
Mang Den is quite remote, so it is best to combine a visit with other sights in the province. Check out all the things to do in Kon Tum, such as local villages and national parks, here.
As mentioned before, it is best to do this with Easy Rider, but you can also drive a motorbike yourself or rent a car with a driver. There are not a lot of cities closeby; Hoi An = 240 km, Quy Nhon 200 km, Pleiku 100 km, Dalat 480 km.
You can also visit one of the most beautiful waterfalls in Vietnam, 50 km away from Mang Den in Gia Lai province. To get to the impressive K50 Waterfall, you need to hike through the jungle and have guides arranged in advance.