With a lack of a good public transportation network in Vietnam, you probably cannot escape the use of taxis. Grab taxis is a great and safe alternative to regular taxis. We explain why you should use it and how you should use it.
What is Grab?
Grab is a mobile app that allows you to book cheap and safe taxi service. The app matches passengers with taxi drivers for transport with cars and motorbikes. Grab drivers are often not official taxi drivers. They use their own car or motorcycle to take passengers from a to b. You set your location and destination in the app and a car or motorcycle comes directly to you. You get in and the driver knows exactly where to go.
Uber in Vietnam
The same and better-known taxi app in Europe, the US and the rest of the world is Uber. Uber was the biggest competitor of Grab is Southeast Asia, but since early 2018, Grab has taken over the entire branch of Uber in Southeast Asia. This means that you will no longer find Uber in these countries.
Why would you use it?
There are several reasons to use this app to explore the city. First, it is fraud-proof. Before you book a Grab taxi, you already see the exact price that you have to pay for your trip. No estimated price and you don't have to worry that a taxi driver will charge you extra because you are a tourist. In most cases it is also cheaper than a regular taxi.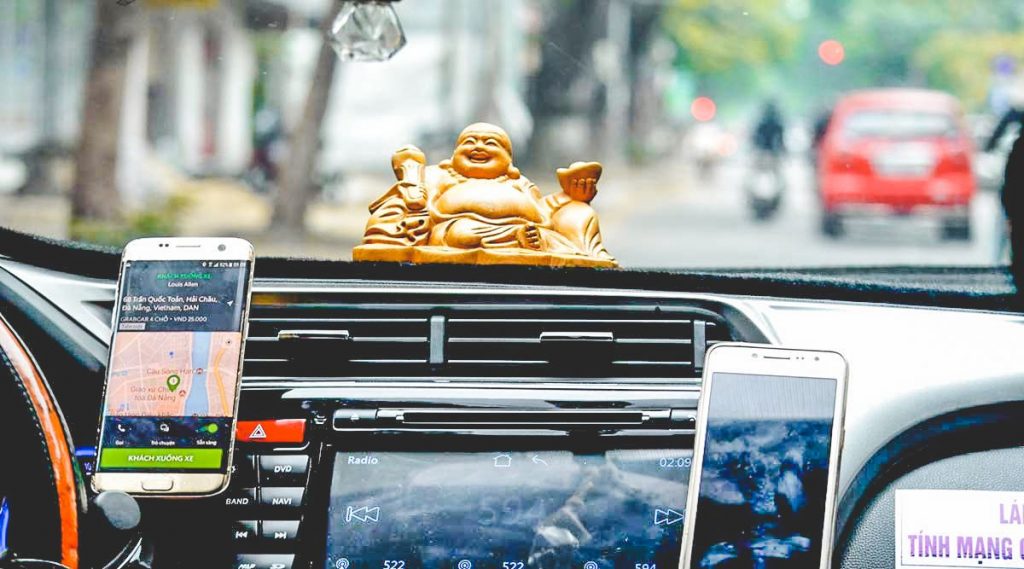 Another reason is that most taxi drivers do not speak English, making it a bit harder to explain where to go. With the Grab app you only have to set your destination in the app. Of course, if you cannot find the exact place where you want to go or if you are not completely sure, this can be more difficult.
And last, as mentioned earlier, there is also an option for a motor taxi. You not only travel faster than a car during rush hour, but this is also a very cool experience; the way that most people travel in Vietnam.
Where and when can I use it?
Grab car is unfortunately not available everywhere in the country, but in the big cities; Ho Chi Minh City, Hanoi, Da Nang and Nha Trang. The Grab engine is in more cities, such as Dalat and Quy Nhon. It is cheap, but we recommend using it only for traveling in the city and not for traveling to another city. A Grab driver would probably not accept such a journey and for a long journey a private car with driver would probably be a cheaper and better option.
Car or motorcycle taxi
A car is always better when you travel with several people or with a lot of luggage. A Grab motorcycle taxi can only take one person. If you travel with more people, each person needs his own motor taxi. The motorcycle taxi is also the fastest option, except when it is not busy in the city, but this usually only means in the middle of the night.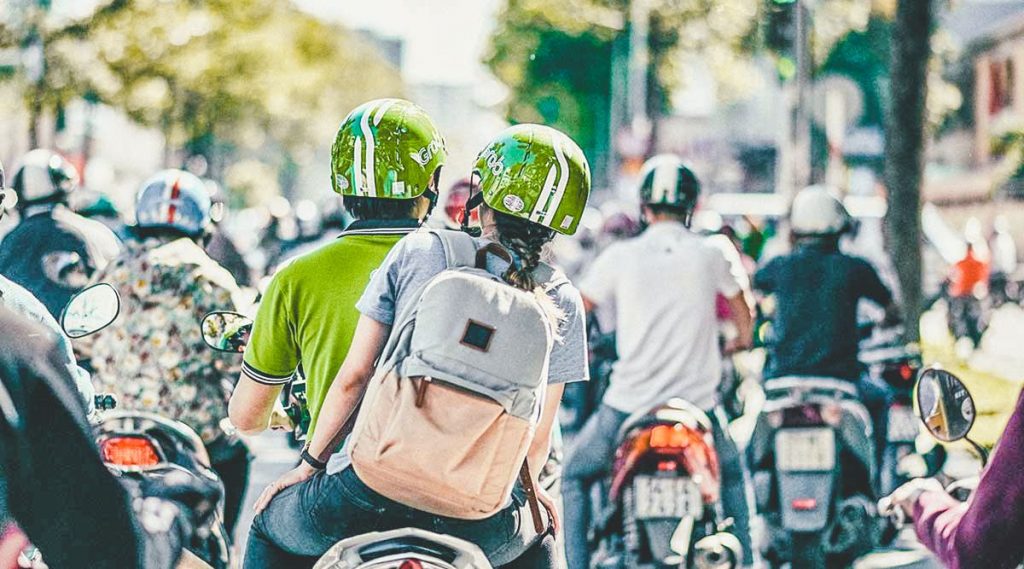 How does Grab work?
To use Grab, we recommend having a Vietnamese 3G / 4G SIM card; View our detailed blog about how you can buy a sim card in Vietnam.
Step 1: Download the Grab app (Android | Apple) and create an account. Use the code: "GRABPHUOTVIVU" to get your first ride for free.
Step 2: Then choose the collection point and delivery point. After booking the ride, the driver often asks you to confirm, if the driver does not speak English, you can send him a message via the app, which often understands a simple English text.
Step 3: In the app you can see how far the driver is from you. You can also see his license plate, type of car and sometimes also the color. With this information it is easy to recognize the driver among all the other traffic. The motorcycle taxi is easily recognizable by its green helmet and jacket.
Step 4: If he takes you to the agreed location, you pay the driver the price that the Grab app has determined. If you store your credit card details in the app, you also have the option to pay with a credit card. When booking the taxi you can select how you want to pay.
Alternatives
Other companies have not sat still after seeing the success of Grab. Various other taxi apps have been released: