Cham Island day tour by speedboat: Snorkeling & Beaches
The beaches of Cham Island are some of the best on the central coast
Explore a few places on the island and learn more about the local life
Enjoy snorkeling and relaxing on the beach
At 8:00 AM, a local tour guide will pick you up from your hotel. You will be transferred to Cua Dai harbor to register with the Border Police before heading to the islands.
After 20 mins transferring by speedboat, you arrive on the island.
Your guide will accompany you to the Cu Lao Cham museum and showroom, where you can learn about the island's history through displayed maps and objects.
Next, you will visit Au Thuyen, where the local boats take shelter during big storms.
You can also take a walk along the rice field to the over-200-years-old temple of Hai Tang. On the way, you can see Chăm's old well and the local Seafood Market, a bustling place for trading all kinds of fresh seafood caught by the fishermen after a night of fishing.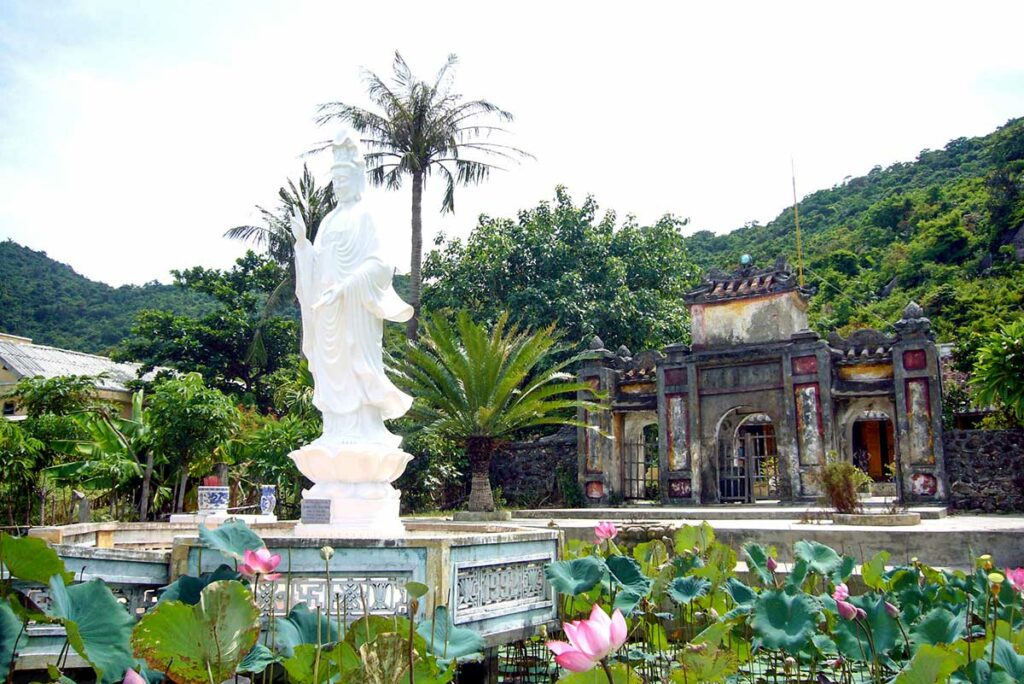 At 11:00 AM, you will head back to the boat and embark on a snorkeling adventure for half an hour at Xep beach. While snorkeling, you can immerse yourself in the crystal clear waters and witness the beauty of the coral reef and marine life. You may have the chance to spot colorful fish, sea urchins, starfish, and maybe even sea turtles if you're lucky!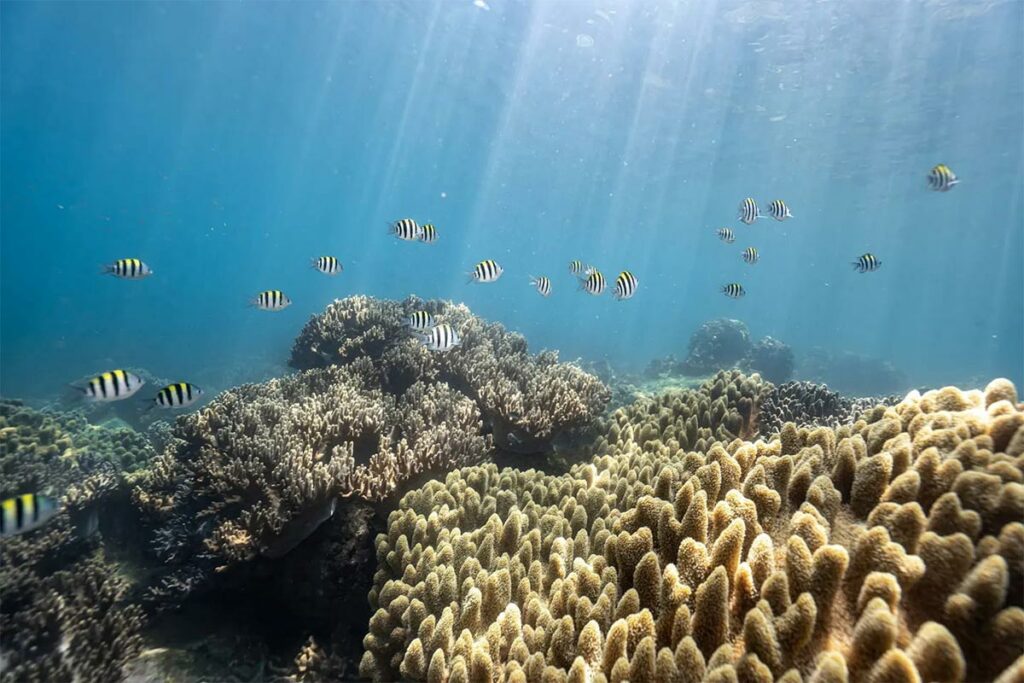 At 11:45 AM, head to Bai Bac beach where you will enjoy a delicious lunch on the beach and have some leisure time for 2 hours to unwind on the stunning beach. You can swim, sit under the coconut trees, or simply relax and enjoy the serene atmosphere.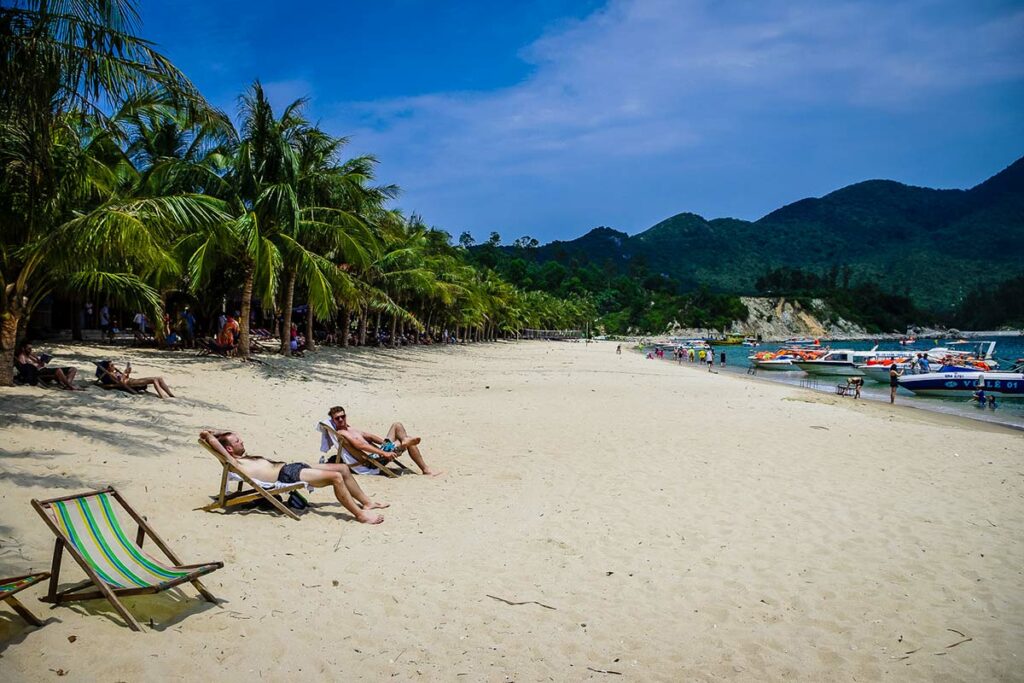 At 2:00 PM, the Cham Island tour will end as you are brought back to the Cua Dai and then transferred to Hoi An by vehicle.
Planning
Start tour: Pick up from hotel in Da Nang or Hoi An
End tour: Drop off at hotel in Da Nang or Hoi An
Duration: 6 hour
Including
A/c bus
Speedboat
The fee for visiting the island
English speaking local tour guide
Lunch with fresh seafood
Mineral water
Snorkeling
Life jackets
Excluding
Meals and services not describer in the itinerary
Beverage in Meal
Personal expenses
The best time to visit Cham Island for great beach weather is during the dry season, which runs from May to August. The weather is typically sunny with little rain during this time, making it perfect for swimming, snorkeling, and other beach activities. However, it's always a good idea to check the weather forecast before planning your trip.
Yes, Cham Island can get crowded, especially during peak tourist seasons and holidays. It's best to avoid weekends and Vietnamese holidays, as they tend to attract more visitors. It is recommended to visit Cham Island during the week and outside of holidays to encounter fewer visitors.
Yes, snorkeling is great around Cham Island, as the waters are clear and filled with diverse marine life such as colorful fish, coral reefs, and sea turtles. There are several snorkeling spots around the island, including Bai Chong and Hon Tai, that offer excellent snorkeling experiences.
If you have the time, it is worth considering staying on Cham Island for one night. The island can be easily explored in a day, but staying overnight allows you to visit secluded beaches that are not included in day tours, and to enjoy the beaches that are visited by day tours before or after the crowds have left. However, keep in mind that there are limited accommodation options on the island, and besides visiting beaches, there are not many other activities to do.
There are two sides to Cham Island. The side facing the ocean can be rough, but the other side facing the mainland is calm, and it's the place where you will go to visit beaches and snorkel. Usually, the water is calm, unless there is a storm, however, in that case the trip would most likely be canceled. Although the water between the island and mainland can be wavy, the trip by speedboat is just a short 30-minute ride.
As much as we would like to, unfortunately due to local regulations day tours cannot stay longer than 2 PM. If you want more time to explore the island, opt for an overnight stay.
Booking & Information request
Ask for booking, availability, pricing or general questions about this tour.