A paradise for nature and outdoor enthusiasts, Cat Tien National Park is one of nine UNESCO Biosphere Reserves in Vietnam. This is one of the largest national parks in Vietnam and one-of-a-kind thanks to its biodiversity. The Cat Tien National Park had a hard time during the Vietnam War, but thanks to efforts by the World Wildlife Fund, among others, this national park is again rich in various animal and plant species.
Visiting information
Highlights of Cat Tien National Park
1. Endangered Primate Rescue Center and Bear Rescue Center
A short boat ride will take you to Fairy Island (Dao Tien), home to the Endangered Primate Rescue Center. This center is specialized in rescuing endangered animals from southern Vietnam, that are for example seized by the illegal wildlife trade. Comfortable living conditions and natural environments have been created where these animals can recover, socialize and, if possible, prepare for release into the wild.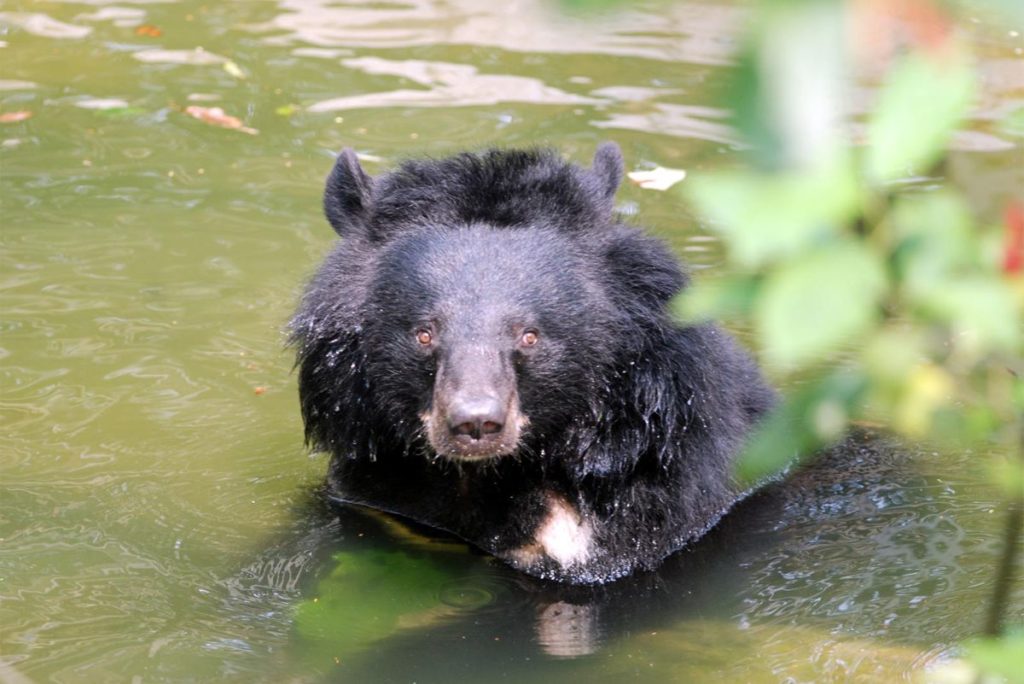 Next, the Bear Rescue Center is another rescue center that protects and cares for bears, who have also been rescued from the illegal wildlife trade. Some people in Asia believe that bear bile is good for health, so it is made into medicine. This place is also worth a visit.
2. Gibbon trekking tour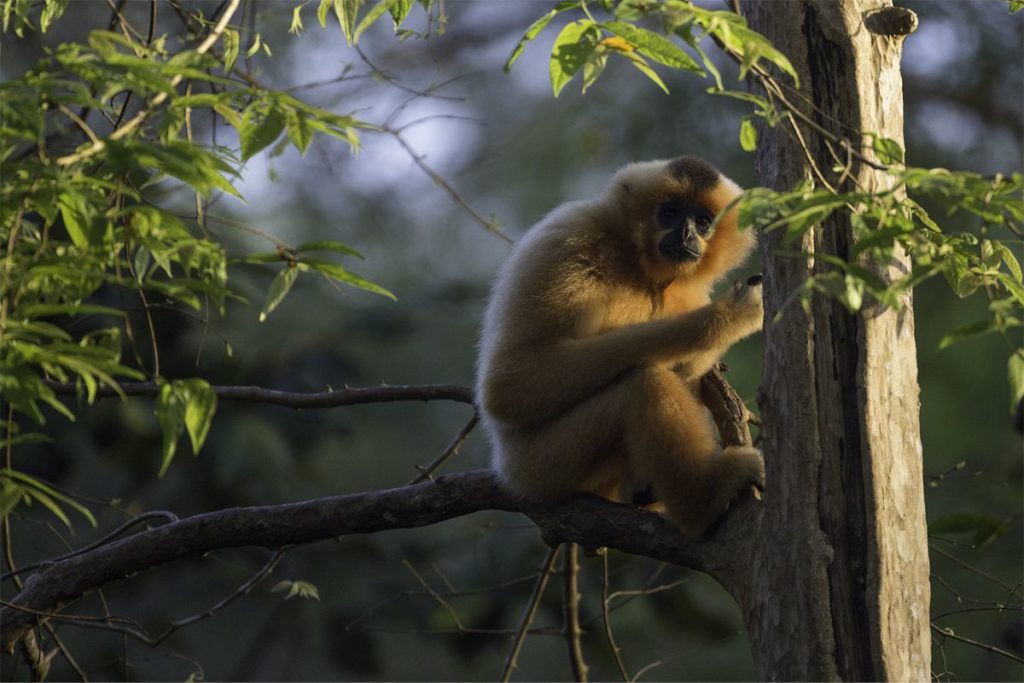 Every morning at 5:00 am you can join a gibbon trekking tour that takes you into the forest. This is the time when these rare monkeys are most active, so the best chance to spot them. You can often hear them singing from a great distance and with a bit of luck you can see them swinging through the trees. At the end of the tour, visit the Endangered Primate Rescue Center where you can get a closer look at gibbons.
3. Hiking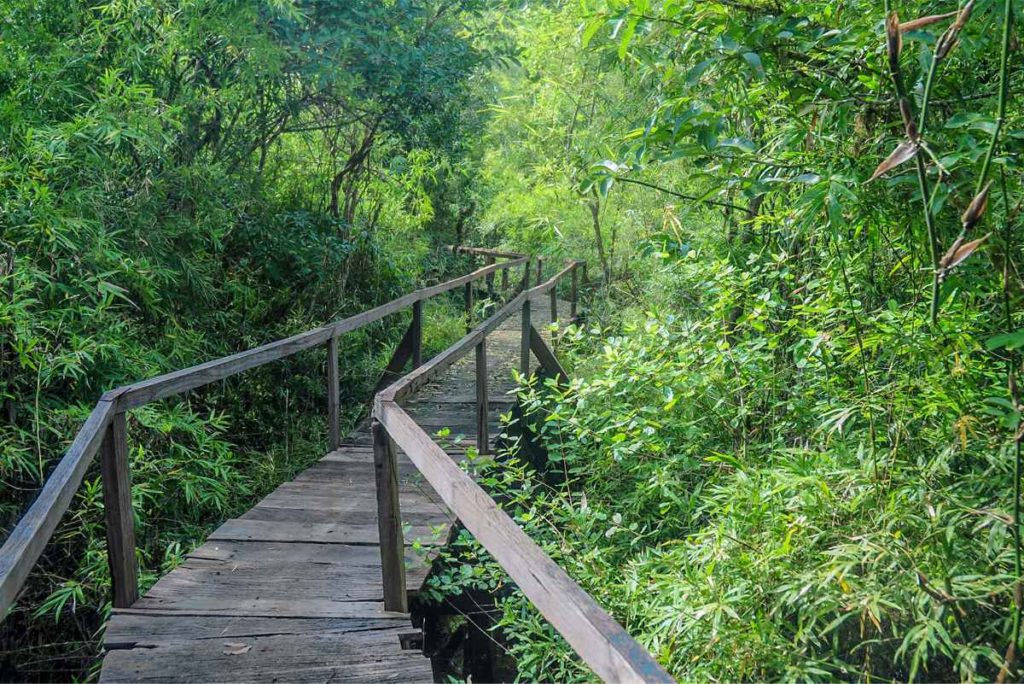 Hiking is the main activity in the national park. Cat Tien has different trekking routes with old giant trees like Tung tree, Bang Lang forest with the special Bang Lang tree with 6 separated trunks, animal watching like crocodiles at the crocodile lake and lots of birds and butterflies. You can get maps showing the different trekking routes at the main office. Here you can also arrange a guide if you want to go deeper into the park. There are walks from a few hours to walking with an overnight stay in the park.
4. Boat trips and canoeing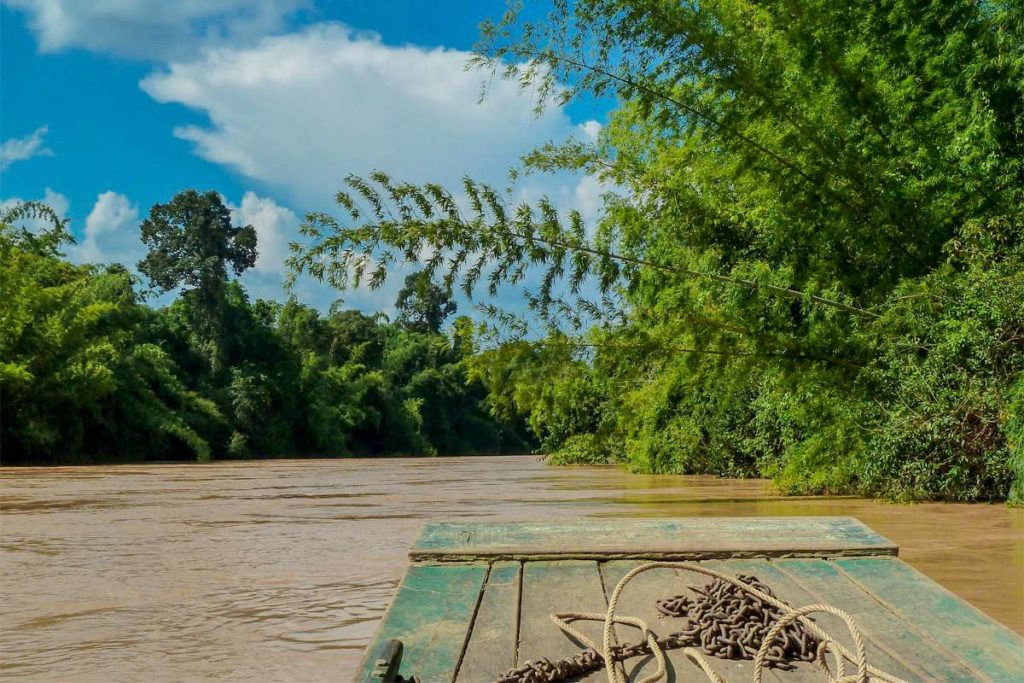 Boat and canoe trips are available at Crocodile Lake (Bau Sau) and can be arranged at the main office and Ta Lai Longhouse.
5. Cycling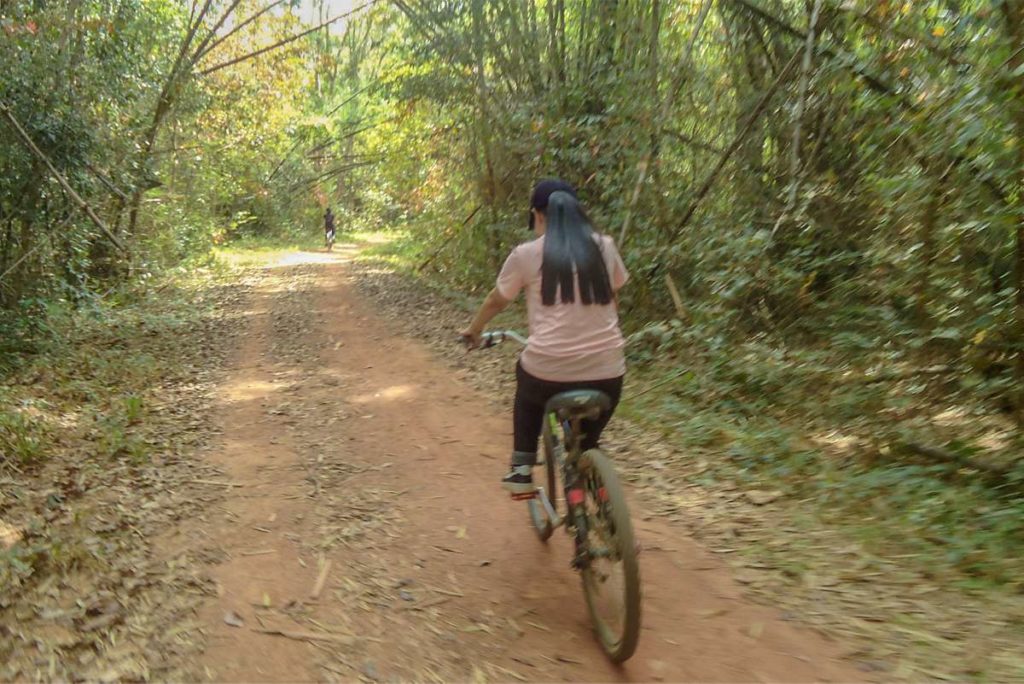 Bicycles are a great way to explore the park and can be rented from the main office and Ta Lai Longhouse. There are all good roads in the park, so if you want more adventure, look for the best mountain bike trails outside the park. The most popular cycling route is the one to the crocodile lake.
6. Night tours
A night safari is one of the best activities in the park, it gives you the opportunity to discover nocturnal animals as they walk around at night to find food. You drive an open vehicle through the dark to find different animals, such as porcupines, sambar deer, civets and Chinese muntjac. The tour departs at 6:30pm and 7:30pm in the evening and lasts 50 minutes.
7. Crocodile Lake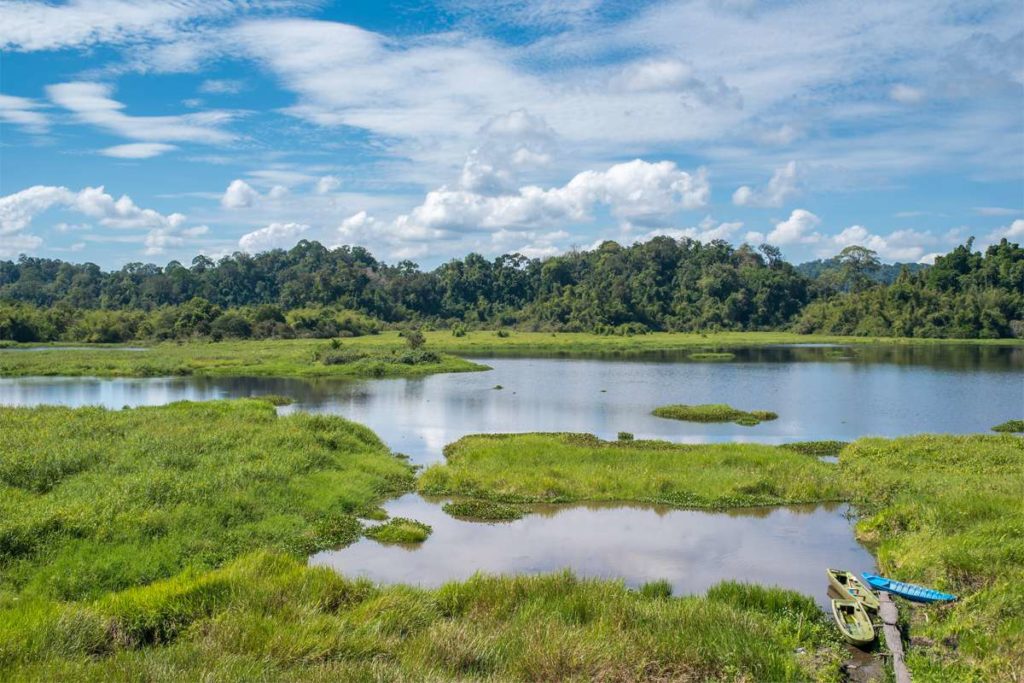 Bau Sau, or crocodile lake, is a large lake area that attracts many animals. It is also one of the best places for spotting birds in Vietnam. But as the name suggests, it is best known for the crocodiles. Except for the crocodile, Lake Bau Sau is very beautiful and peaceful. You can catch fish here and have them prepared on the spot. There are also safe places to camp and spend the night near the lake with ranger protection. The crocodiles are fairly tame; they won't hurt you if you keep your distance, but swimming is not recommended.
The crocodile lake is located deep in the forest, about 15 kilometers. To reach it, you can hike, bike (recommended) or rent a jeep. If you rent a jeep you can drive up to 10 km and the remaining 5 km you have to walk. The walking routes are well marked, but if you are not familiar, you can hire a guide.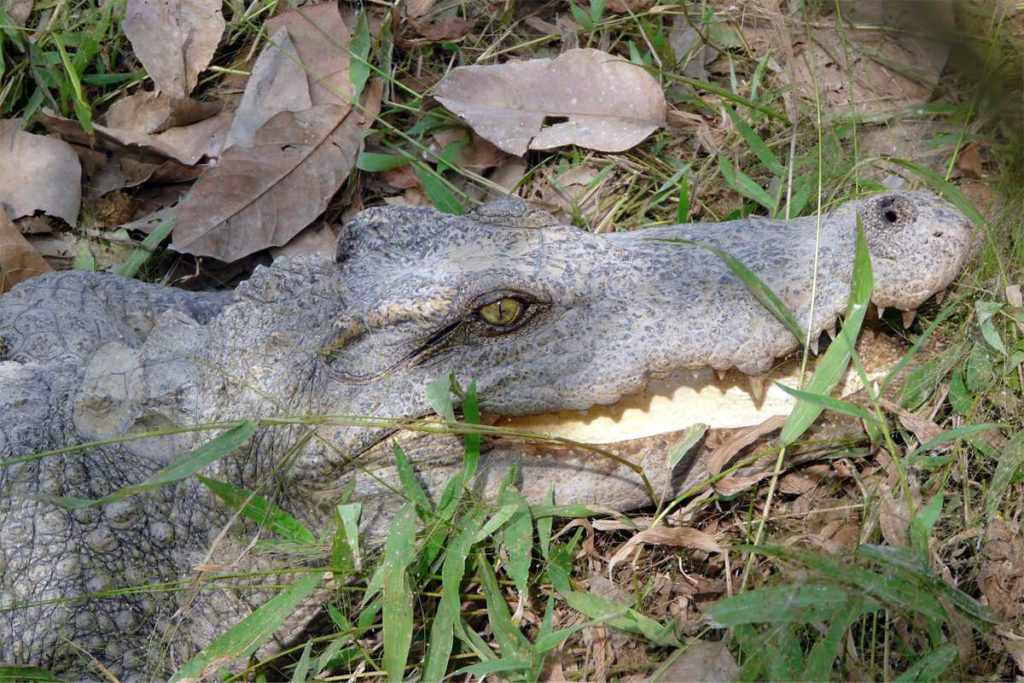 8. Giant Tung Tree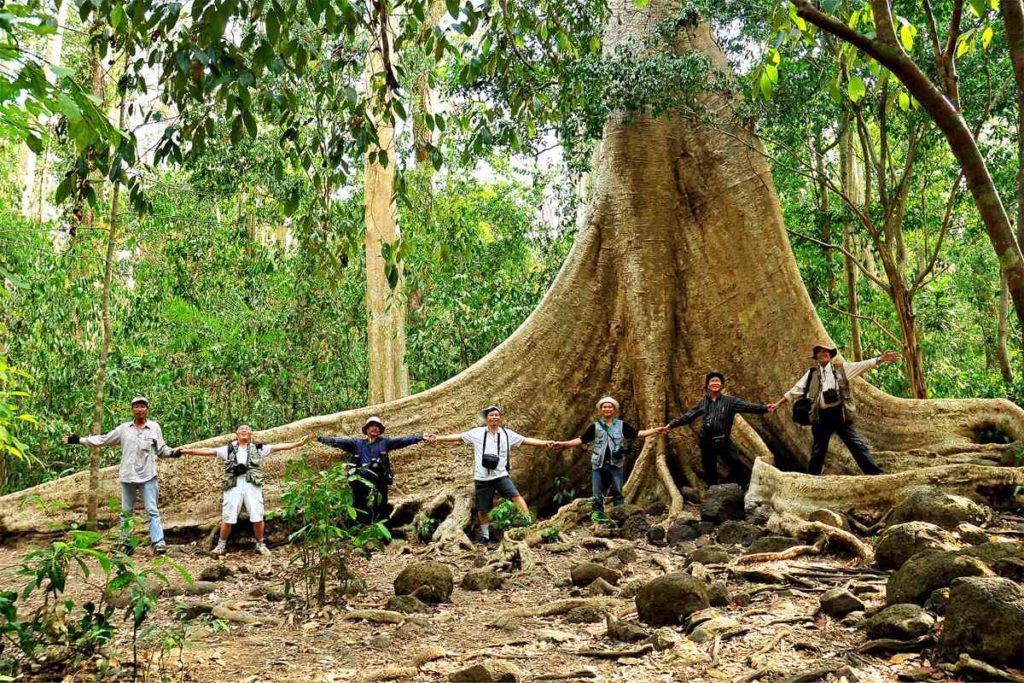 Cat Tien National Park has more than 1,600 species of flora in a pristine forest. The trees in the park are huge and some such as the Tung tree are hundreds of years old and can reach 20 meters high and 10 meters wide. There is a walking tour to help you find these amazing giant trees. You can get a map at the Cat Tien National Park headquarters.
9. Ben Cu Waterfall
The Ben Cu waterfall is located about 3 km from the center of Cat Tien national park. In the dry season the waterfall is not very big, but still worth a visit. In the rainy season the waterfall is more impressive, but there are more leeches and it can be slippery, so be careful.
10. Ta Lai Ethnic Village
Besides exploring the beautiful nature in Cat Tien National Park you can also learn more about the local cultures of the Ma, Stieng and Tay ethnic minorities who live here. The Ta Lai Ethnic Village is the best place to do this. Here you can see the local lifestyle of the ethnic minorities and learn the different farming techniques they use here. In the village you will also find the Ta Lai memorial prison where you can learn more about the Vietnam war.
The best way to explore the area is by boat or bicycle. With a bike ride you can cycle along the graslands and various rubber plantations. You can also take a wonderful boat trip on the river that runs past the village.
Best time to visit
The best time to visit Cat Tien National Park is from December to May. Due to the low rainfall, the dry trails in the forest make it easy to explore the natural park. If you are going to visit the park during the months outside of the best time, check the weather forecast before you go.
How to get there?
From Ho Chi Minh City to Cat Tien National Park
Bus: There are a few direct buses to Cat Tien from Ho Chi Minh City and cost between 3 and 5 euros. The bus takes about 4 hours and can be booked via vexere or at the bus station. These local buses leave from Mien Dong Bus Station in HCMC and are often not as comfortable as the long distance tourist buses such as the Sinh Tourist. Another option is to take the bus from Ho Chi Minh City to Dalat and request that you get off at Tan Phu along the way. Transfers from Tan Phu to Cat Tien can be arranged through your accommodation. When you buy a bus ticket at the bus station you already indicate that you want to go to Cat Tien (Tan Phu).
Motorcycle: From Ho Chi Minh City, follow the national highway QL1A for 67 kilometers to get to the Dau Giay intersection. After arriving at the Dau Giay intersection, turn left and drive along the QL20 highway for 58 kilometers until you see the Ta Lai intersection. At this intersection, turn left and continue for approximately 15 miles to get to Cat Tien National Park.
Car: There are accommodations that can arrange a pickup from Ho Chi Minh City. Depending on which car you choose, this costs between 70 and 100 euros (per car, not per person).
From Dalat to Cat Tien National Park
Bus: There are no direct buses from Dalat, but you can take the bus from Dalat to Ho Chi Minh City just like from Ho Chi Minh City. On the way you will be dropped off in Tan Phu. When you buy the bus ticket you can already indicate this. Transportation from Tan Phu can be arranged in advance with your Cat Tien accommodation.
Accommodation
There are quite a few lodges, homestays and hotels just outside the national park, but it can be useful to book in advance to ensure a room.
Green Cat Tien Hotel
Green Cat Tien Hotel is located directly in the center of the national park and is also under the management of them. There are rooms for two to eight people. Prices start from 150,000 and go up to 600,000 VND.
Green Hope Lodge
Green Hope Lodge is located 250 meters from the entrance to Cat Tien National Park. It is a simply furnished wooden lodge and also has its own restaurant with delicious food while you have a beautiful view.
Ta Lai Longhouse
On the edge of the Cat Tien National Park you will find Ta Lai Longhouse. This is the best place to stay if you are looking for an authentic and local experience of the ethnic minorities living in this area. Many activities are organized such as camping, hiking, kayaking, bamboo rafts, cooking classes and yoga.
Cat Tien Jungle Lodge
For more luxury, you can stay at Cat Tien Jungle Lodge. They have a swimming pool, spa, sauna and a restaurant with western menu.
Tips
Staying here: Cat Tien National Park is best to explore for one or two days. The location makes it virtually impossible to take a day trip from Dalat or Ho Chi Minh City, so plan to spend at least one night in Cat Tien.
Money: Bring cash, there are no ATMs in Cat Ten.
Clothing: dark and long sleeves, good walking shoes, long socks and raincoat.
Mosquitoes: Protect yourself against mosquitoes with mosquito repellent.
Animals: Binoculars for the day and a flashlight for a night tour can be useful for spotting animals.