HCMC – Phu Quoc via Mekong Delta homestay experience
Travel from Ho Chi Minh City to Phu Quoc (or other way around) through the Mekong Delta.
Stay overnight in a local but modern homestay next to the river
Go cycling through the countryside and explore local life
Enjoy a boat tour through the canals and visit 2 floating markets
Day 1: Ho Chi Minh City - Can Tho
Exploring countryside & cycling through Mekong Delta
There are two options for transfers:
By bus: Take a bus from Ho Chi Minh City to Can Tho, where you will be met and taken to the homestay. You will need to arrange your own transfer to the bus station in Ho Chi Minh City.
Private transfer: Arrange for a private transfer directly from your hotel in Ho Chi Minh City to the homestay in Can Tho.
Upon arrival at the homestay around 12:00, you will be served lunch with a view of the Mekong Delta. After lunch, a local guide will take you on a bike ride through the beautiful surroundings, along different roads and small paths.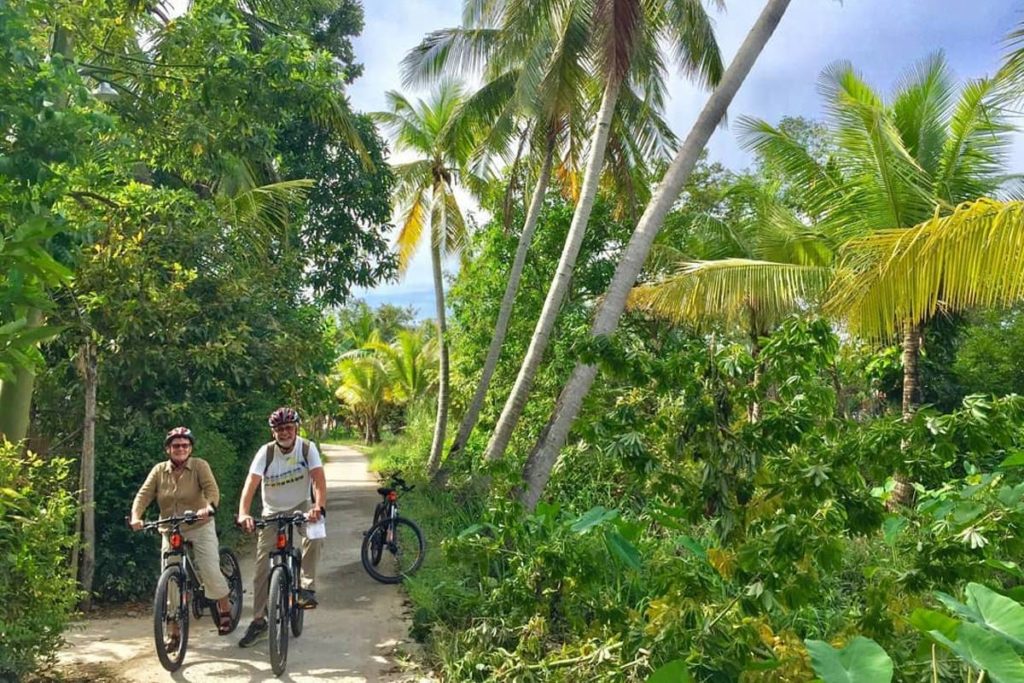 Once the bike ride is finished, you will make your way back to the homestay where you can relax and unwind. Later in the evening, you can enjoy a delicious dinner.
Located right next to a small river that is connected to all the floating markets
Modern rooms with private bathroom
Nice and helpful host
Small restaurant overlooking the river with great food
Day 2: Boat tour & Floating Markets
Cai Rang Floating Market, Phong Dien Floating Market, Fruit orchards & local workshops
To fully immerse yourself in the floating markets, your Mekong Delta boat tour begins at 5:30 am for the optimal experience.
You'll navigate through several rivers before reaching the lesser-known Phong Dien Floating Market, which has yet to be overrun by tourist groups. Here, you'll have the opportunity to have breakfast like a local from one of the market vendors.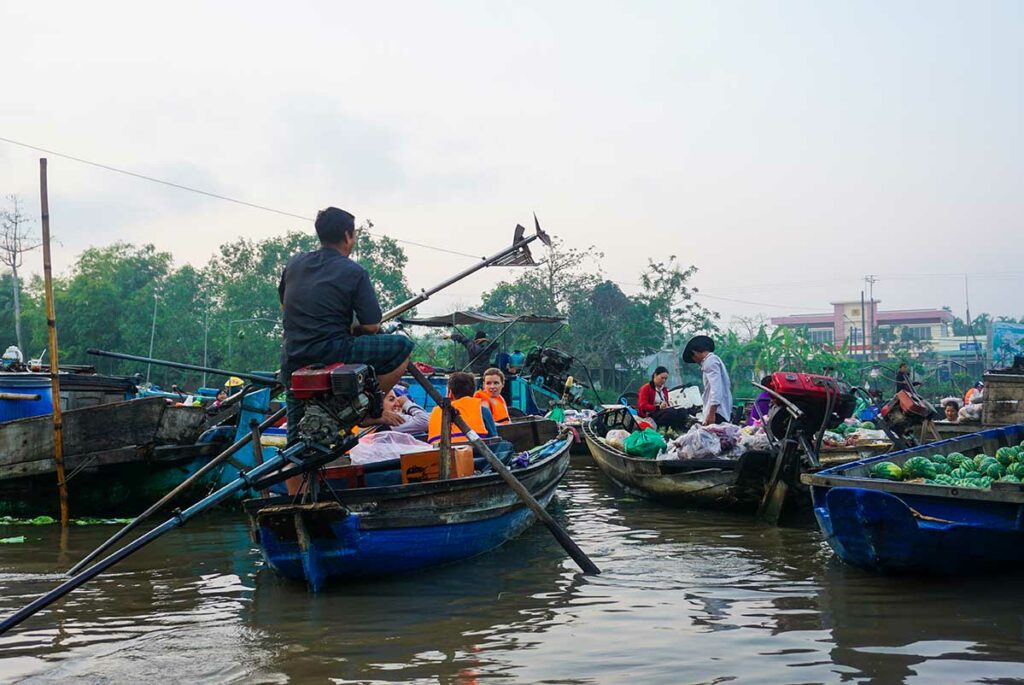 Following the floating market, you will embark on a boat tour to discover the charming smaller canals. Along the way, we will make a stop at a fruit orchard where you can witness the diversity of fruits grown in the Mekong Delta and savor some of the local produce.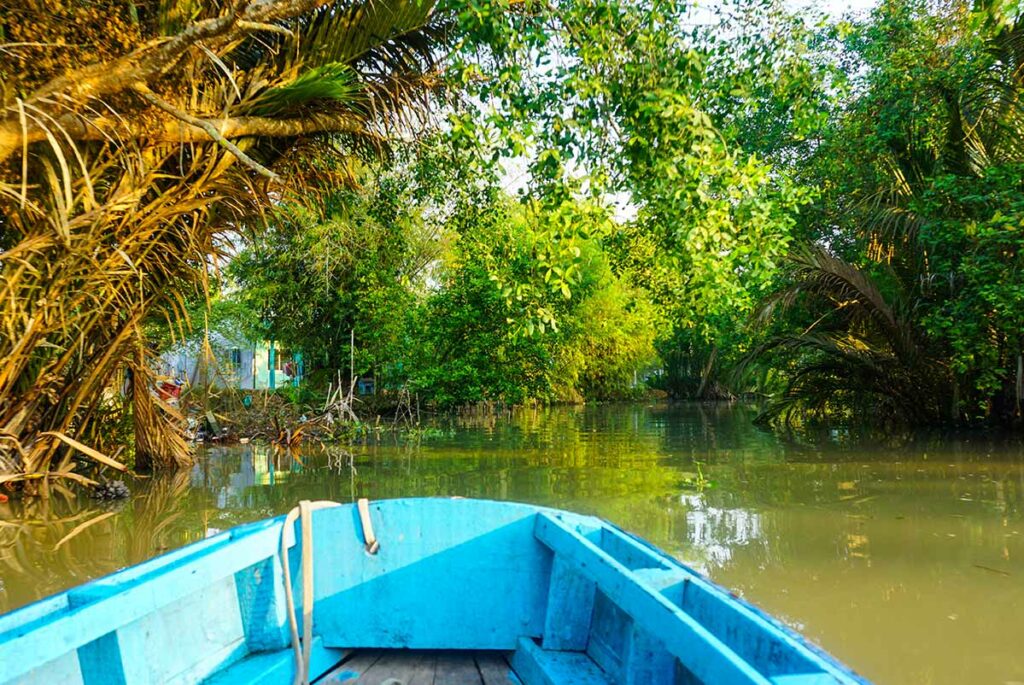 Proceed with your excursion to the Cai Rang floating market, the biggest floating market in the Mekong Delta. Instead of typical stationary stalls, you will see an array of boats that you can navigate between. Vendors display their wares by hanging them on poles attached to their boats, making it easy to identify their merchandise from a distance.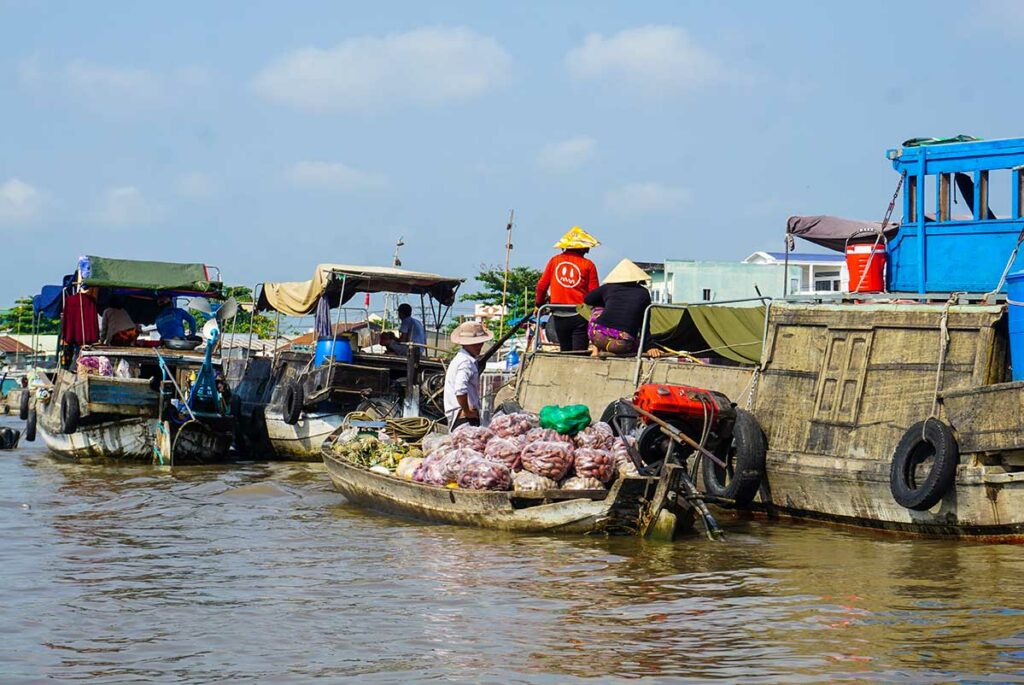 The following destination is a nearby rice noodle factory where you can observe the entire production process and gain insight into their methods.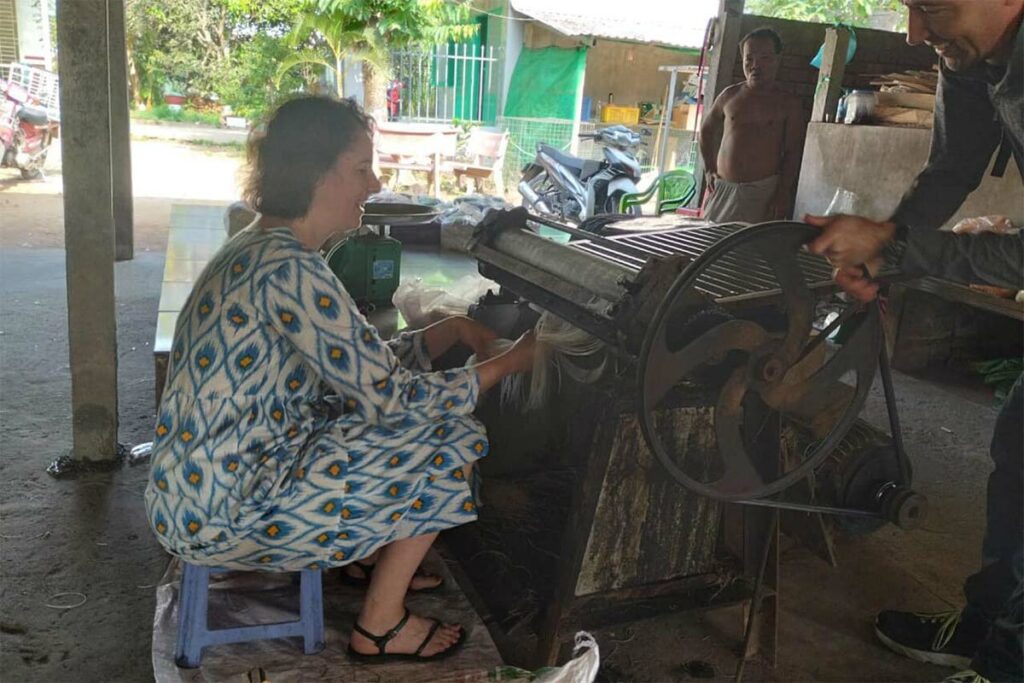 After the day's excursion, the boat returns to the homestay through picturesque rivers and small canals. 
After a refreshing morning exploring the Mekong Delta, you will enjoy a delicious lunch.
The afternoon is free for you to spend as you please. You can choose to unwind with a relaxing massage, or simply sit back and take in the peaceful scenery while lounging in a comfortable chair. If you're feeling adventurous, bicycles are available for complimentary use, or you can rent a scooter for a small fee. You will spend the night in the homestay.
Day 3: Can Tho - Phu Quoc
Option 1: By car directly to the harbor and after the boat to the hotel on Phu Quoc
Option 2: In the morning you will be transferred to the bus station and proceed to the port via Ha Tien. From here you will go to Phu Quoc by boat and you will be transferred to your hotel.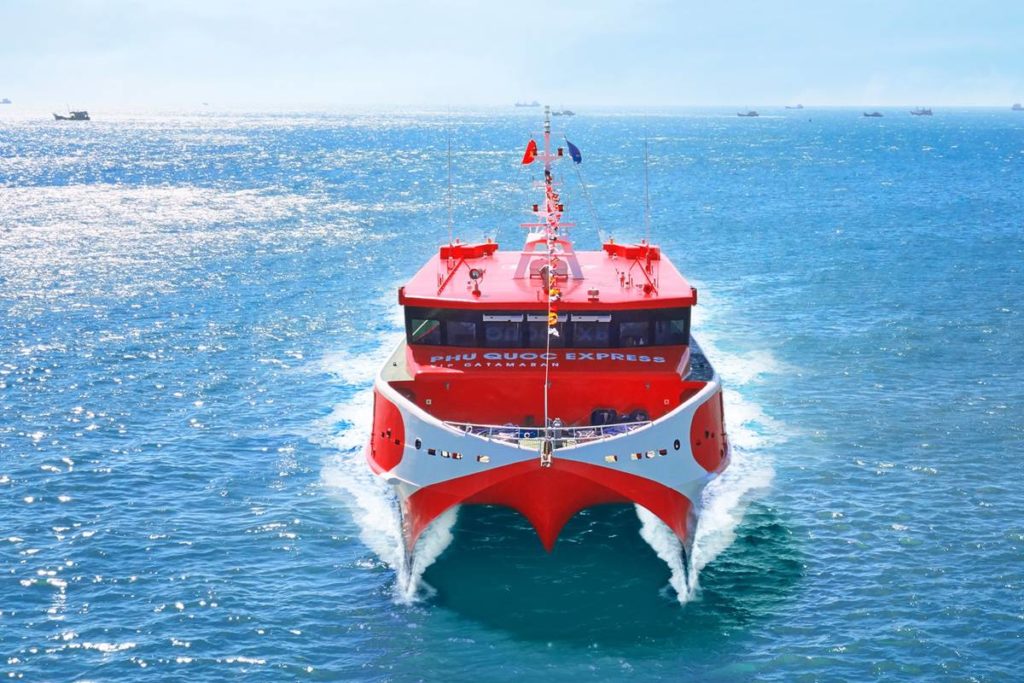 Tour options
1) Transfer Ho Chi Minh City – Can Tho
By bus from Ho Chi Minh City to Can Tho – You will be met in Can Tho and taken to the homestay. Transfer to the bus station in Ho Chi Minh City on your own
Private transfer from hotel in Ho Chi Minh City directly to homestay in Can Tho
2) Start tour
Possible to do this tour reversed. Contact us for exact itinerary and options.
Ho Chi Minh City -> Mekong Delta (Can Tho) -> Phu Quoc
Phu Quoc -> Mekong Delta (Can Tho) -> Ho Chi Minh City
Planning
Start tour: Ho Chi Minh City (Saigon)
End tour: Phu Quoc
Duration: 3 days
Optional: Start other way around (start and end tour are turned around)
Including
2 nights in a comfortable homestay near Can Tho
All meals described in the itinerary
Transfers between Ho Chi Minh City to Can Tho (2 options)
Transfer between Can Tho and Ha Tien
Boat transfer between Ha Tien and Phu Quoc
Hotel pick up or drop off in Phu Quoc
Bike tour with local guide
Boat trip through the Mekong Delta
Excluding
Meals and services not describer in the itinerary
Personal expanses
Additional information
Confirmation: You will receive a confirmation immediately after booking. You will receive a voucher by e-mail within 3 working hours. If you have not received your voucher, please check the Spam or notify us via email or chat.
Voucher:Save a digital voucher on your phone. As a sustainable company, we would like to ask you not to print the voucher..
Itinerary: The itinerary is subject to change depending on the weather and other conditions.
Pick-up:Please arrive at the hotel lobby 10 minutes prior to departure. Please be patient on shared / group tours in case of unforeseen delays along the pick-up route.
Cancellation:View the cancellation conditions here.
Unfortunately, it is not possible to catch the boat to Phu Quoc when you go to the port late in the morning or early afternoon. It could be possible when there is a direct flight from Can Tho to Phu Quoc that day, which fits into the schedule. Ask us for the possibilities.
The peak season is from November to March, during the dry season when the weather is sunny with clear skies and calm seas, making it ideal for beach activities such as swimming, snorkeling, and diving. However, this is also the busiest time of year, and prices for accommodations and tours can be higher.
If you prefer a quieter and more affordable trip, you may consider visiting Phu Quoc during the low season from May to October, when the weather is still warm, and the island is less crowded. However, there is a higher chance of rain and storms during this time, so you should be prepared for some wet weather.
Yes, the tour ends in Phu Quoc. From there you can continue on your own leisure and book your own accommodation.
Yes, it is possible that we design your trip including Phu Quoc, with accommodations, activities and transfers. Please let us know.
Booking & Information request
Ask for booking, availability, pricing or general questions about this tour.