Description
In 4 days you discover the best countryside of Vietnam in Ninh Binh and Pu Luong Nature Reserve. Trekking and biking through rice fields, visiting ancient temples and enjoy a rowing boat trip to stunning kartst mountains.
Highlights
Make a boat trip in amazing Trang An in Ninh Binh
Explore Pu Luong Nature Reserve with waterwheels, buffalo's, local minority villages and stunning rice fields
Visit Hoe Lu Ancient capital
Stay overnight in an stunning eco resort with infinity pool
Itinerary
Day 1: Hanoi – Pu Luong. (L, D)
A limousine bus will pick you up at your hotel in Hanoi Old Quarter between 7:00 AM and 7:30 AM.
On the way to Mai Chau you have a short break and another stop at Thung Khe Pass. From this pass you have stunning views over the valley and there is a local minority market you can visit.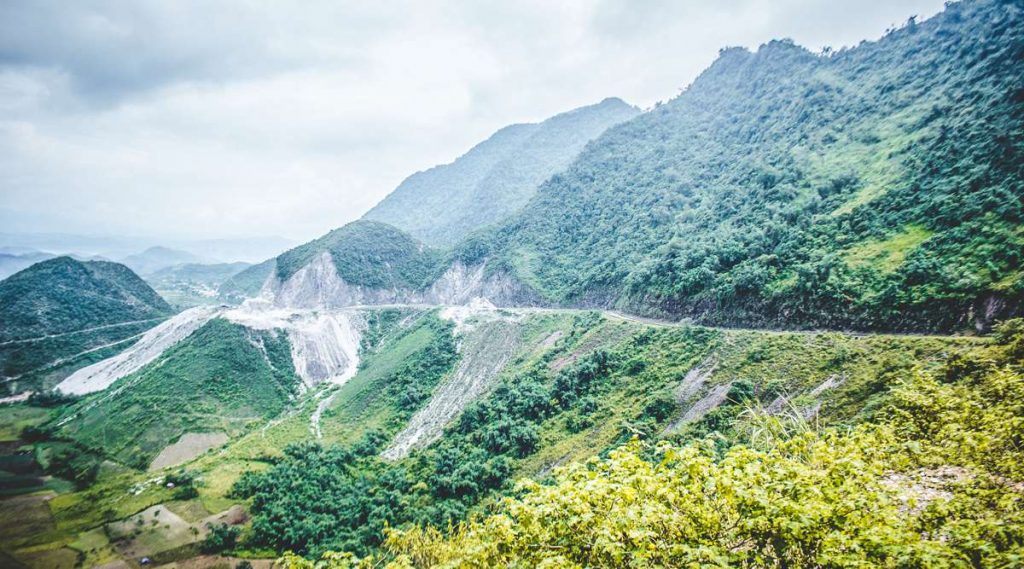 Arriving in Mai Chau you will transfer to another van that can drive you over the road of Pu Luong Nature Reserve to Pu Luong Eco Garden Retreat.
Arrive around 1:00 PM to check in and enjoy lunch.
After lunch a van will bring you to the starting point of your trekking through the amazing scenery of Pu Luong Nature Reserve. Start hiking with a guide through stunning terrace rice fields and sugar cane fields, over hanging bridges and visiting remote minority village.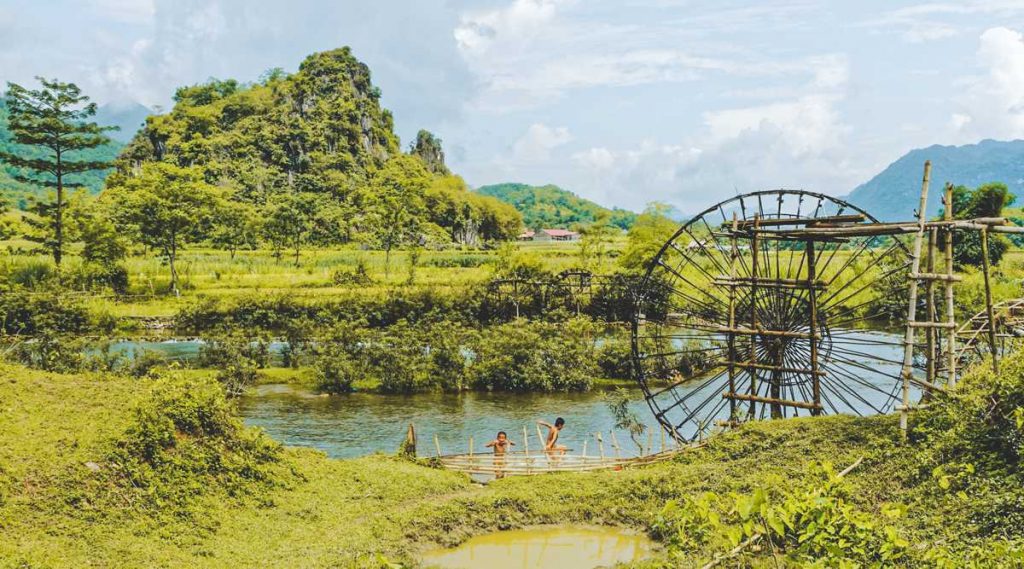 Learn more about the local agriculture at the giant waterwheels that water the rice fields and at the ducks farms.
Go by bamboo raft over a calm stream to enjoy the countryside of Pu Luong on both sides. (cruise depending on weather conditions)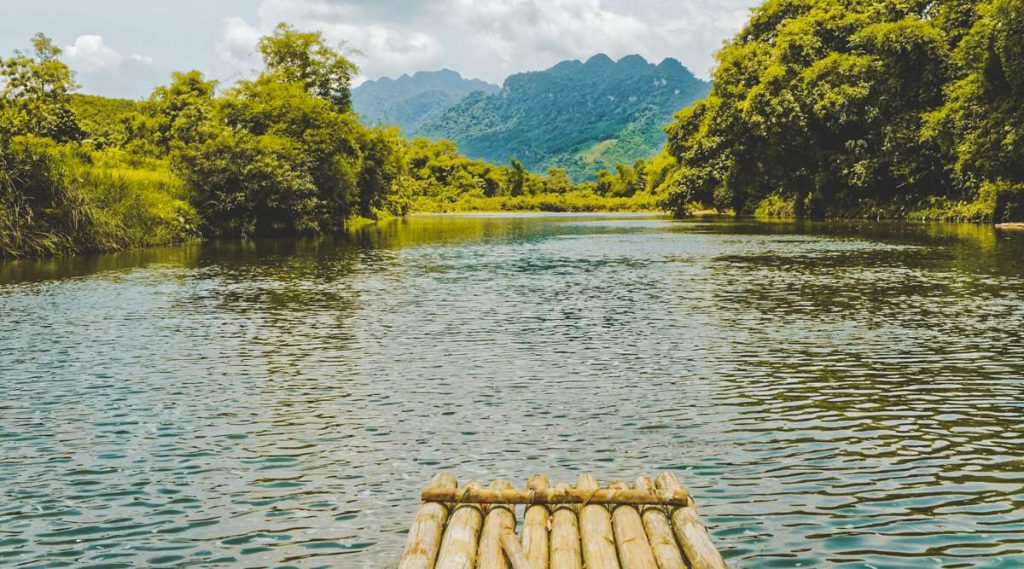 At 5:30 PM the van will pick you up and bring you back to Pu Luong Eco Garden Retreat. Rest of the evening you can relax, visit the village or swim in the infinity pool.
At 7:00 PM there is a BBQ dinner in the restaurant of the lodge.
Day 2: Pu Luong – Hieu Waterfall full day trek (B,L,D ). (Hard Trek 10kms)
Have breakfast in the lodge between 7:30 AM and 08:30 AM.
After breakfast you do a trekking to visit a waterfall. If you are lucky and stay in Pu Luong on Thursday or Sunday you will also visit a local market.
Trekking over small roads through rice fields and jungle to end up at the Hieu Waterfall.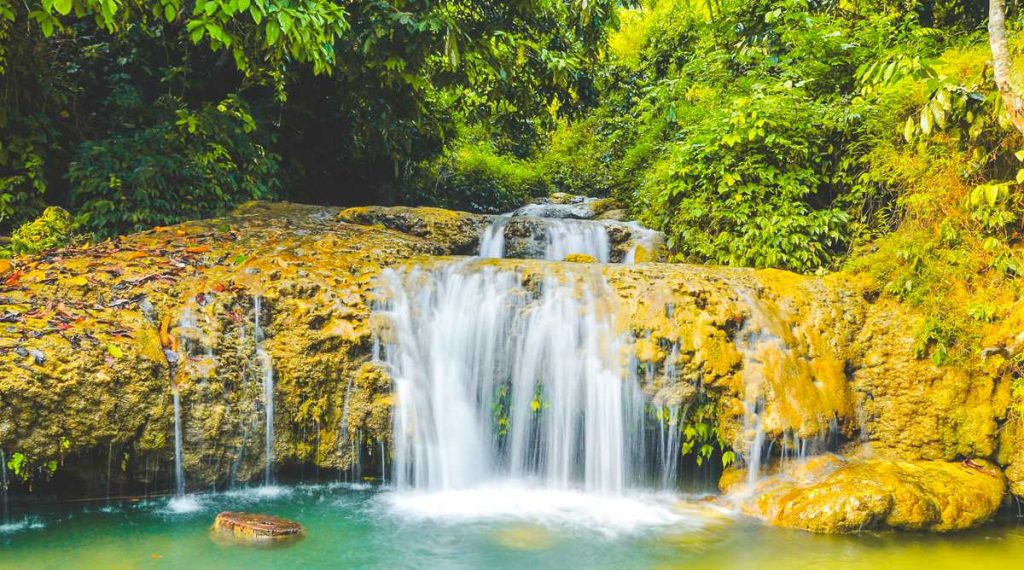 Have lunch at the waterfall and free time to relax or swim in the waterfall.
At 3:30 PM the van will bring you vack to Pu Luong Eco Garden and time to go swimming in the infinity pool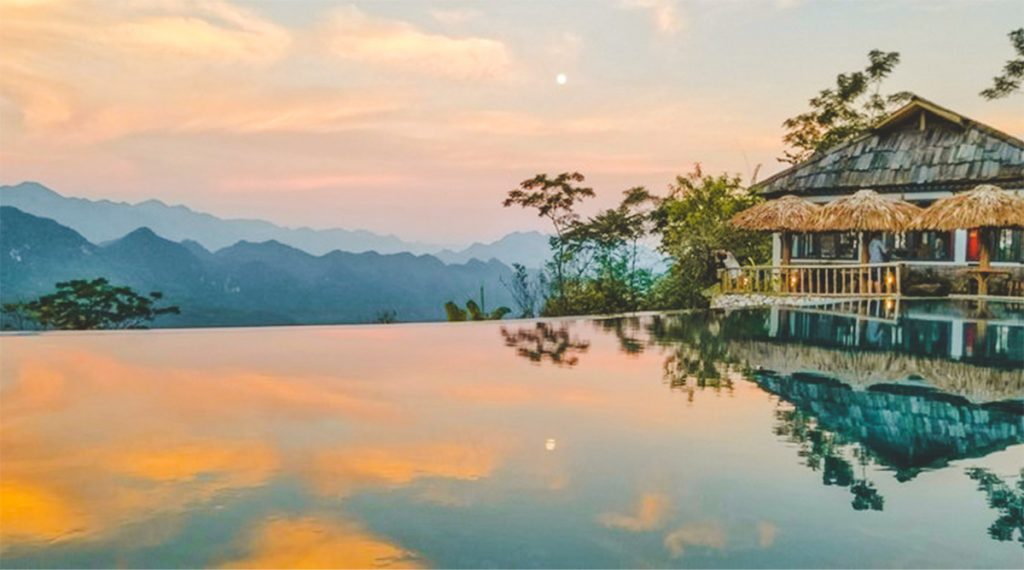 At 7:00 PM there is dinner at the lodge with local rice wine.
Day 3: Explore Kho Muong village and Doi Cave (6km) – (B,L,D):
Breakfast at the Retreat in the morning.
At 8:30 start trekking to remote village ad to visit Bat Cave, the largest cave in Pu Luong.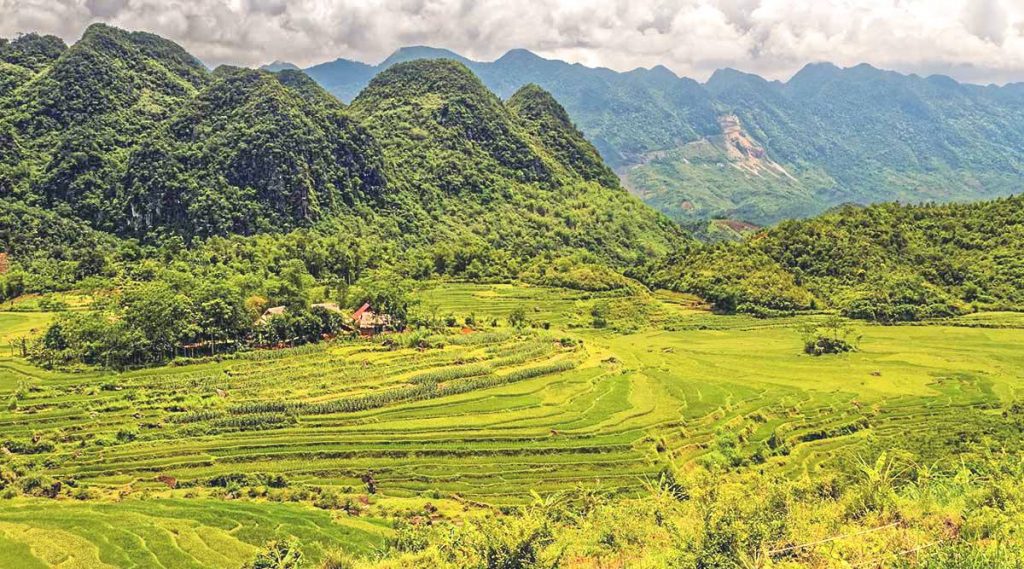 Back at the retreat you have lunch and free time till the van departs to Ninh Binh.
At 2:30 PM the van leaves Pu Luong at heads to Ninh Binh, were you arrive around 5:30 PM.
At 7:00 PM you have dinner at the restaurant.
Day 4: Cycling to Hoa Lu Ancient Capital and boat ride in Trang An (B,L)
Breakfast is served in the morning between 7:30 AM and 8:30 AM.
After breakfast start biking through the beautiful scenery of Ninh Binh with karts mountains, rice fields, buffalo's, goats, villages streams and rivers.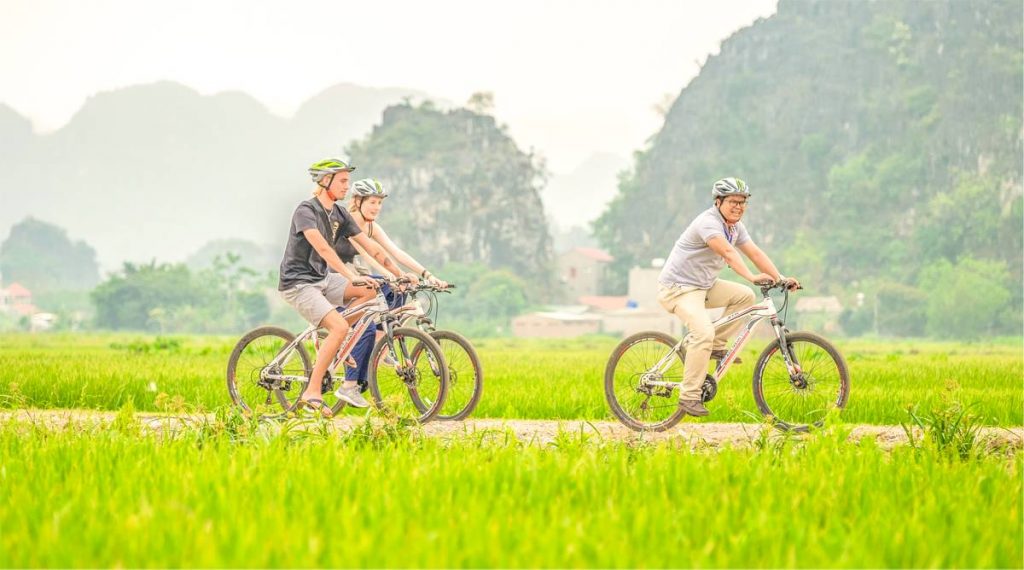 You bike to Hoa Lu, the ancient capital of Vietnam. Explore the complex with temples and other ancient building. Walk up the mountain the visit hte King's tomb and for panoramic views of the area.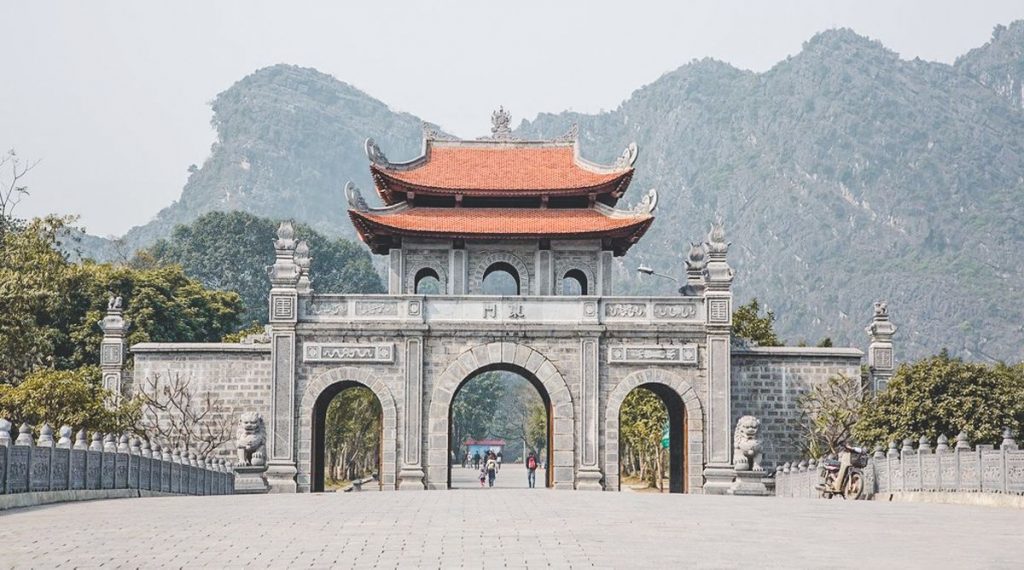 After visiting Hoa Lu you bike back with a stop on the way at a local family for tea and learn more about the culture.
Back at the retreat at around 12:00 PM you check out and have lunch.
Make an amazing boat trip in Trang An over rivers and lakes between karst mountains and through water caves. There are also some hidden temples to see.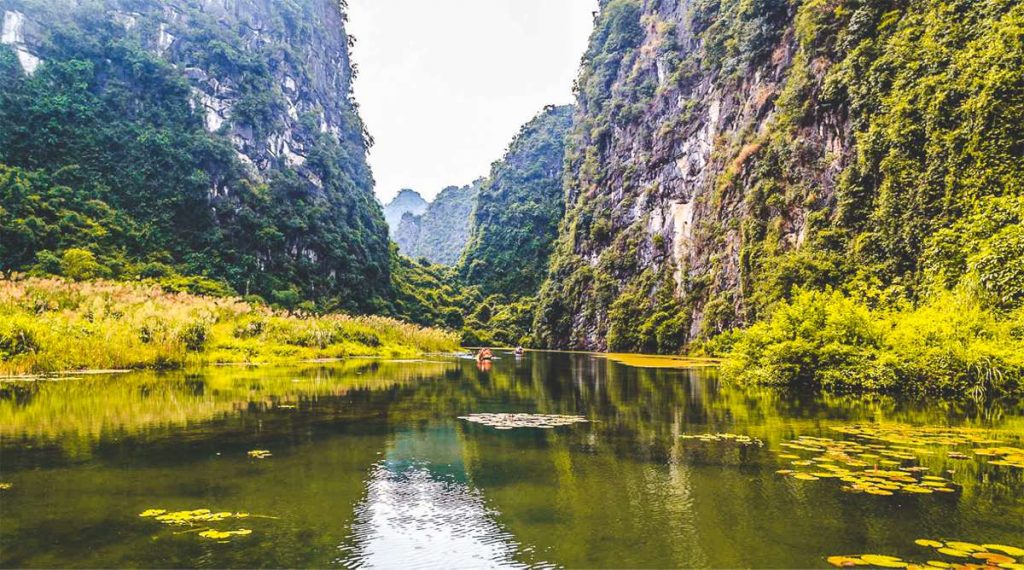 At 4:00 PM you have 3 options:
Take the bus back to Hanoi and get dropped of at your hotel in Hanoi Old Quarter at around 7:00 PM
You get dropped of at the Ninh Binh Railway Station to continue your trip down south
You get dropped of at the Ninh Binh Bus Station to continue your trip down south