Local Mekong Delta homestay experience & floating markets
An authentic and personal Mekong Delta experience
Stay overnight in a local but modern homestay next to the river
Go cycling through the countryside and explore local life
Enjoy a boat tour through the canals and visit 2 floating markets
Day 1: Ho Chi Minh City - Can Tho
Exploring countryside & cycling through Mekong Delta
2 transfer options
By bus: Take a bus from Ho Chi Minh City to Can Tho, where you will be met and taken to the homestay. You will need to arrange your own transfer to the bus station in Ho Chi Minh City (by taxi is recommended).
Private transfer: Arrange for a private transfer directly from your hotel in Ho Chi Minh City to the homestay in Can Tho.
Around midday, you will arrive at the homestay, which is nestled right by the riverside, offering a serene view of the lively Mekong Delta. Here, you will be greeted with a lunch that features authentic local cuisine. As you are enjoying your meal, you can watch the hustle and bustle of the Mekong Delta life unfold before your eyes.
Following your meal, you will be joined by a friendly local guide who will take you on a fascinating tour of the surrounding area. You'll hop on a bicycle and explore different paths and roads. As you cycle through the picturesque landscape, you'll come across charming villages, lush green fields, and colorful orchards that offer an enchanting glimpse of the local way of life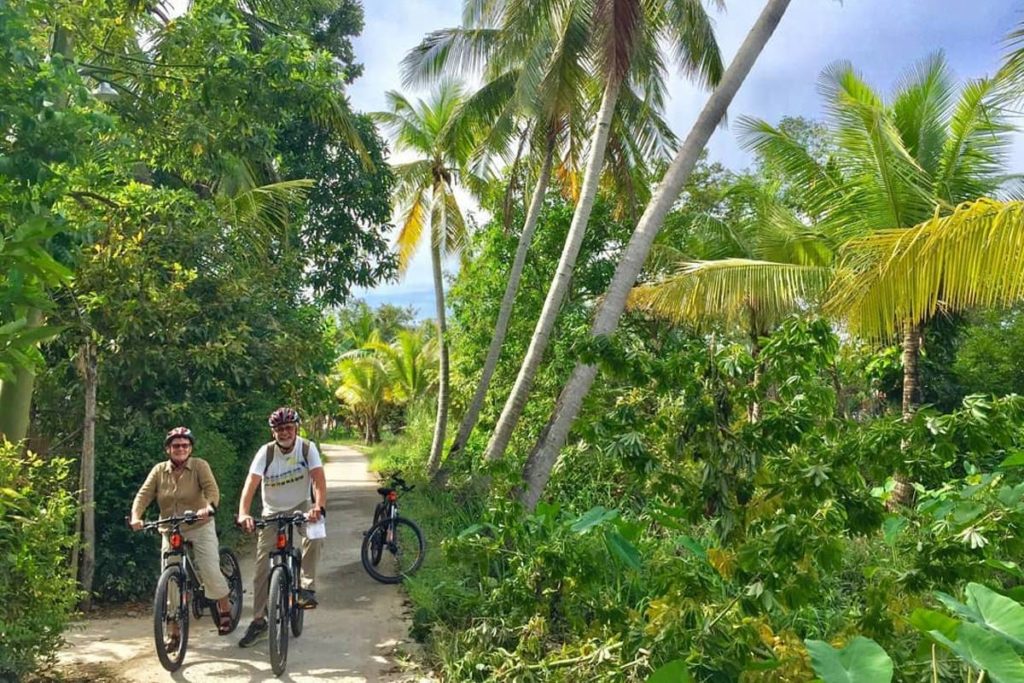 Once the bike ride is finished, you will have some free time to rest and relax at the homestay. In the evening, you will be served a delicious dinner featuring local specialties prepared by the homestay hosts. 
Located right next to a small river that is connected to all the floating markets
Modern rooms with private bathroom
Nice and helpful host
Small restaurant overlooking the river with great food
Day 2: Boat tour & Floating Markets
Cai Rang Floating Market, Phong Dien Floating Market, Fruit orchards & local workshops
The Mekong Delta floating markets are most vibrant and bustling in the early hours of the morning, which is why your exciting boat tour will begin at 5:30.
You will cruise through several rivers and canals, taking in the stunning sights and sounds of the Mekong Delta, before arriving at the Phong Dien Floating Market. This unique market is lesser known to tourist groups, offering a truly authentic experience. You will have the chance to interact with locals and taste some delicious local breakfast dishes offered by the market vendors.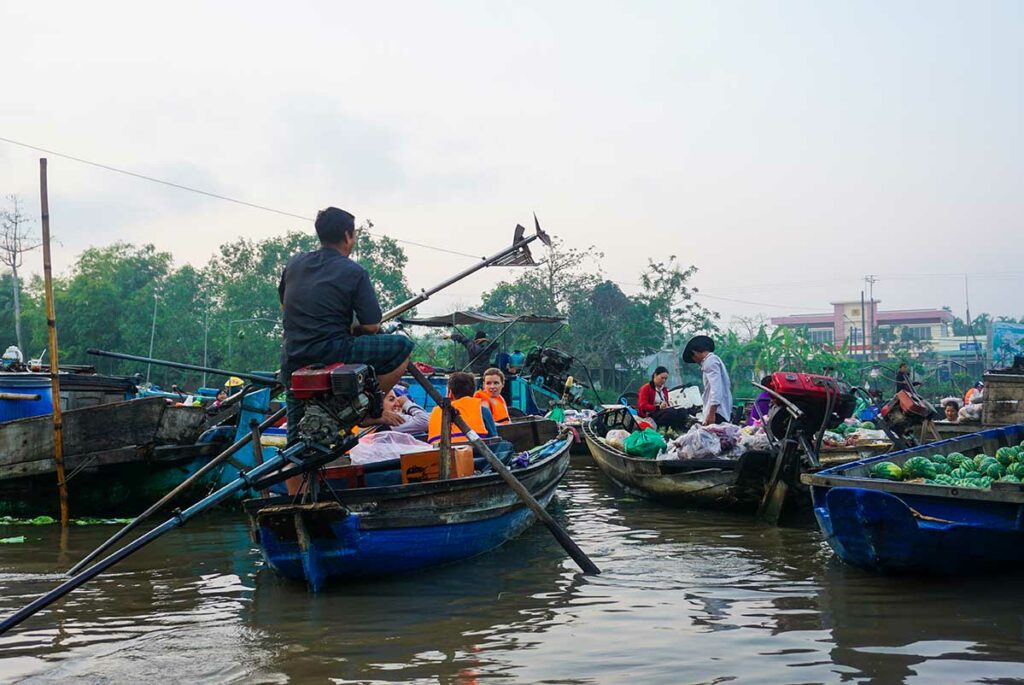 Once you have experienced the vibrant energy of the Phong Dien Floating Market, your boat tour will continue through the smaller, picturesque canals of the Mekong Delta. Along the way, you will visit a charming fruit orchard and witness the diverse array of fruits grown in this region. Here, you will have the opportunity to taste some delicious and exotic local fruits, and learn about their unique flavors and uses.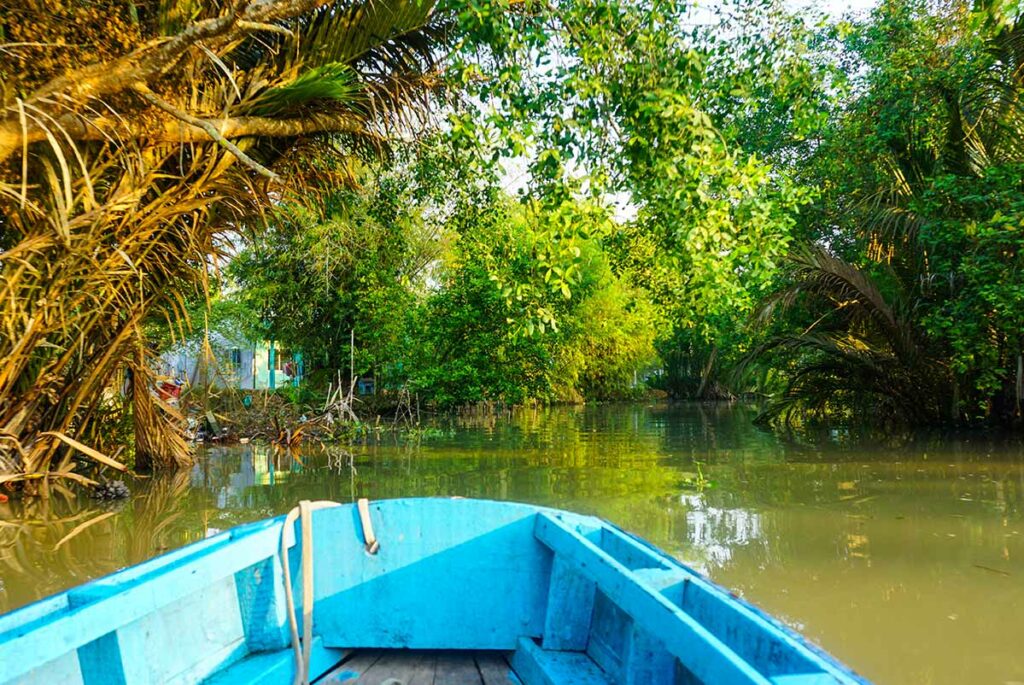 Now it's time to continue your journey to the Cai Rang floating market – the largest and most famous floating market in the Mekong Delta. Here, you can witness the unique way of trading goods among locals, as vendors sell their products from boats by hanging them on poles to make them visible from afar. You'll see an array of fresh fruits, vegetables, and other local products that are essential to the livelihood of the people in this region.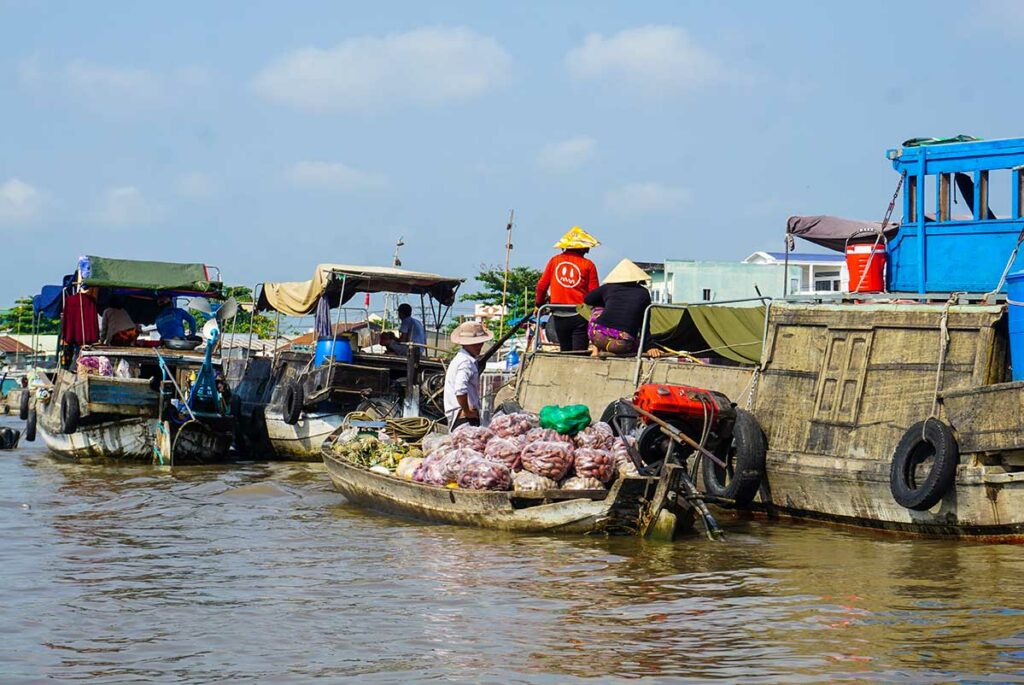 Your next destination will be a fascinating local factory that specializes in producing rice noodles. Here, you will have the opportunity to witness the entire process of how rice noodles are made, and learn about the various techniques used in the production.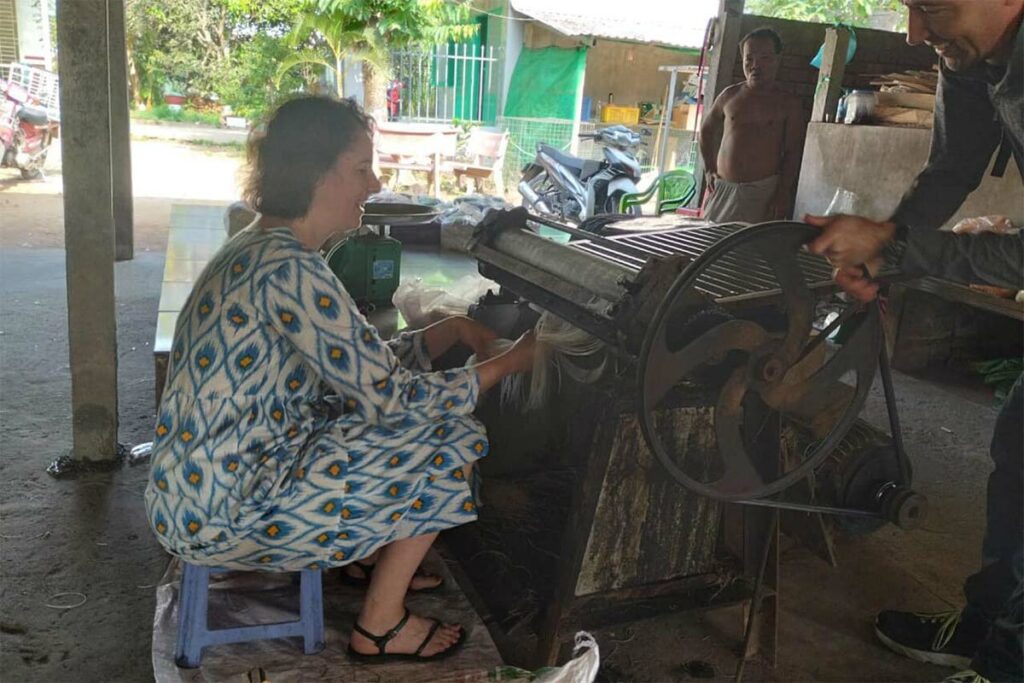 As the boat gently navigates its way back to the homestay, you'll have the chance to take in the stunning scenery of rivers and small canals along the way.
After the exciting day exploring the Mekong Delta, you will arrive at the homestay where you can take some time to rest and recharge. If you're feeling a bit tired or sore, you can opt for a relaxing massage to ease your muscles. Alternatively, you can simply sit back in a comfortable chair and take in the tranquil view of the river.
After some rest, you will be served a delicious lunch to satisfy your appetite.
Later in the afternoon, depending on your chosen mode of transportation, you will either take a bus or private car back to Ho Chi Minh City. As you depart, you can reflect on the unique and unforgettable experiences you had exploring the Mekong Delta.
Tour options
Transfer Ho Chi Minh City – Can Tho
By bus from Ho Chi Minh City to Can Tho – You will be met in Can Tho and taken to the homestay. Transfer to the bus station in Ho Chi Minh City on your own
Private transfer from hotel in Ho Chi Minh City directly to homestay in Can Tho
Planning
Start tour: Ho Chi Minh City
End tour: Ho Chi Minh City
Duration: 2 days
Including
1 night in a comfortable homestay near Can Tho
Lunch (2), Dinner (1) and Breakfast (1)
Transfers between Ho Chi Minh City to Can Tho (2 options)
Bike tour with local guide
Boat trip through the Mekong Delta
Excluding
Drinks
Personal expenses and tips
Transfer to/from bus station in Ho Chi Minh City (with bus option)
Additional information
Confirmation: You will receive a confirmation immediately after booking. You will receive a voucher by e-mail within 3 working hours. If you have not received your voucher, please check the Spam or notify us via email or chat.
Voucher: Save a digital voucher on your phone. As a sustainable company, we would like to ask you not to print the voucher.
Itinerary: The itinerary is subject to change depending on the weather and other conditions.
Pick-up: Please arrive at the hotel lobby 10 minutes prior to departure. Please be patient on shared / group tours in case of unforeseen delays along the pick-up route.
Cancellation: View the cancellation conditions here.
Yes, this tour is specially designed to be flexible with transfer to other destinations. You can check the follow two tours with simular itinerary, but include transfers to other destinations:
Yes it is no problem to bring all your luggage on your trip. It is often also possible to leave luggage at the hotel in Ho Chi Minh City if you choose to return here.
The homestay in this tour is located outside of Can Tho town for a more local experience. It is located directly on a small river where you can see boats passing by transporting goods from the Mekong Delta. The accommodation itself is modern, with comfortable beds and all rooms are en-suite. All in all, it is a local experience, but with all the conveniences that entails.
Unfortunately this is not possible. We have specially designed this tour around this homestay. Due to its location right on the water and outside the city, we can immediately start the boat trip to the floating markets and our bike ride through the countryside. If you want a different accommodation, we can make something completely tailor-made. Please contact us for this.
Booking & Information request
Ask for booking, availability, pricing or general questions about this tour.