The Hon Khoi Salt Fields are located 40 km from Nha Trang and became a popular destination for photographers. Here, natural salt is harvested manually from shallow fields along Doc Let Beach. Hon Khau or Hon Khoi peninsula is one of the largest salt fields in Central Vietnam.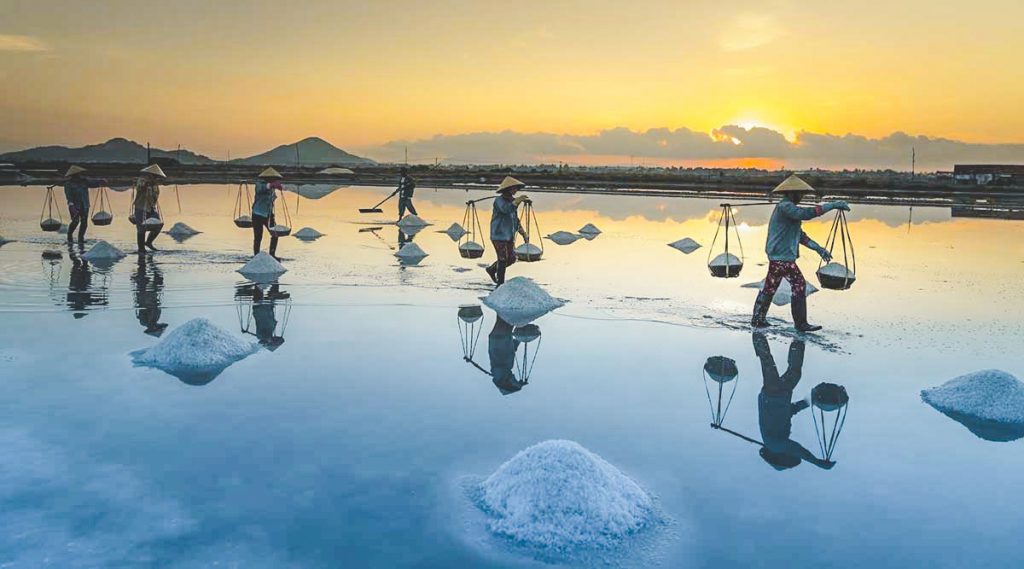 Salt production is a big industry in Nha Trang because of the long coastline of Vietnam, which produces around 737,000 tons each year. Unlike most salt fields in Vietnam, the heavy task of caring the salt at Hon Khoi Salt Fields is done by middle-aged women. They start ealy in the morning as early as 4 o clock. They use the well known colonial hats, boots, gloves and face mask to protect themself from the sun and salt.
Salt farmers have to perform a lot of stages to harvest the salt. First the water is let into the fields. After the water has entered the field, they have to push water into the field without drying out. Under the intense sunshine of the sun, small particles of salt gradually crystallised, sparkling white.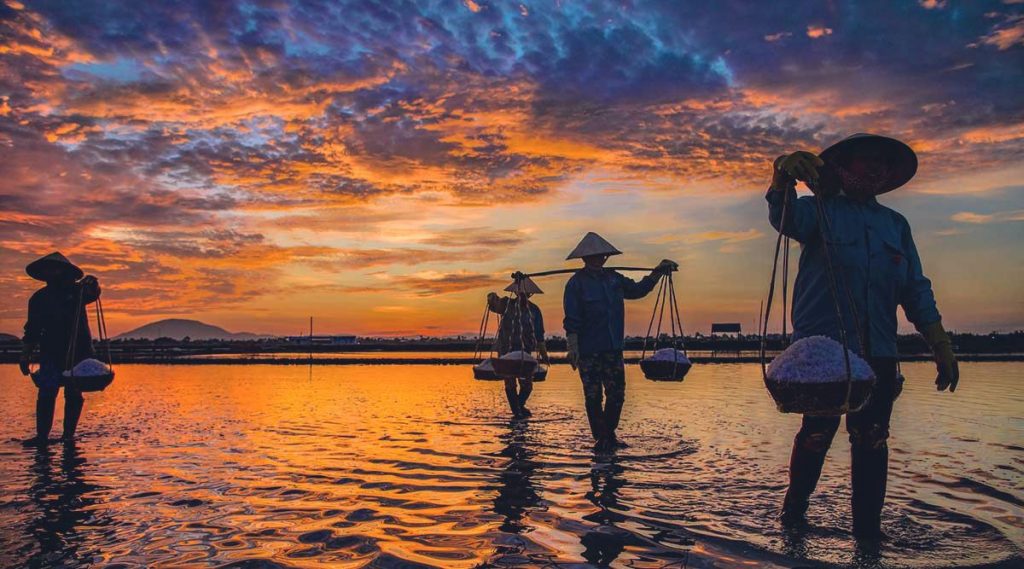 At that time, the farmers begin to use rakes to harvest salt. Then each small pile of salt in the field is filled in the wicker baskets, each weighing around 10 kilo and with 2 baskets on each stick it is carried to the gathering place. The weather plays an extremely important role in the salt making industry of Hon Khoi, because the more sunny it is, the more salt is harvested. Unfortunately, when it rains or sudden thunderstorms, the salt farmers can not harvest anything. Therefore, this process is only done in the hottest 5-6 months of the year.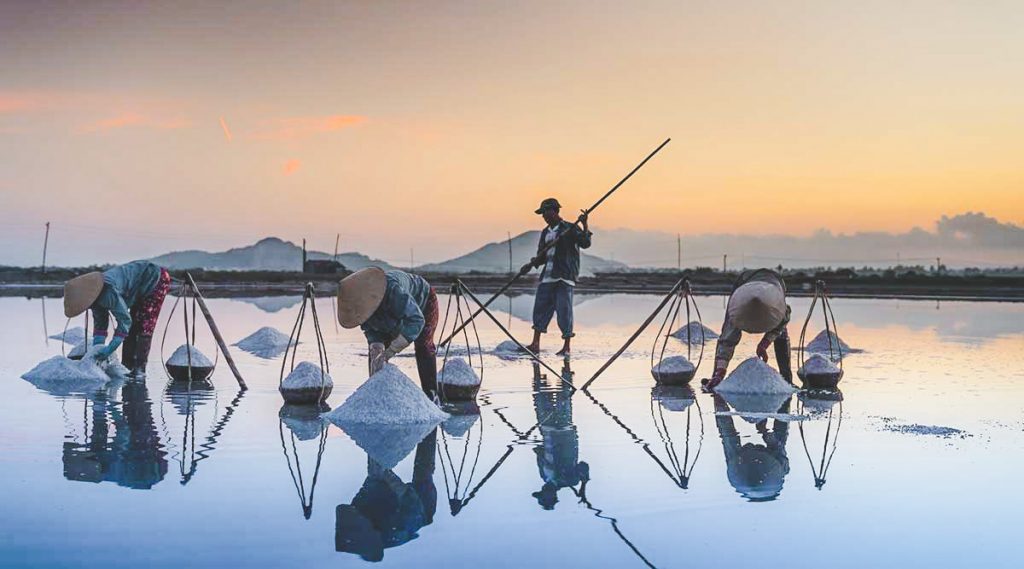 With fantastic views of the salt mountains, workers carrying heavy baskets over the fields and a pagoda that sits on top of a nearby hill, these Nha Trang salt fields are popular place for taking photos. Pure white salt fields, bright yellow sun shining on the glossy water surface, highlighting each small salt particles, beautiful sparkling like small pearls.
Best time to visit the Hon Khoi Salt Fields
The best time to visit Hon Khoi Salt Fields is between January and June, during summer time, with temperatures that can reach 40 ° C, causes the salt to be led from the sea into the fields. It is then being evaporate by the sun for about 10 days before being collected by the salt workers.
How to get there
The fields are accessible within an hour's drive from the center of Nha Trang and they are part of day tours where you can also visit other known sights in Nha Trang. If you go by yourself, you can combine it with relaxing on Doc Let beach.
Because it is a working industry, you don't have to expect tourist facilities in Hon Khoi Salt Fields.
Opening hours: Daily 4:00 AM – 9:00 AM
Location: North of Nha Trang (Google Maps link)