Cycling in Hanoi is not only an active and adventurous way to explore the city, but also an eco-friendly option. You will experience real local life as you cycle through the small streets, past residential areas and through the countryside of the red river delta. By bike you get much closer than with a usual tour by car or taxi. A bicycle also takes you further off the beaten track than walking through town. A lot of advantages why you should go cycling in Hanoi.
Hanoi bike tour
The most chosen option for cycling in Hanoi is by tour. Renting only a bicycle is not very common in the capital and a local guide can take you on the real off beaten track. In addition, despite your experience at home in Europe, United States, Australia or another part of the world, cycling in Vietnam is a completely different experience; especially in the middle of a city like Hanoi.
Below is an overview of the most popular bike tours in Hanoi.
What can you expect with cycling in Hanoi
There are several routes with cycling in Hanoi. The nicest and most popular route that is done in bicycle tours is a combination of city and countryside. In half a day (4 hours) you will cycle from the Old Quarter to various attractions, such as St Jospeh's Cathedral and the Hanoi train street and places further from the old quarter, such as Ho Chi Minh Mausoleum.
The highlight of cycling in Hanoi is probably not the sights themselves, but being on your way to these places. Drive through narrow car-free alleys to hidden backyards, so you can really experience what life has been like here for centuries. Via West Lake, the largest lake in the city with the Tran Quoc pagoda, you eventually arrive in the Red River Delta. Here you cycle through the countryside with banana plantations and vegetable gardens. The noisy city suddenly seems very far away.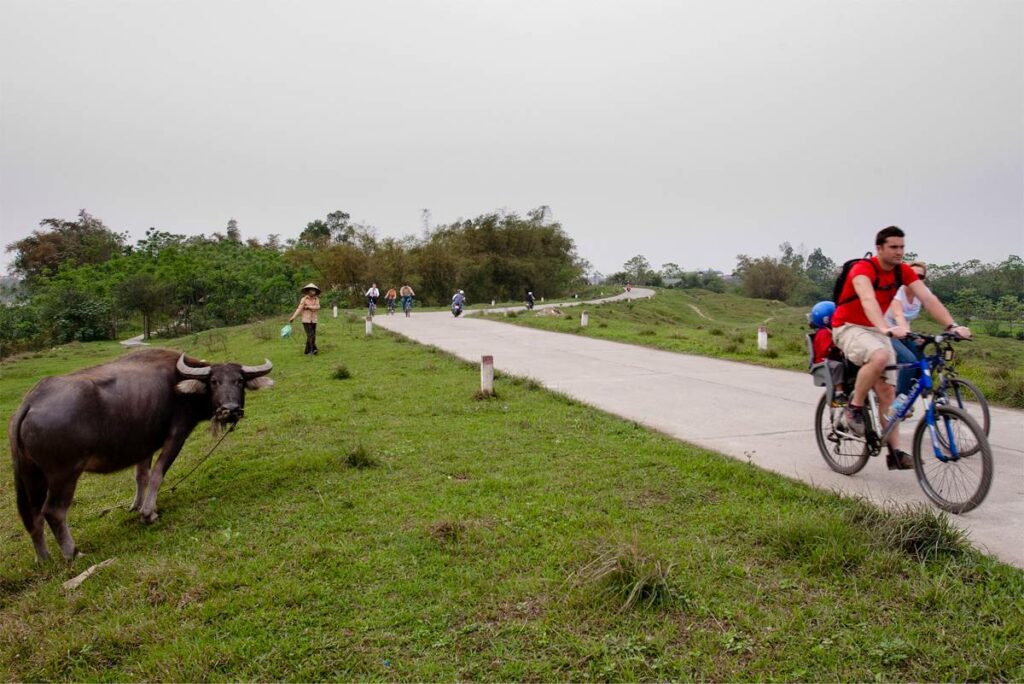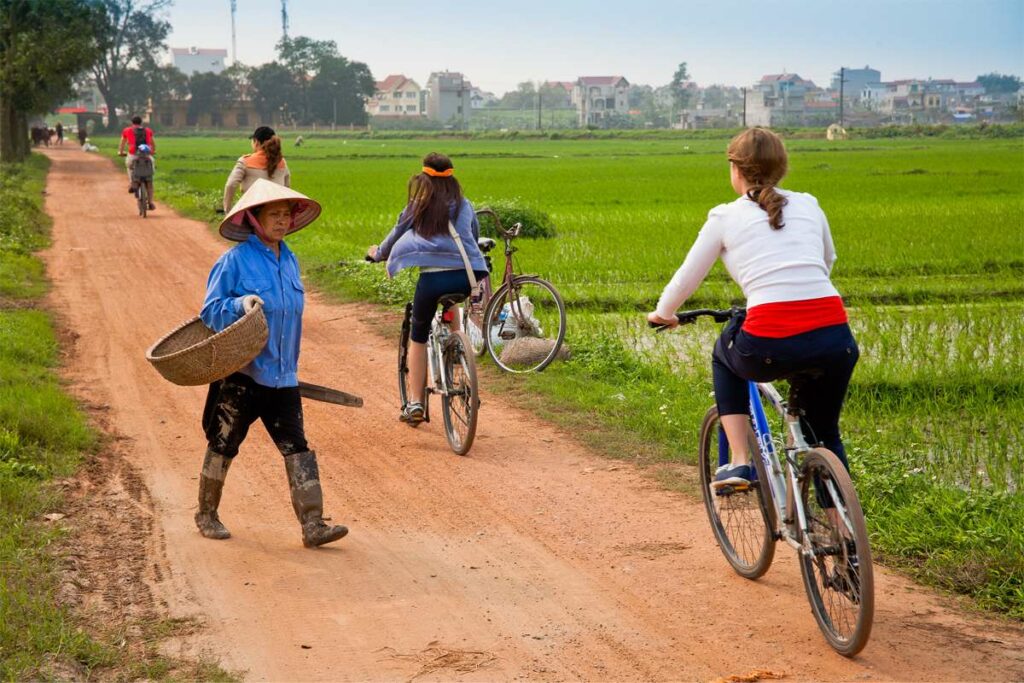 Besides this most popular (and recommended) bike tour in Hanoi, there are several other options as well. You can cycle through the city for a whole day or a full day through the Red River Delta, which is located in 8 provinces and extends to Halong Bay and Ninh Binh.
How safe is cycling in Hanoi?
Is cycling in Hanoi dangerous?
When you can ride a bike in Hanoi, you don't have to worry about the dangers; especially when you go with a guide who guides everything well and knows which streets to take. Traffic looks dangerous and chaotic, but when you participate in traffic by bicycle it feels very natural and you automatically go with the flow.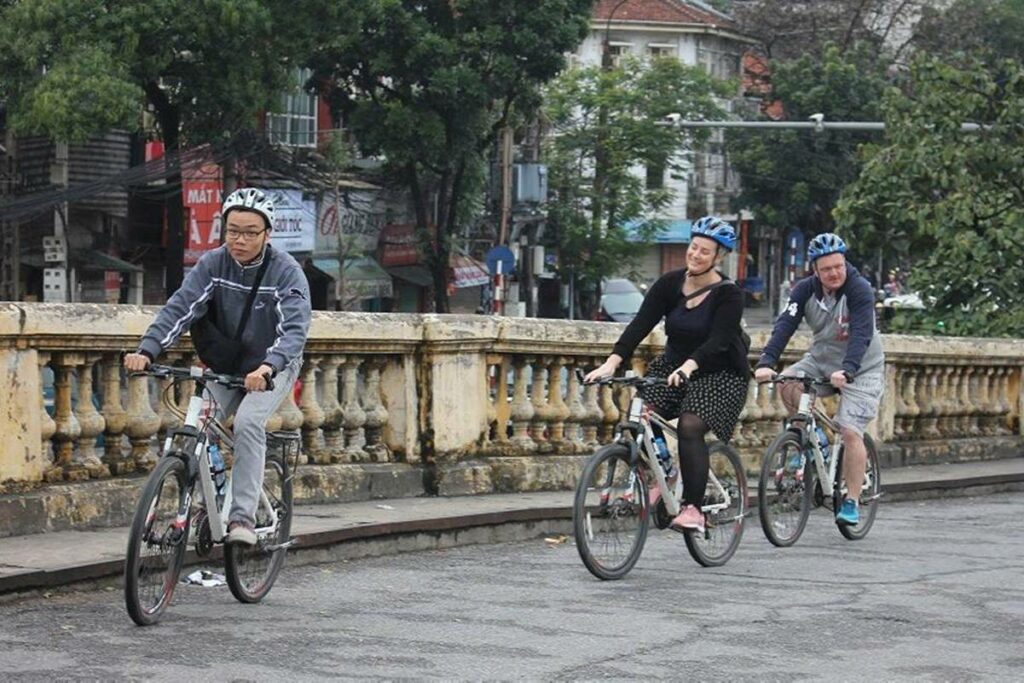 Weather safety
When you go cycling in Hanoi, there are a number of points you should pay attention to. For example, make sure you put on sunscreen and possibly a cap under your helmet or sunglasses. Glasses can also be a good protection against the dust, which is especially present in the dry season. Bring a small bag for things to put in and possibly a raincoat. A helmet is not mandatory, but always recommended.
Rent a bike in Hanoi
Renting a bicycle in Hanoi is not very popular and therefore there are only a few shops that do this. Renting a bicycle often goes together with a helmet. The use of a helmet is not mandatory, but highly recommended. Costs start from about $ 5 for 2 hours to $ 15 for an entire day. This of course depends on where you rent, but also what quality bike you rent.
No matter what you pay to rent a bicycle in Hanoi, it is important to check if everything works. The most important thing is of course if the brakes are working correctly. If you are planning to go for further and longer biking trips, make sure the gears and the overall quality of the bike is descent to very good condition. Check the lights if you are going for a multiple day biking trip. It can also be wise to bring some electric lights and of course a tire repair kit and a basic bicycle repair kit.
Hanoi cycling routes
If you want to go cycling yourself, there are a number of routes you can do. Besides in Hanoi itself, you can also go further into the area. Here are some example routes:
Hoan Kiem Lake and the old quarter. Start by visiting Hanoi Cathedral -> Hoan Kiem Lake -> Ngoc Son Temple -> Old Quarter (Hang Be, Ma May, Bach Ma Temple, Hang Buom, Dong Xuan Market) -> Hang Bong Street.
The Westlake. Start cycling to Ho Chi Minh complex and visit Ho Chi Minh Mausoleum -> Thanh Nien road -> Around West Lake with Tran Quoc Pagoda -> Quan Thanh Temple – Truc Bach Lake.
Co Loa old citadel. Cycle around the outskirts of the city via Long Bien Bridge -> Hanoi countryside (Red River Delta) -> Co Loa citadel – Duong river embankment.
Bat Trang ceramics and Le Mat snake village. Cycling across the countryside to the ceramic village of Bat Trang (20 km), take a day out and learn more about the traditional craft village ceramic making. Also visit the snake village of Le Mat where people raise many types of snakes.