Fansipan climbing tour – Climb Sapa's mountain in 2 days
Climb Fansipan, the highest mountain in Vietnam and Indochina, in 2 or 3 days.
With porter and local guide to accompany you
Enjoy beautiful views from the mountain and Vietnam's highest mountain pass
Cable car down - Sleeper train
Sleeper train from Hanoi to Sapa
Your Fansipan climbing tour starts from Hanoi where you take a sleeper train to Sapa to save your daylight travel time.
In the comfortable Dream Train Express you get a 4-berth cabin, including bedding and air-conditioning.
If you prefer not to travel by sleeper train, we also offer alternatives:
VIP Sleeper bus
Limousine bus by day + 1 extra night in Sapa
Private transfer
SP3: Depart Hanoi – Lao Cai: (22:00 – 05:55)
The bunk berths are pretty comfortable, but if you're over 6 foot (1.83cm) you won't be able to fully stretch out, if you are over 6 foot or (1.85cm) you might pull your legs a bit, however the ride is comfortable but it can be noisy of the train track is a bit bumpy ride.
If you like to have a snack during the night, it is best to bring your own.
Day 1: Sapa - Fansipan climbing tour
The start of Fansipan climbing tour
Arriving at the Lao Cai station early in the morning, you will be met to be taken to Sapa.
In Sapa, breakfast will be prepared for you before you start your Sapa Fansipan climbing adventure.
You will meet the local H'mong guide (s) and porters on day 1 after breakfast. From here you take a minibus (17 km) to Tran Tom Pass, the highest pass in Vietnam, located at 2100 meters above sea level. The journey to the pass gives spectacular views of the mountains, including Fansipan and the Moung Hua Valley below.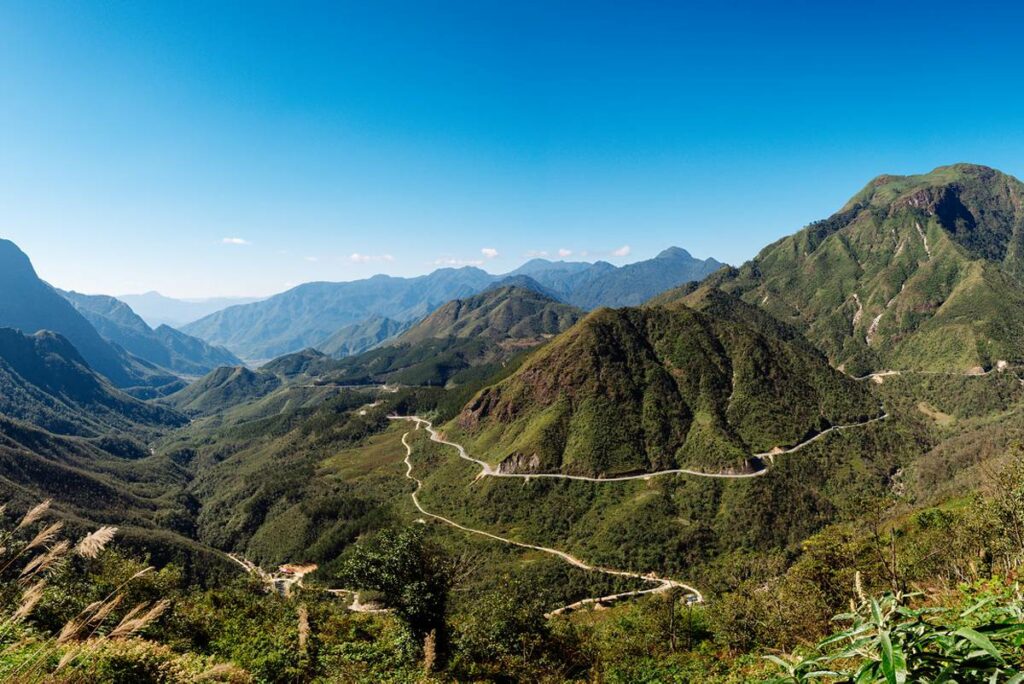 Reaching the top of the pass, there are equally spectacular views of the other side of the valley, and you can take the winding road that goes through the mountains to Binh Lu village and Lai Chau. Our real trek starts at this point and we trek through primitive jungle and bamboo forest for about six hours.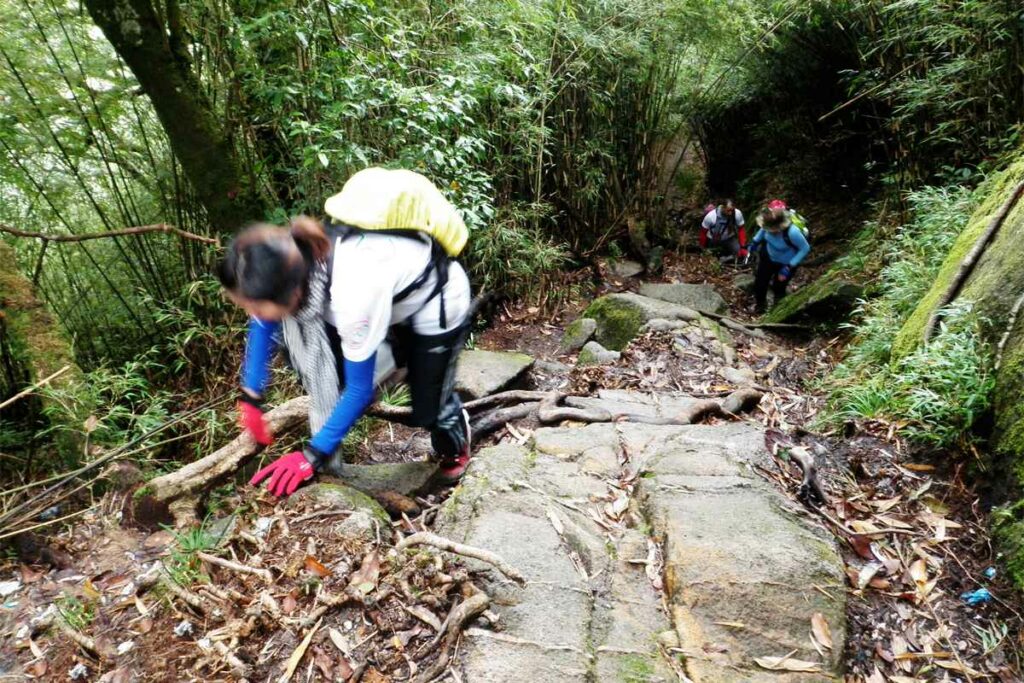 You enjoy a picnic lunch at a suitable place on the way.
After lunch you continue your Fansipan climbing tour by hiking through the forest and on mountain paths. On reaching your accommodation for the night (quite basic), at an altitude of about 2200 meters, the porters and guide will prepare the evening meal.
Overnight stay on Fansipan mountain.
Day 2: Fansipan - Sapa - Hanoi
The way to the peak & back
You have breakfast in the camp. After this you continue climbing Fansipan to the top through pine and yellow bamboo forests. It takes about 4-5 hours of fairly strenuous climbing to reach the top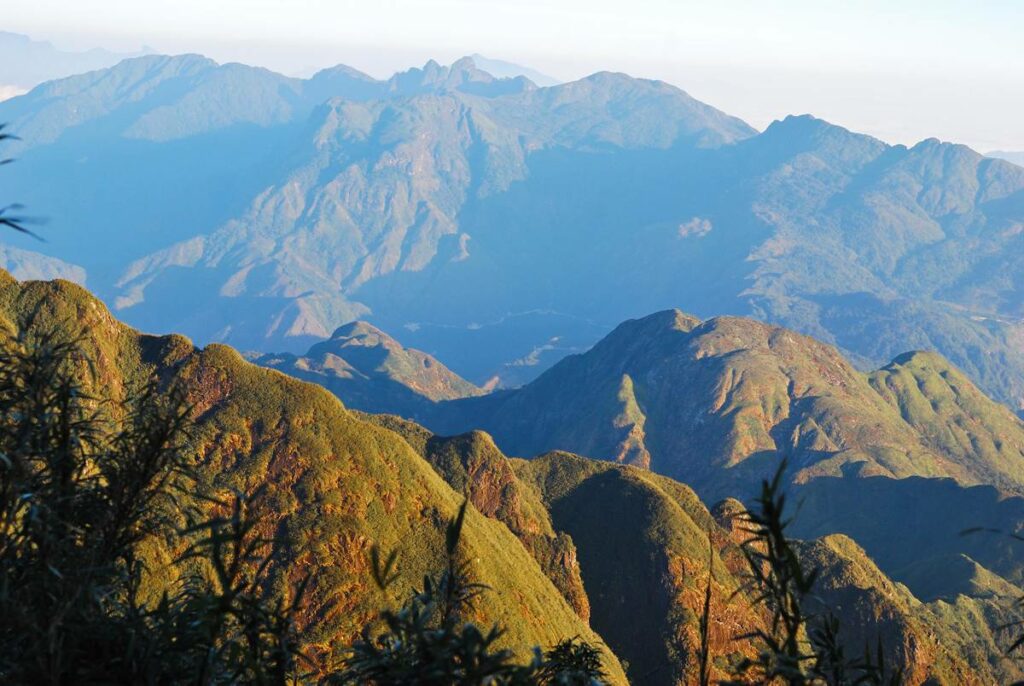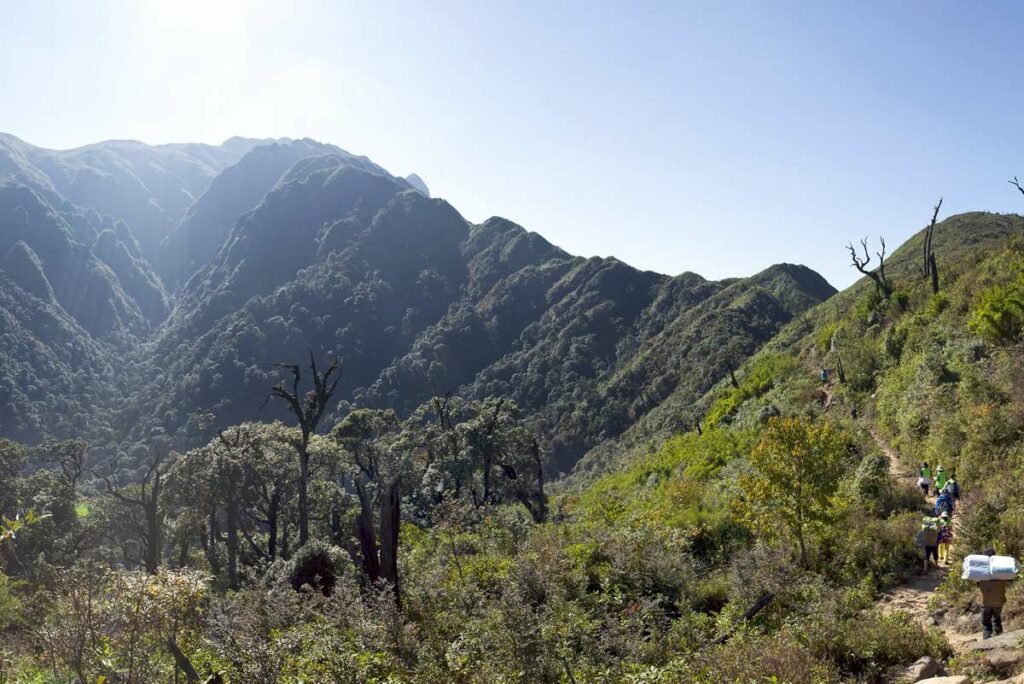 You spend between 30 minutes to 1 hour at the top, enough time to enjoy the breathtaking view. Looking northwest from the top you can see the small villages of Lai Chau province and the northeast the view over Sapa and beyond.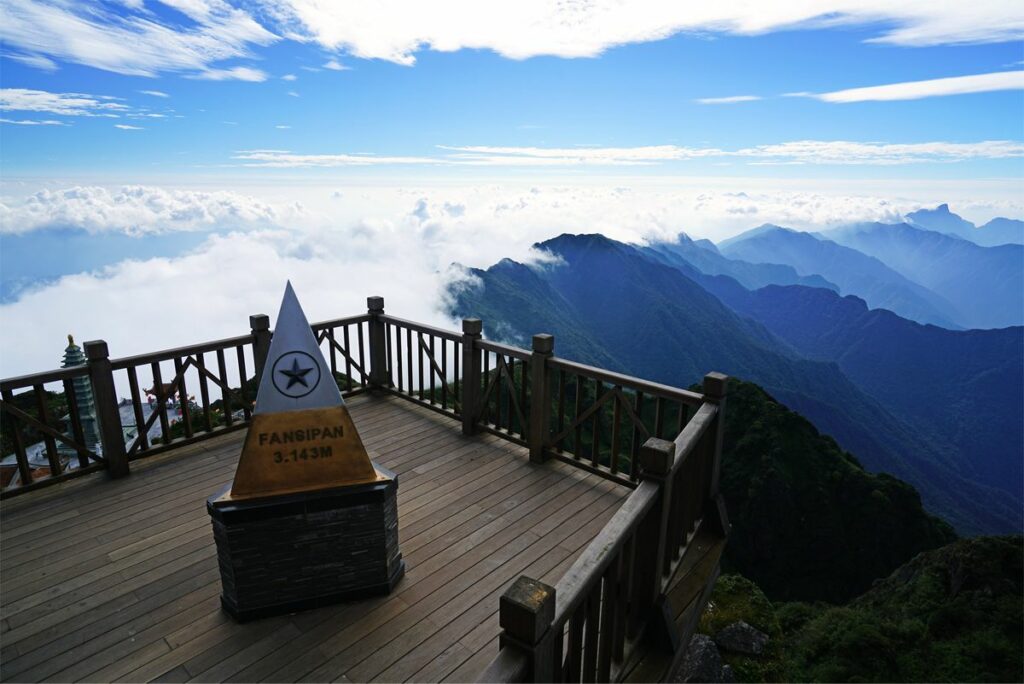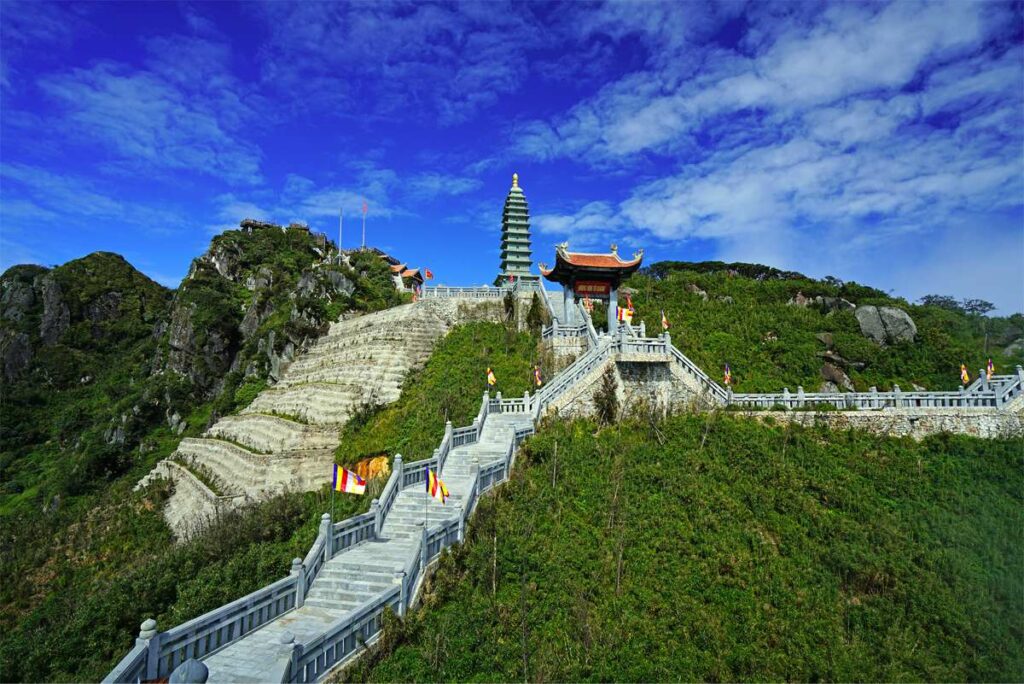 You have a picnic lunch near the top. 
Next you can decide how to continue your Fansipan climbing tour:
Option 1: Cable car
To be able to climb Fansipan mountain in 2 days, you will take the cable car down to Sapa town. From here you have the late afternoon to rest and be taking to the train station at night to go back to Hanoi.
Option 2: The hike down + 1 extra night
Return via the same route to your first night camp where you can enjoy an evening meal and settle in for the night.
The next day you need about half a day to walk to the end point where a car is waiting to take you back to Sapa. Get some rest before being transferred back to the train station to catch the sleeper train back to Hanoi.
Tour options
Fansipan descent
Hiking down
Take the cable car
Planning
Start tour: Hanoi Station
End tour: Hanoi Station
Duration: 2 days – 3 nights
Including
Meals (B = Breakfast – L = Lunch – D = Dinner)
Train from Hanoi to Lao Cai and Lao Cai back to Hanoi
Transfers between Sapa and the train station in Lao Cai
Local guide
Transport on site
Overnight stays
Climbing tour
All camping gear
Excluding
Meals and services not describer in the itinerary
Personal expanses
Transportation from Hanoi to the train station
What to bring
Camera
Good walking shoes
Money for own expenses
Protection from the sun (hat / sunscreen) or rain (raincoat) – Tip: check the weather forecast
Clothing and toiletries
Small rucksack/backpack for hiking and day trips
Additional information
Confirmation: You will receive a confirmation immediately after booking. You will receive a voucher by e-mail within 3 working hours. If you have not received your voucher, please check the Spam or notify us via email or chat.
Voucher:Save a digital voucher on your phone. As a sustainable company, we would like to ask you not to print the voucher..
Itinerary: The itinerary is subject to change depending on the weather and other conditions.
Pick-up:Please arrive at the hotel lobby 10 minutes prior to departure. Please be patient on shared / group tours in case of unforeseen delays along the pick-up route.
Cancellation:View the cancellation conditions here.
It is recommended to have appropriate gear, including sturdy hiking shoes, warm clothing, and some clothes and toiletries for a overnight camping. Pack as light as you can to make climbing easy. Drinks, food and camping gear are included in the tour.
You can leave your luggage either in Sapa town where we have luggage storage, or you can leave your luggage at your hotel in Hanoi when you are planning to return there.
Climbing Fansipan can be a challenging, especially for those who are not experienced hikers or climbers. The climb requires a good level of physical fitness, and endurance.
Of course. If you want to have more time after or before climbing to do other things in Sapa, such as trekking through the rice fields or visiting an ethnic minority market, you can let us know. We can customize this Fansipan climbing tour.
Are you looking for a challenge or you a true mountain climbing enthusiast? Then this is definitely something you must have done, because Fansipan is the highest mountain in Vietnam!
If you are not, we always recommend making a trekking through the rice fields. The terraced rice fields here are unique in the world and you simply have to see them. In addition, during a trekking you will also see villages of ethnic minorities, which gives a beautiful insight into these unique cultures.
Booking & Information request
Ask for booking, availability, pricing or general questions about this tour.