Product Description
Enjoy a beautiful bike ride through Hoi An's countryside, with rice paddies, across rivers and through small villages. It is easy cycling over flat terrain but on cool road and back ways. You head well off of the beaten track and get the tires dirty, even finishing on a fantastic bit of single track near the waters edge.
Highlights
View the beautiful country side of Hoi An via off the beaten track roads
Very good mountain bikes and equipment
Enjoy a boat ride over the Hoi An river
Itinerary
Biking starts from Hoi An near the old town and wanders the streets lined with old shop houses before hitting the river where you board a small boat for a short 10 minute ride over to Cam Kim Island.
Once on the island we start biking through small villages and rice paddies on a narrow roads and dirt trails. Boat making can be seen right from the trail as many of the local fishing vessels are made here. You ride on this island for about an hour before crossing a long wooden bridge over to Ban Thach – Dong Binh rush making village.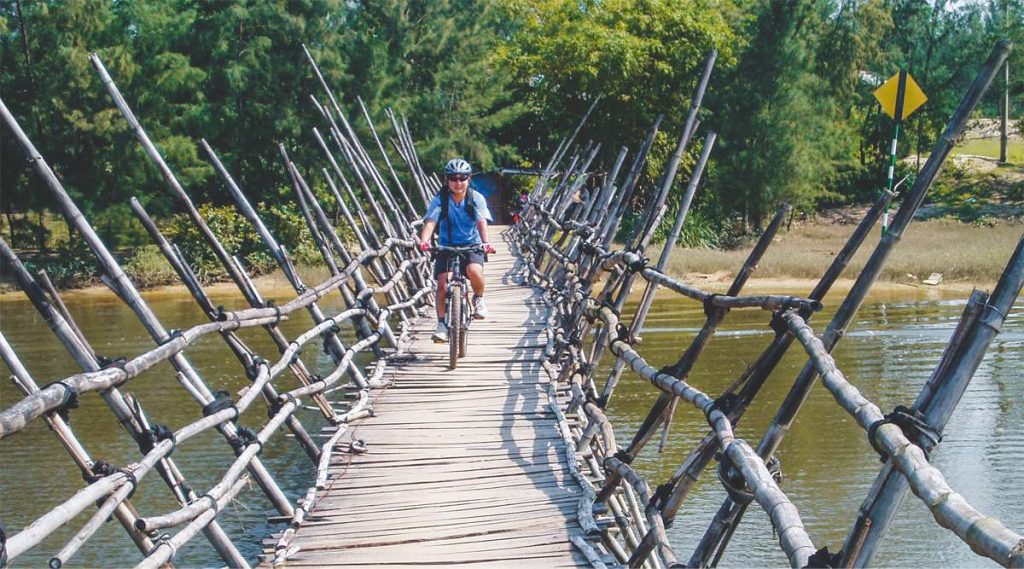 From here the scenery opens up and the countryside becomes more rustic. The road remains flat throughout this section of the ride as you pass by duck farms, past old pagodas and enjoy views of farmers out in the field and fisherman in the river casting nets.
After 30 minutes or so on the trails you stop for a quick rest and take the opportunity to soak in the silence, and refuel with a couple of bananas. After the break, you catch another boat back over the river towards Cam Thanh Village (~ 30 minutes). There is also an optional activity of basket boat rowing to explore the lush greenery of Bay Mau water coconut swamps for around an hour, if desired.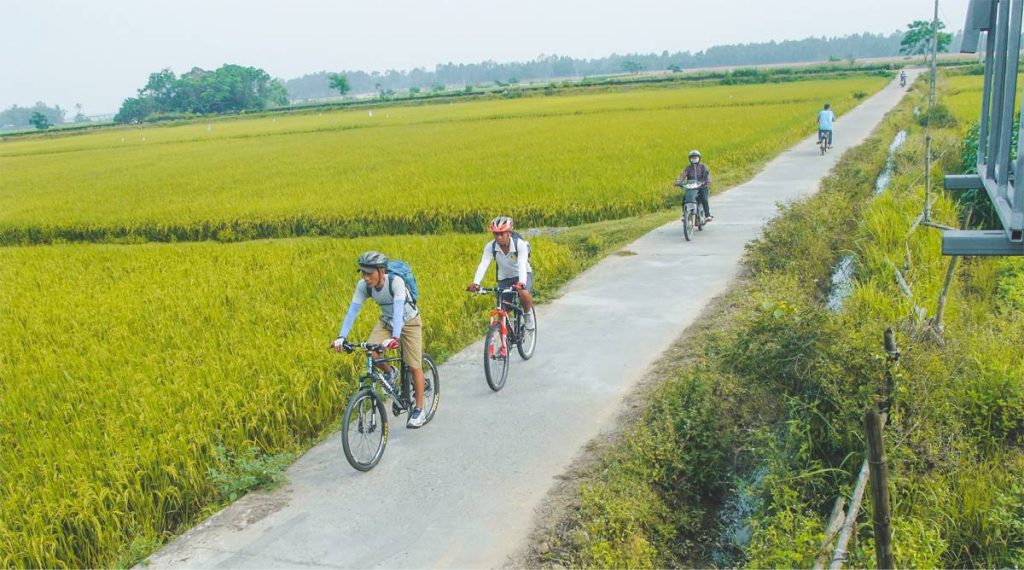 The ride continues on a remote countryside road for another 20 minutes or so before turning off on a small section of single track that leads through a grove of palms growing on the side of the river to Tra Que vegetable village. The ride finishes with a pleasant 5 kilometers pedal into town on back roads, and end right where your started.